You're invited to come see our Victorian farmhouse Christmas tour this year. Grab some coffee and see how we decorated our home for Christmas this year.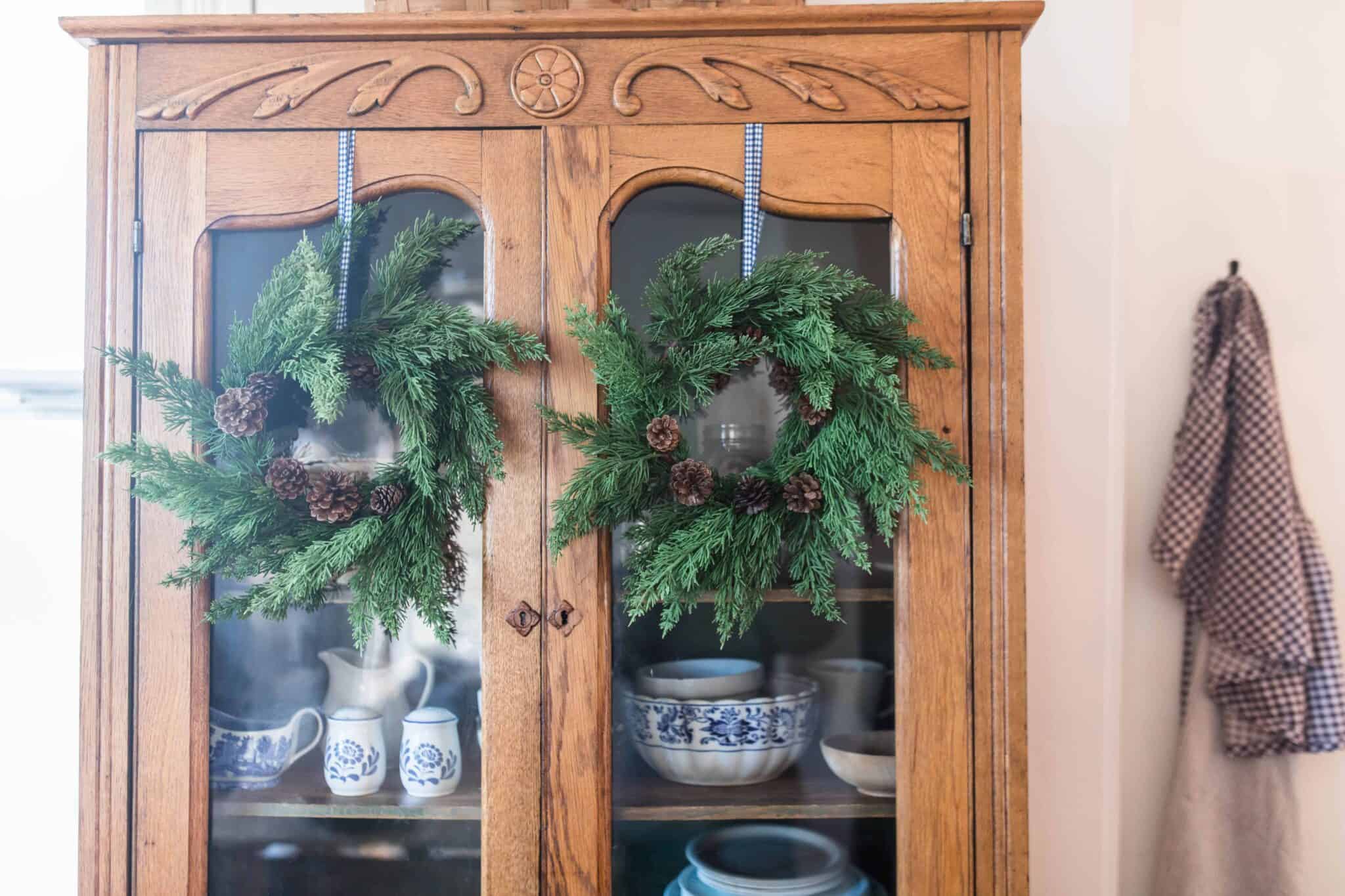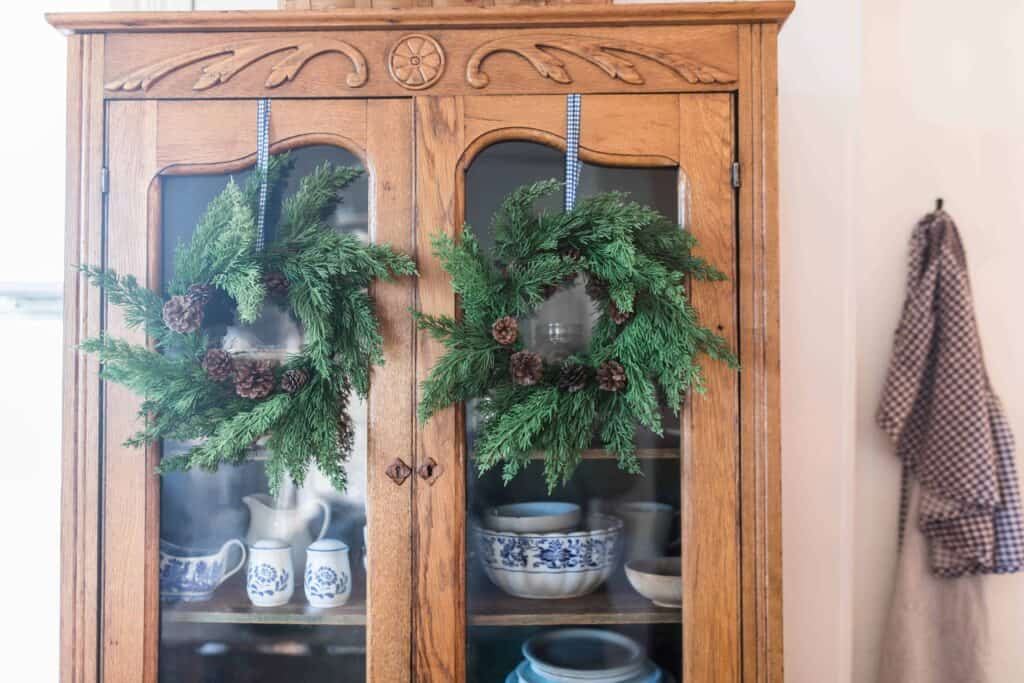 I'm teaming up with my friend, Julie Blanner, to share our homes this year for Christmas. Make sure to check out her beautiful home; she shares amazing recipes, simple and elegant home decor, entertaining, and so much more.
This year, it was so exciting to decorate our first-ever Christmas in our new, Victorian farmhouse. If you've been following us for a while, you may know that we bought our new Victorian farmhouse back in January 2019, and finally moved into our home in February.
We are settled in, but not totally finished with renovations. Our kitchen is totally under construction at the moment; we don't even have a kitchen sink!
I thought about not doing a tour at all this year, but then I remembered how much fun it was as a kid to decorate, and how much I enjoyed all the greenery and the lights.
It only comes around once a year, so instead of ditching the whole thing, I just decorated the areas that I could.
So the living room, dining room, the stairs, and the entryway all got some Christmas cheer. And I left it at that. The perfect amount of Christmas for this season of life.
This post contains affiliate links, which means I make a small commission at no extra cost to you. See my full disclosure here.
Shop my Victorian Farmhouse Christmas decor

Living Room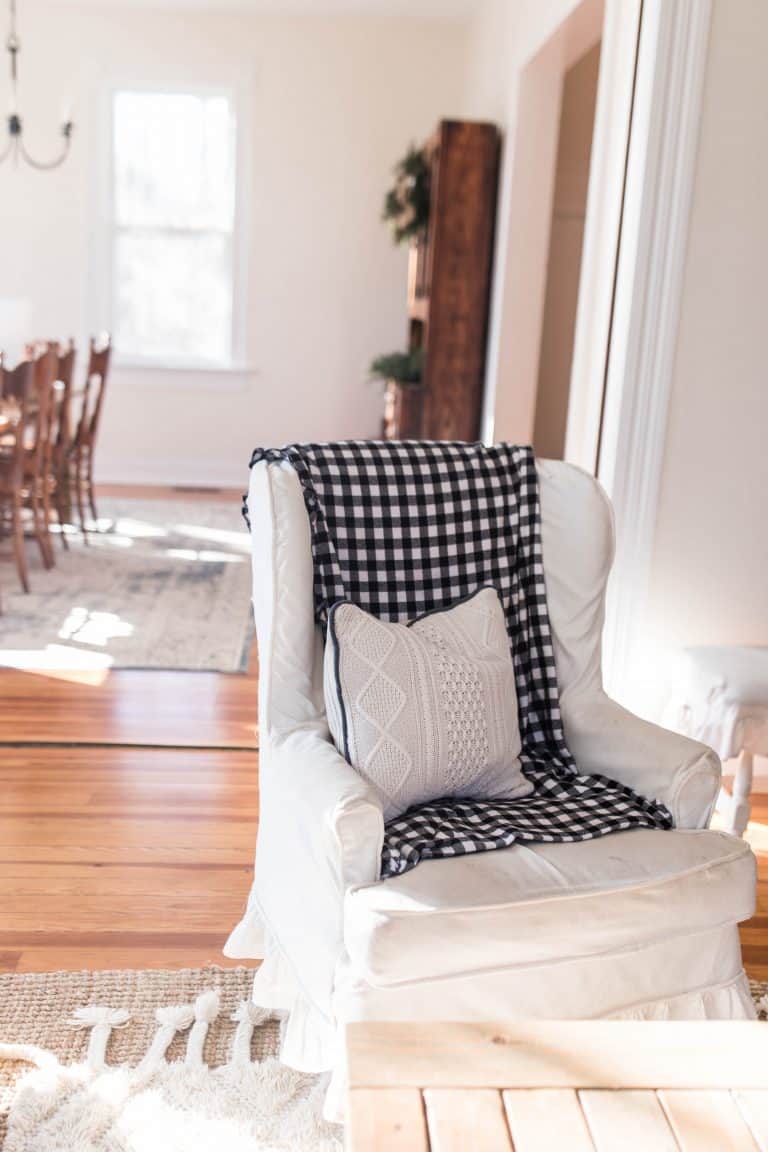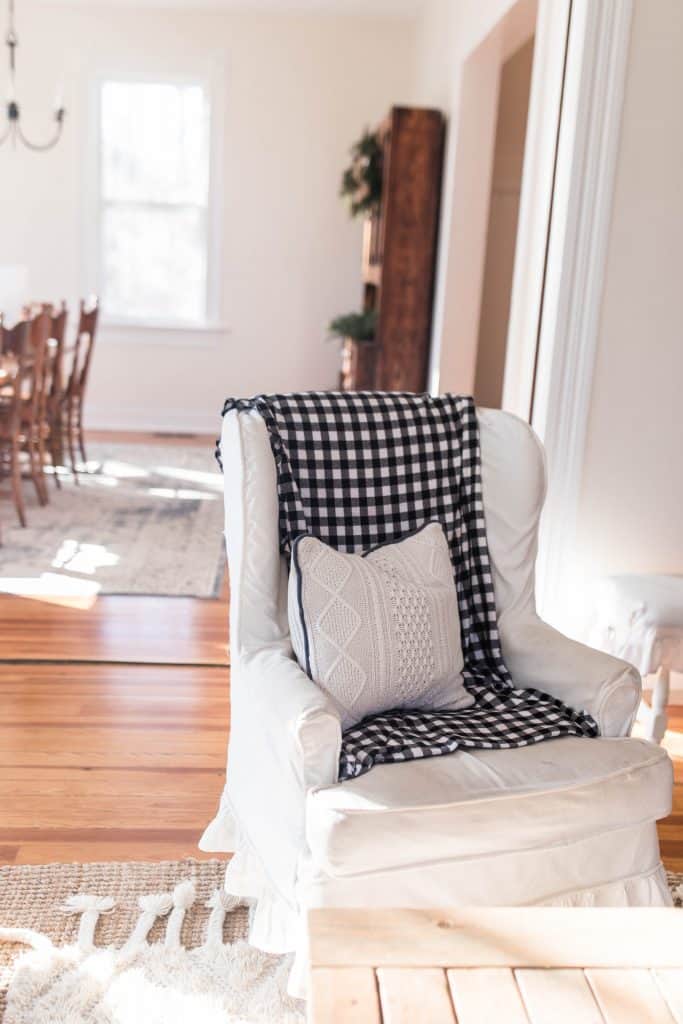 We are going to start our farmhouse Christmas tour in the living room. I love adding cozy vibes during the winter months with textiles and blankets. That way, it can feel cozy not only during Christmas, but also during the winter months long after the holiday is over.
I brought in some texture with a blue and white antique quilt, a handmade cream cable knit sweater pillow and another green one, and a blue and white checked flannel blanket I made.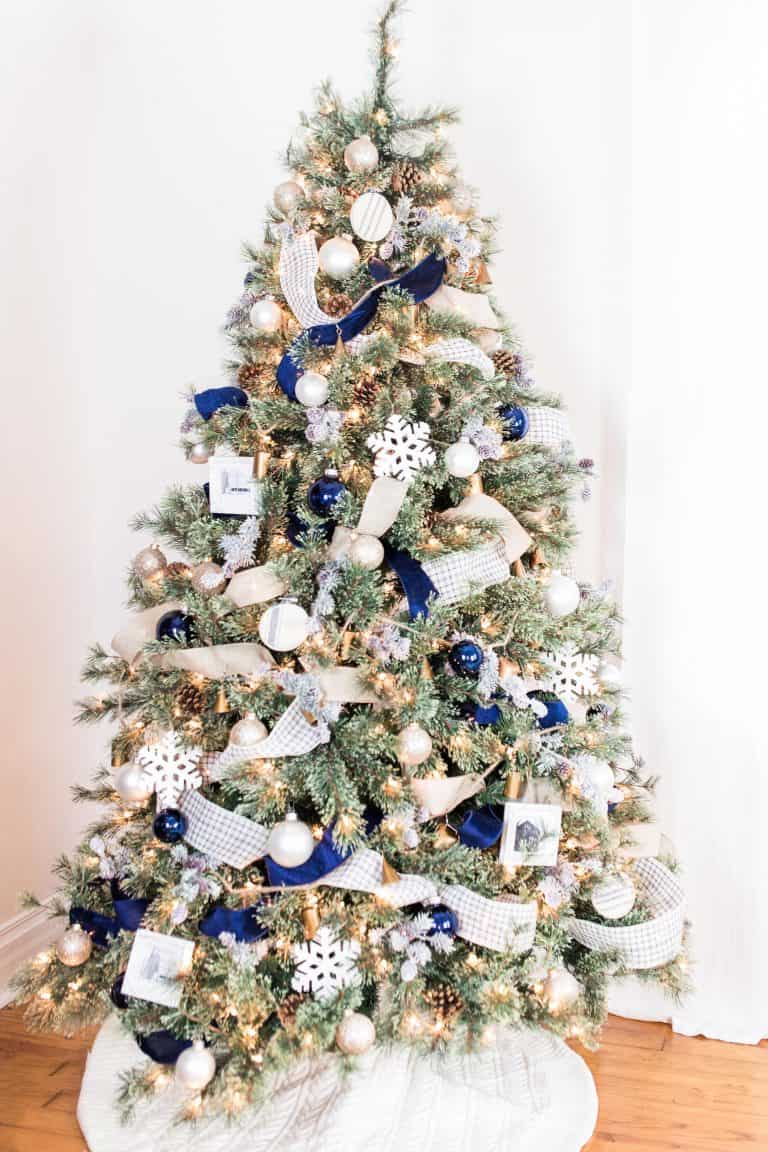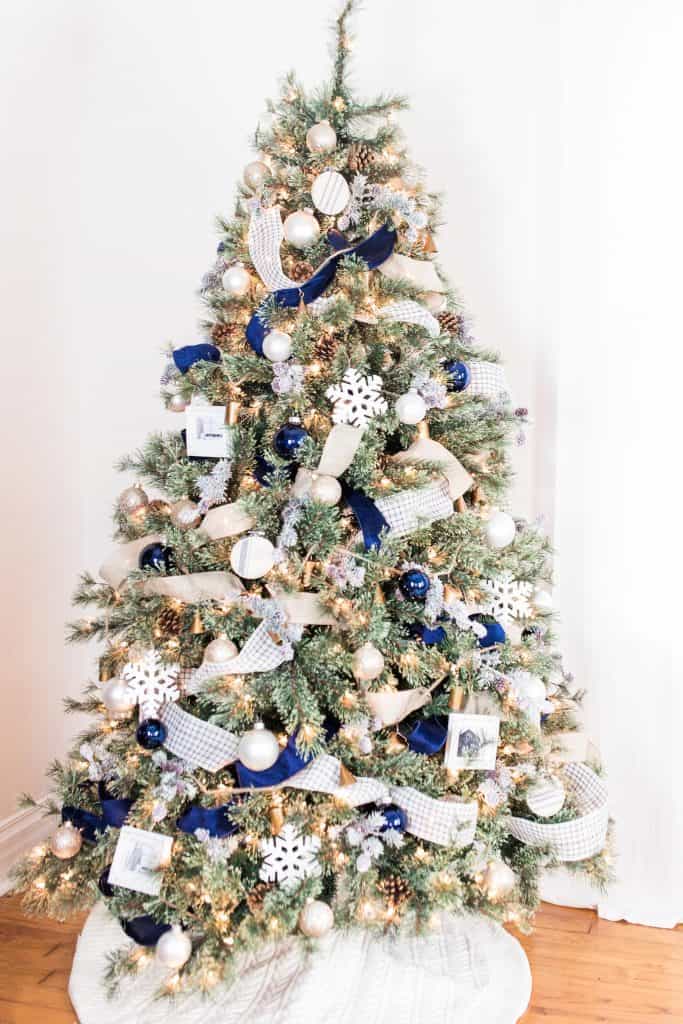 The room is finished with a blue and white farmhouse Christmas tree with handmade ornaments (tutorial will be up shortly), textured ribbon, bells, and more. You can find how I decorated the tree here.
It is really just a simple, classic farmhouse Christmas tree.
Side Porch: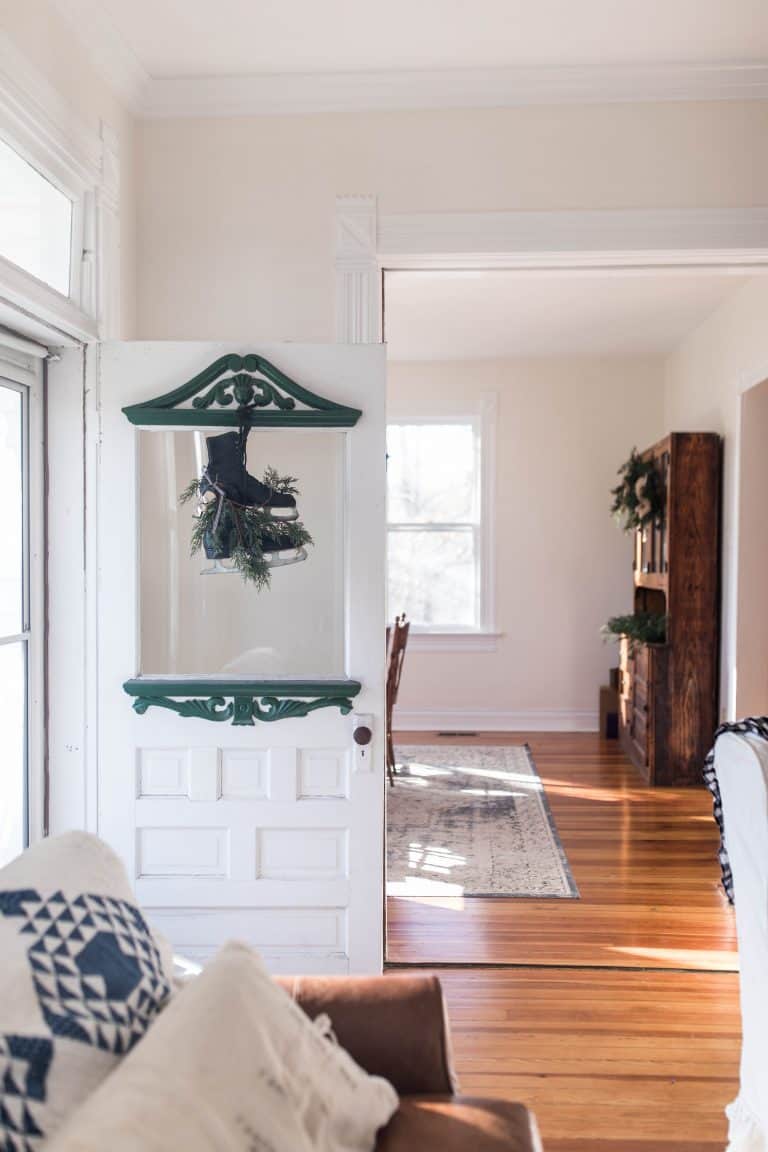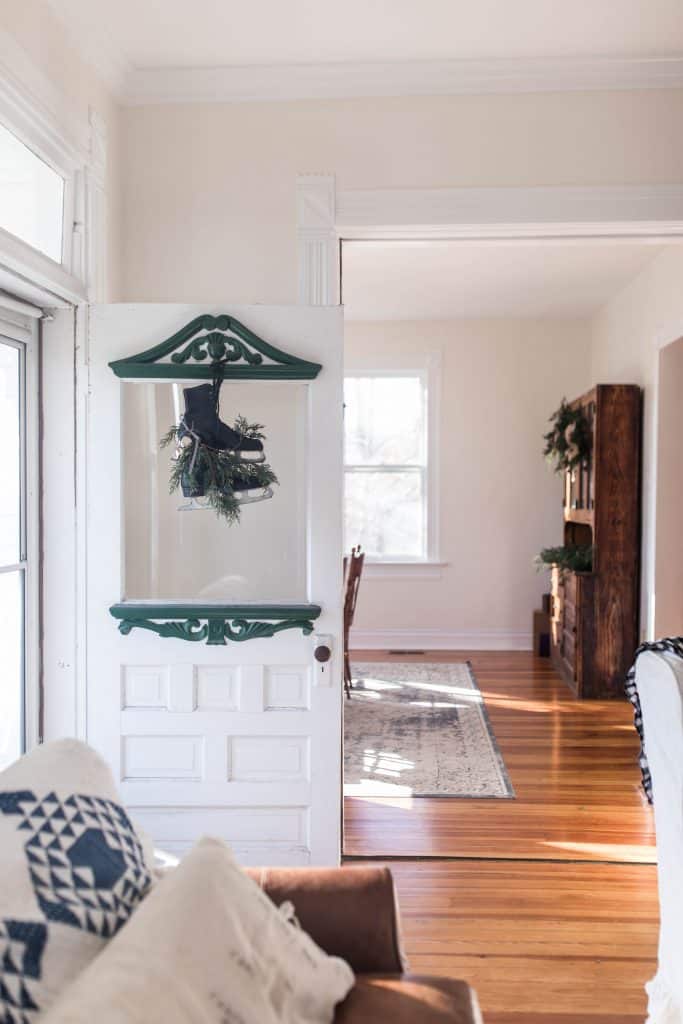 Right off the living room is a side porch. It has the most amazing green and white Victorian door.
I had Luke put in a little nail to hang some vintage ice skates with some greenery and bells. Now, when someone enters in the side porch, they will be greeted with a touch of holiday spirit.
Other Christmas Inspiration:
Dining Room
My favorite piece in our whole house is the antique hutch that we purchased from the previous owners. It is such a beautiful and substantial piece.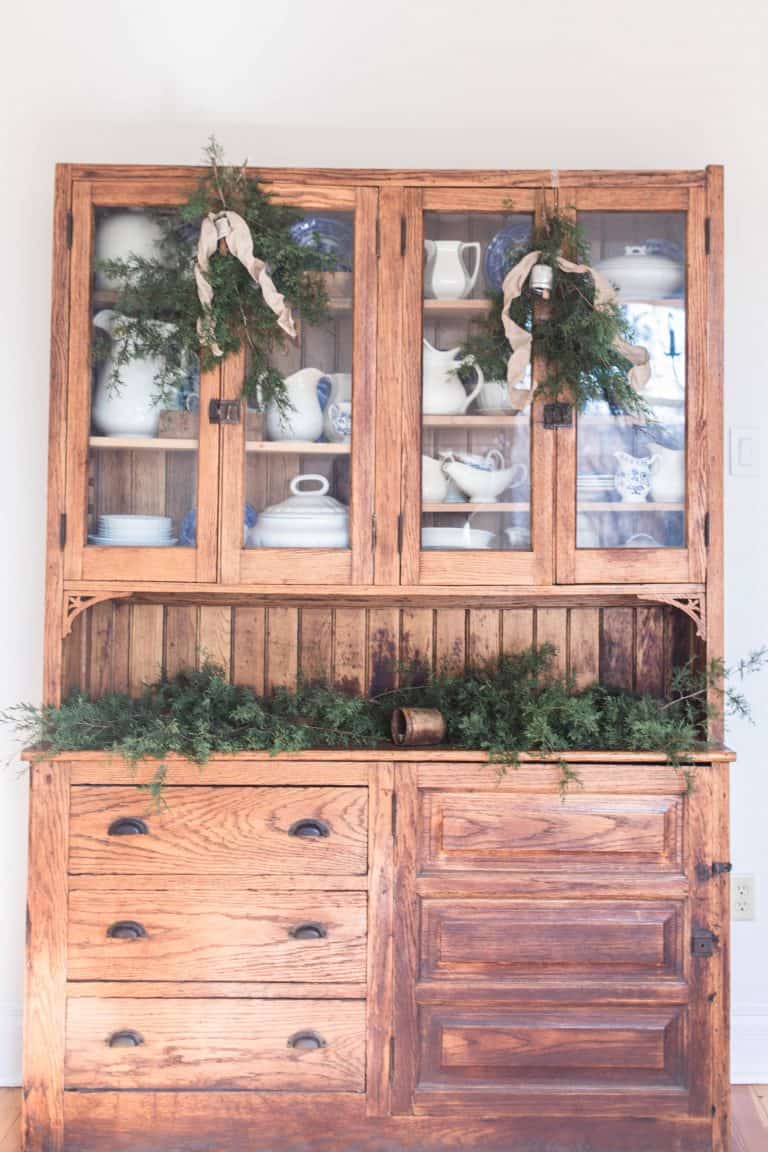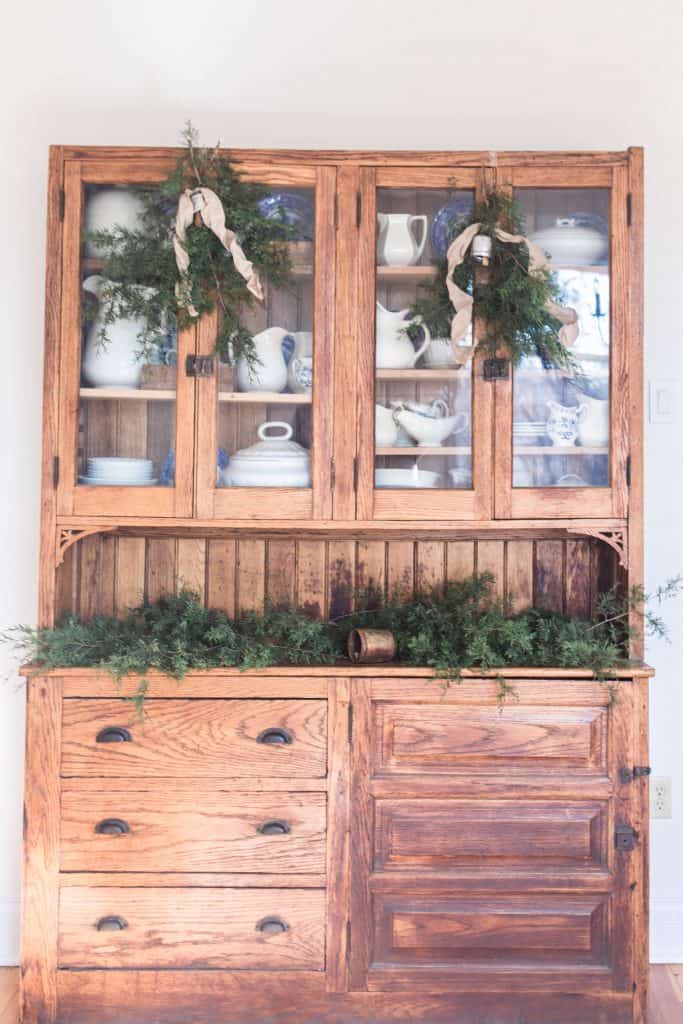 He didn't want to move it, which I can't blame him for, because it is huge, so we bought it from him and I filled it with my collection of blue and iron stoneware.
Next, I added some greenery I cut from our property, some ribbon, large bells, and a handmade beeswax candle. Simple and so pretty.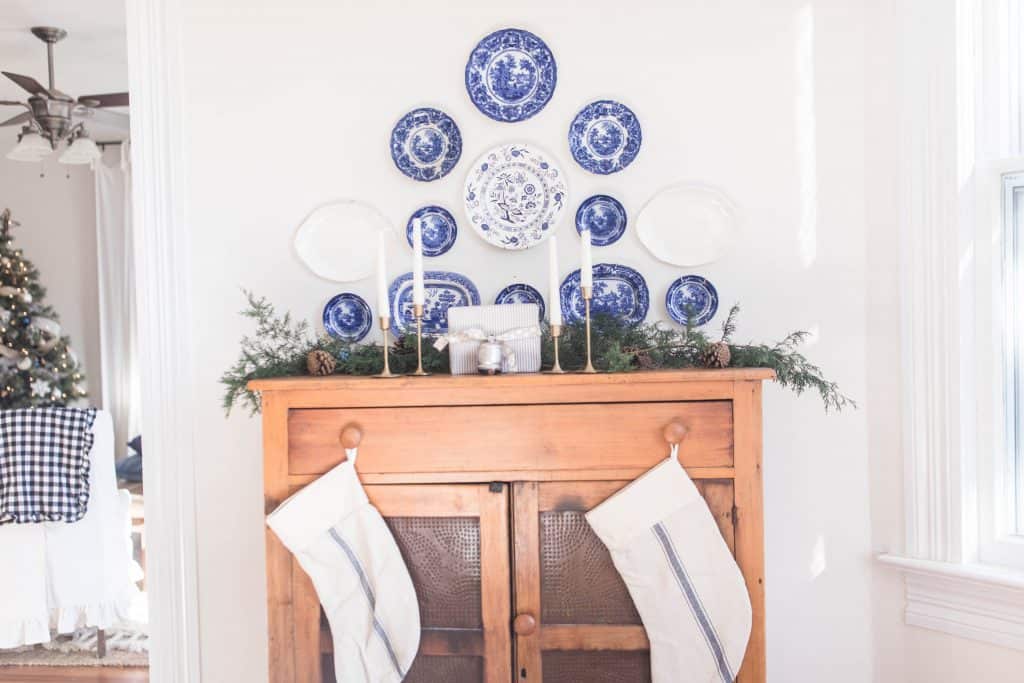 In that same room, I also have an antique pie safe that has my flow blue plate collection hung above it. I added some fresh greenery, brass candle sticks, pine cones, and handmade stockings.
Also, I wrapped some handmade beeswax pillar candles in some brown paper and set them out on a grain-sack table runner I made.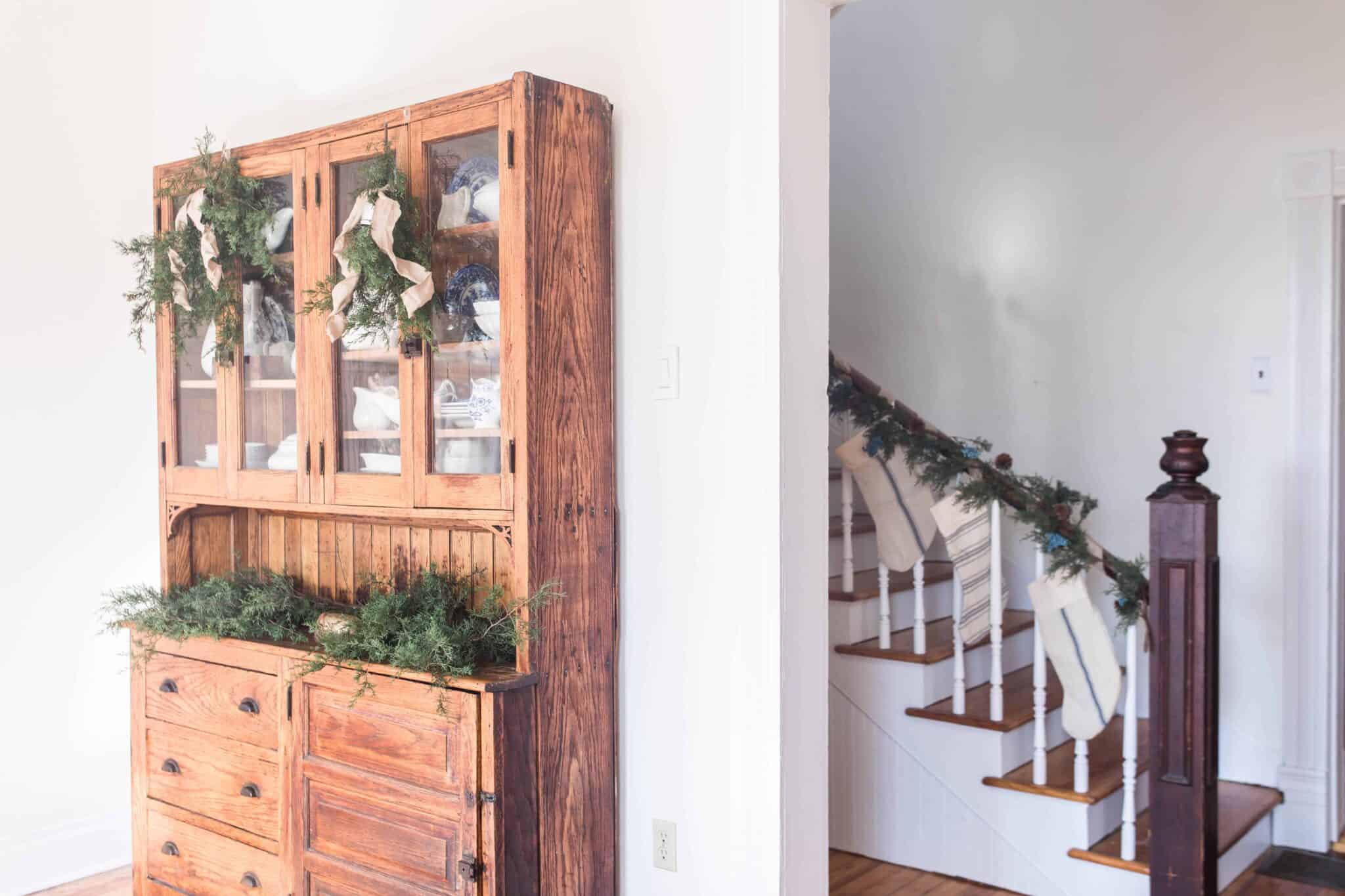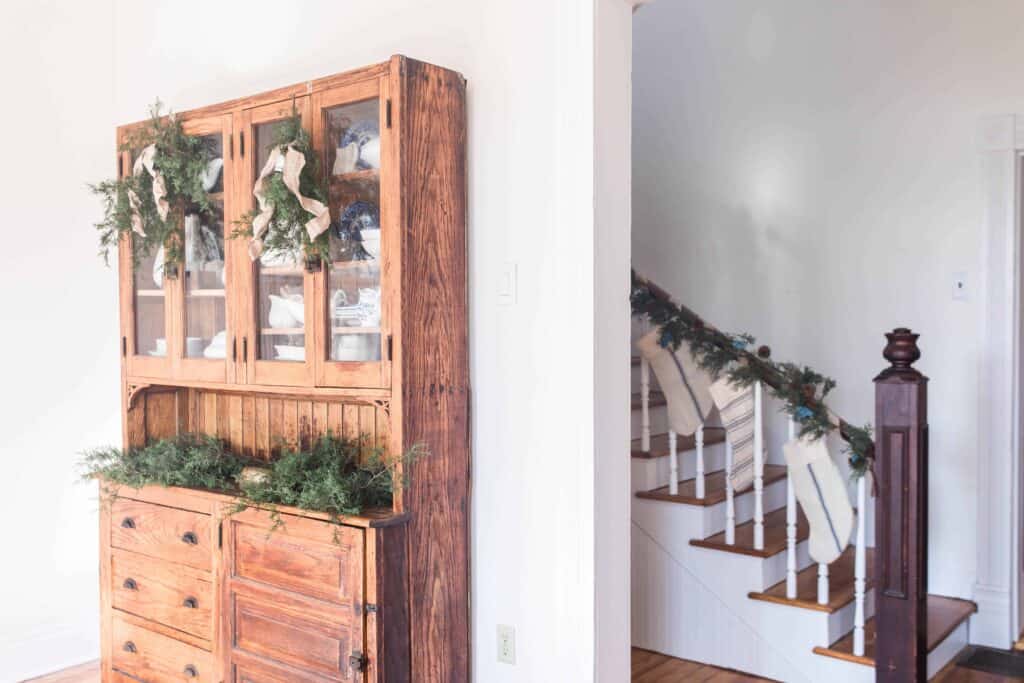 Decorating The Stairs For Christmas:
Now the stairs were my favorite part, and I knew they would be. When we first moved into our house, one of the selling features was the beautiful staircase.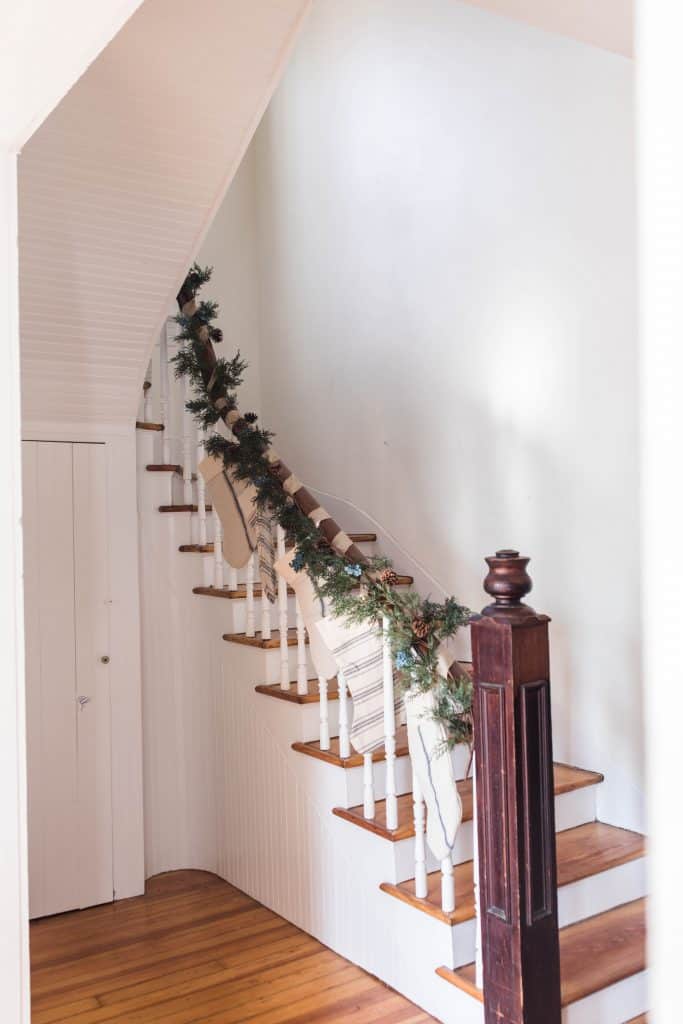 They were pretty scuffed up, so we had them fully restored, and I just could not wait to get some Christmas decor on them.
I made them festive from the bottom of the stairs all the way to the top by adding garland to the banister using floral wire, wrapped them in linen ribbon, and hung some hand made grain-sack stockings with some more ribbon.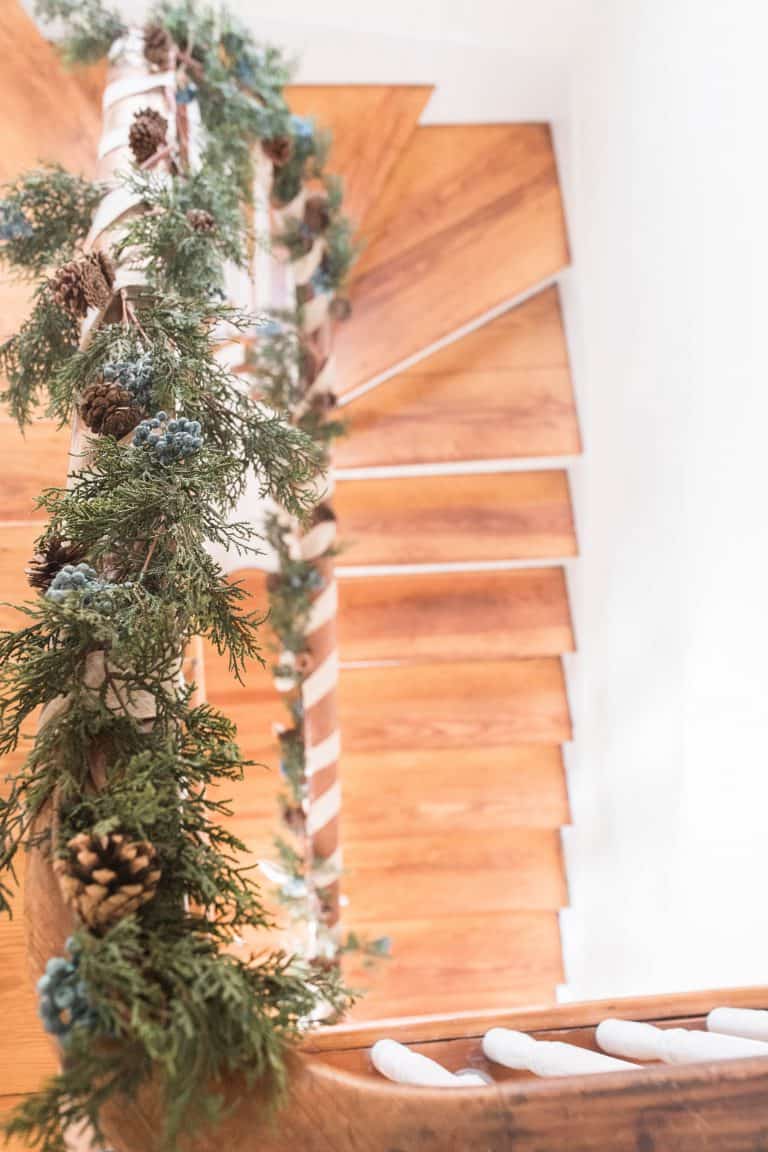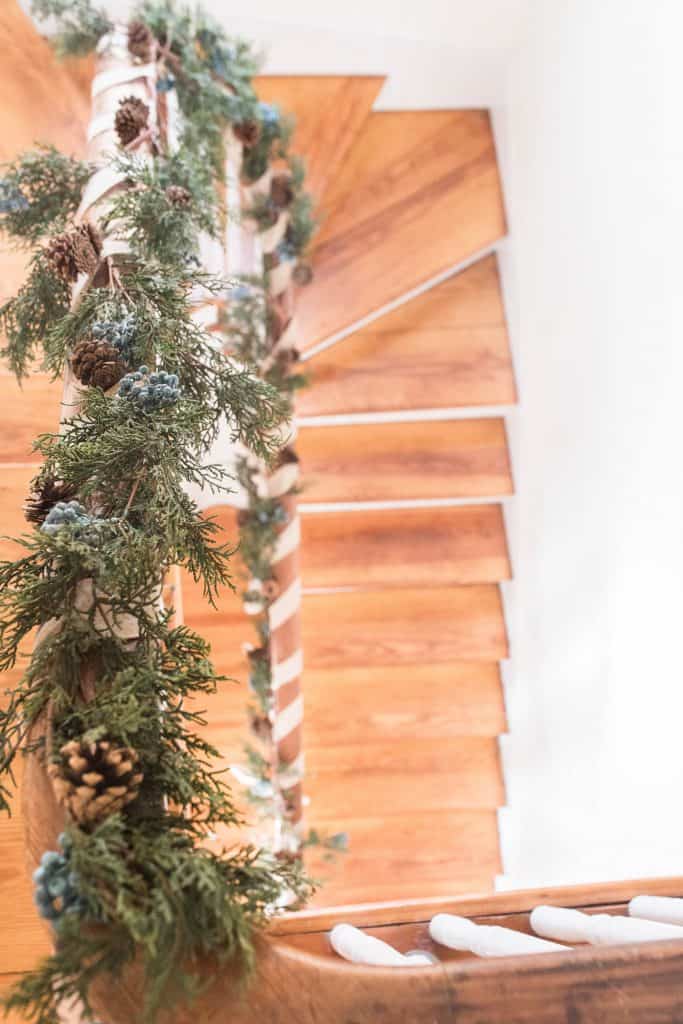 Entryway
We kept this really simple this year by bringing out three small, pre-lit artificial Christmas trees.
To the left of the door, I added a wooden crate from my stash, and some faux greenery and logs were placed inside to make it cozy and inviting.
How To Hang Wreaths On Cabinet Doors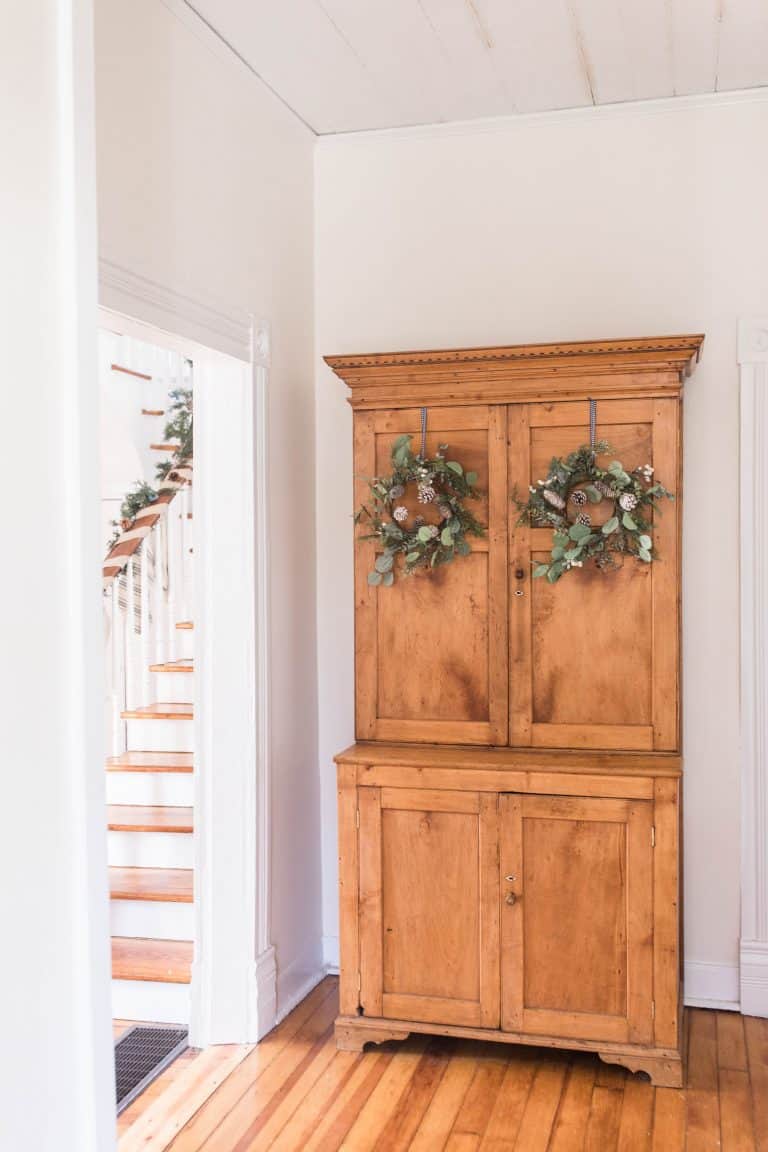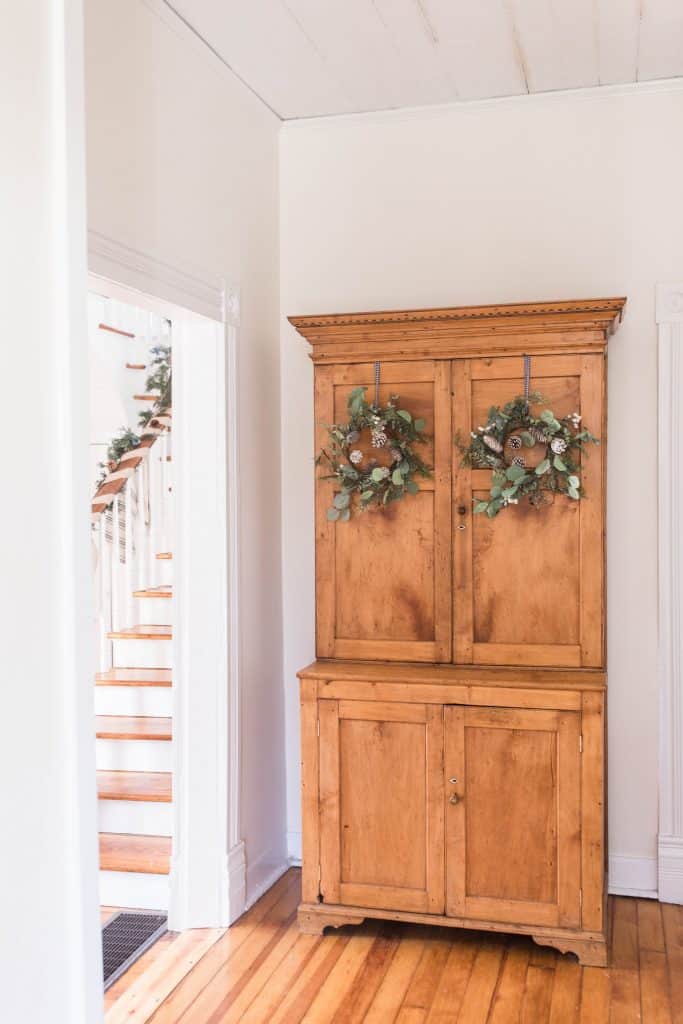 One of my favorite things to do during the holidays is to decorate hutch and cabinet doors with pretty wreaths.
Some eucalyptus and greenery wreaths were hung on our sewing hutch, and two more greenery wreaths on the hutch in the kitchen.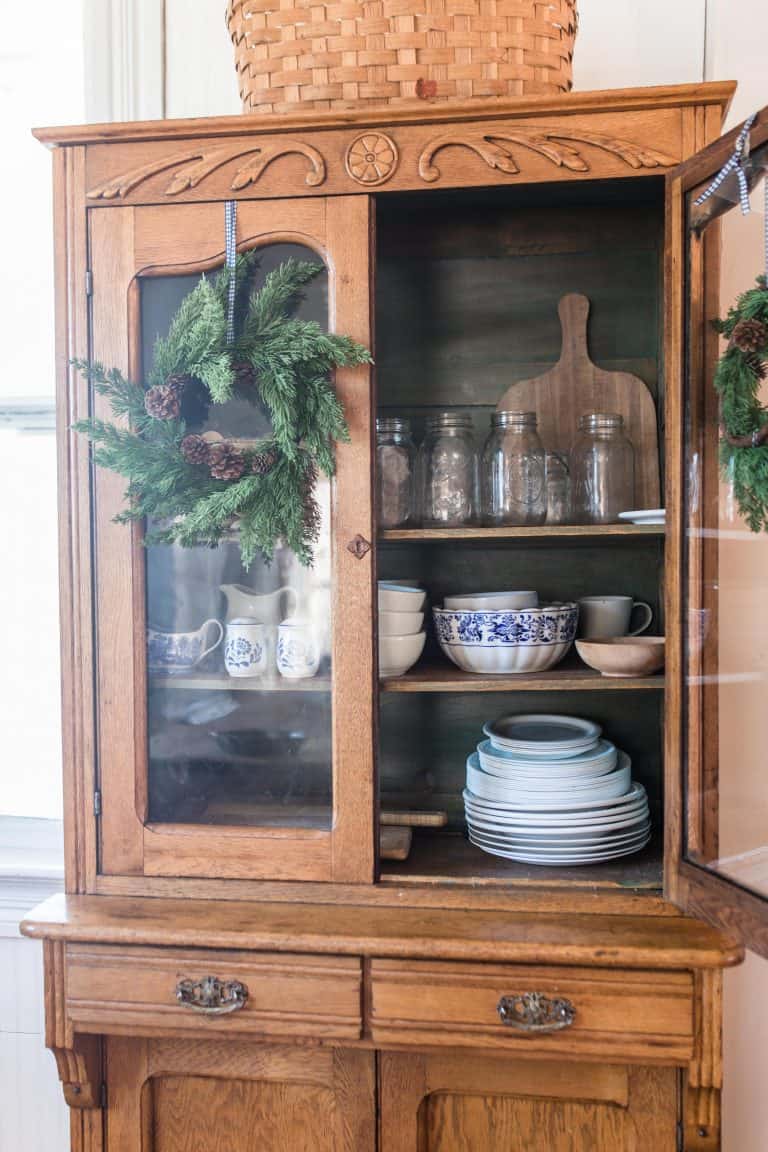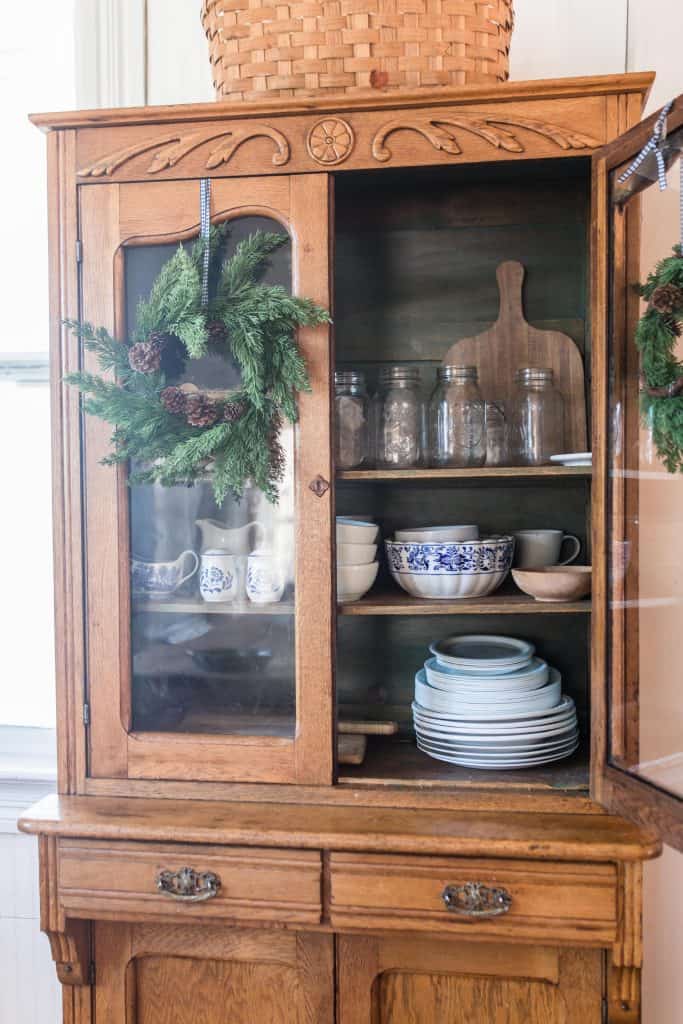 To do that, you just take some small Command hooks, flip them upside down and place them in the center of the door.
Place ribbon on the wreath and loop the ribbon on the Command hooks.
Front Door
A greenery wreath was hung on the front door. I love how the green looks with the stripped wood door.
All right, that concludes our farmhouse Christmas tour.
Thanks for stopping by the farmhouse.
Shop my Victorian Farmhouse Christmas decor

Pin It For Later