This is a sponsored conversation written by me on behalf of Delta® Faucet. The opinions and text are all mine.
Our modern farmhouse style bathroom design plans include shiplap, subway tile and sleek elevated finishes. Wood, white, chrome and a touch of blue will give our outdated bathroom a fresh updated look.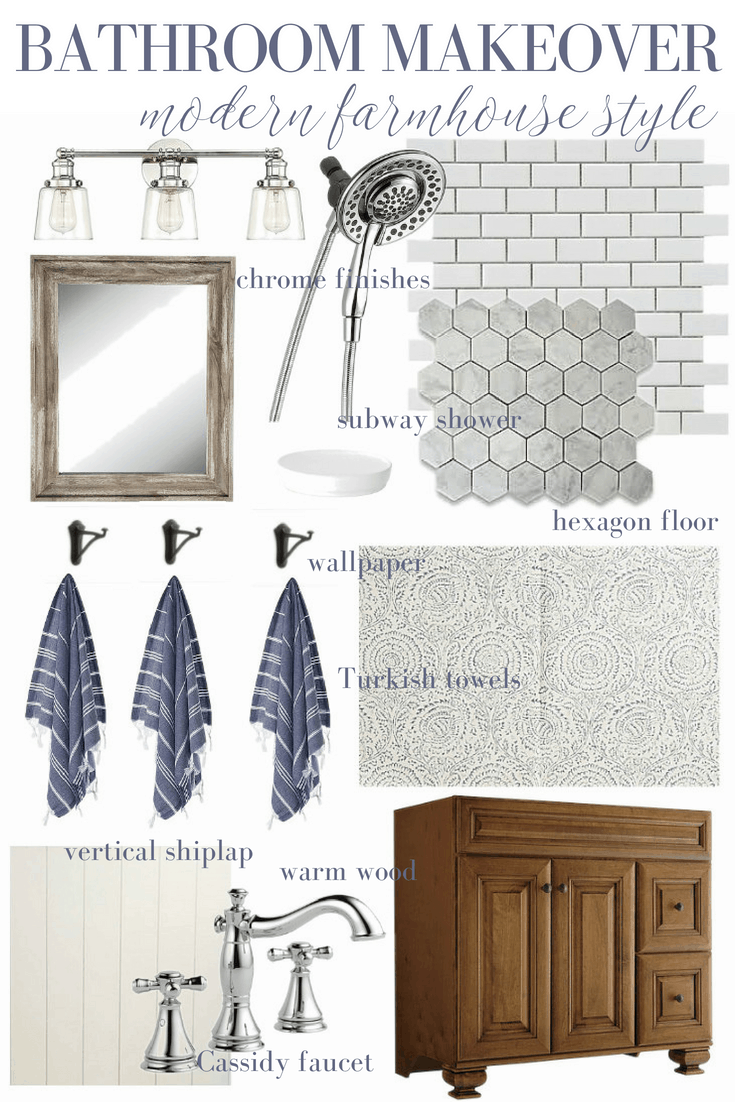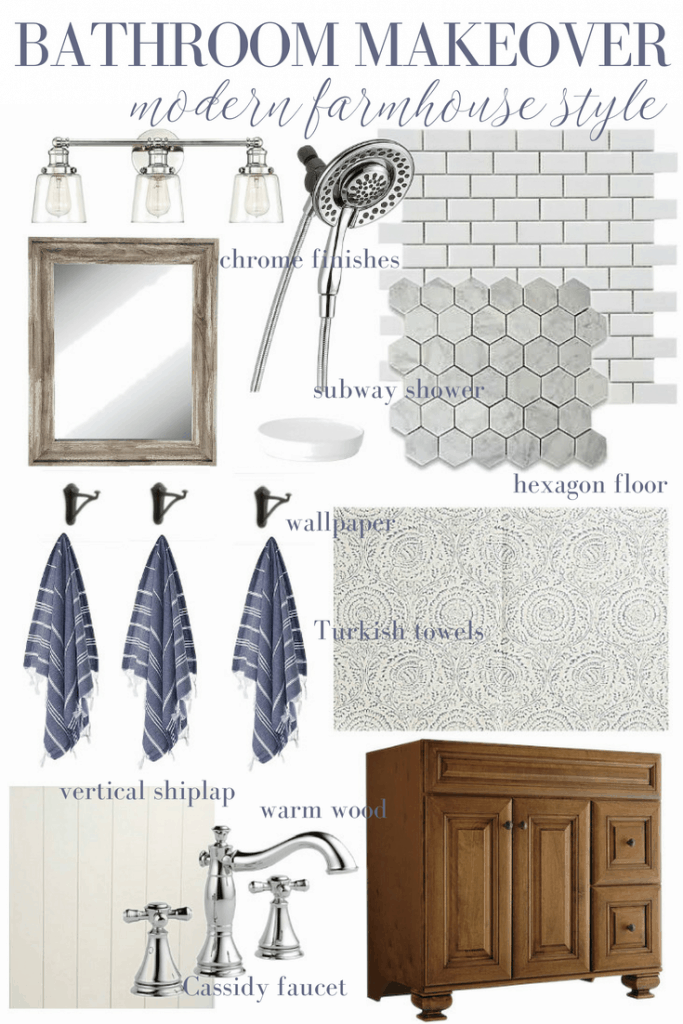 Modern Farmhouse Style Makeover Series
This is part one in a very exciting series! We are finally, emphasis on the FINALLY, renovating the second bathroom in our home!
I can't wait to show you how I am using the Delta® Cassidy™  Collection to bring elevated design to this space.
It was already a couple years ago that we completely gutted the master bathroom in our home. We transformed it from outdated, and ugly, to something a little more custom and a lot more our style.
The other bathroom is in dire need of updating. It is technically the guest bathroom in our home, but our family of seven uses it all day every day, so it has to function like a main bathroom.
Since this bathroom is the more convenient of the two, there is practically a line three children deep to get in at all times.
Slight exaggeration, but my point is that this bathroom needs to be stylish, yet very usable.
100 years of renovating
Our home was built in the 1920s, so it naturally has a ton of that old world charm, crown molding, panel doors and thick baseboards.
All of the floors are made from antique heart pine. We actually had a wood floor expert tell us that this kind of wood is no longer available. We removed carpet and layers of linoleum to restore the beauty of the warm colored wood that was original to the house.
Over many years, and, I imagine, by the hands of many people this house saw a whole lot of renovating. The charm of our 1920s craftsmen was slowly stripped away with cheap finishings, and builder grade materials. They popcorned the ceilings, covered the hardwoods with blue carpet and linoleum and added faucets, sinks and light fixtures with absolutely no style.
It seems to me the deciding factor for most of the choices was whatever was the cheapest available.
Our renovation journey
The last 10 years has been a slow process of restoring it to its original beauty.
In the kitchen we replaced the outdated stainless steel sink with a heavy farmhouse sink. We updated the light fixtures and added custom built-ins. In the master bathroom makeover, we refinished an antique cast iron clawfoot tub, built a custom vanity for an antique farmhouse sink and added classic subway tile. The whole goal in every renovation we do in this old farmhouse is to honor the history of the home and replace cheap finishings with something more modern and custom. The Cassidy Widespread Faucet by Delta® is a perfect fit for bringing elevated style to this space.
The light fixture and shower head have the same timeless chrome finish as the Cassidy™ faucet I chose.
Bathroom before images
The guest bathroom is the last area in our home that has been renovated. Other than slapping some white paint over the wall tiles, vanity, mirror, wall, door and sink (yes we painted the sink) this room remains untouched.
We always planned to renovate this bathroom, so the paint was just a way to make it livable until we finally got around to it. The floor tiles are still blue, and the lovely marble effect (thank you previous owners) is still etched all over the inside of the shower.
This fixer upper journey has been a slow one. After this bathroom renovation, our home will finally be updated in every area, from the front porch to the kitchen and bedrooms, and everything in between.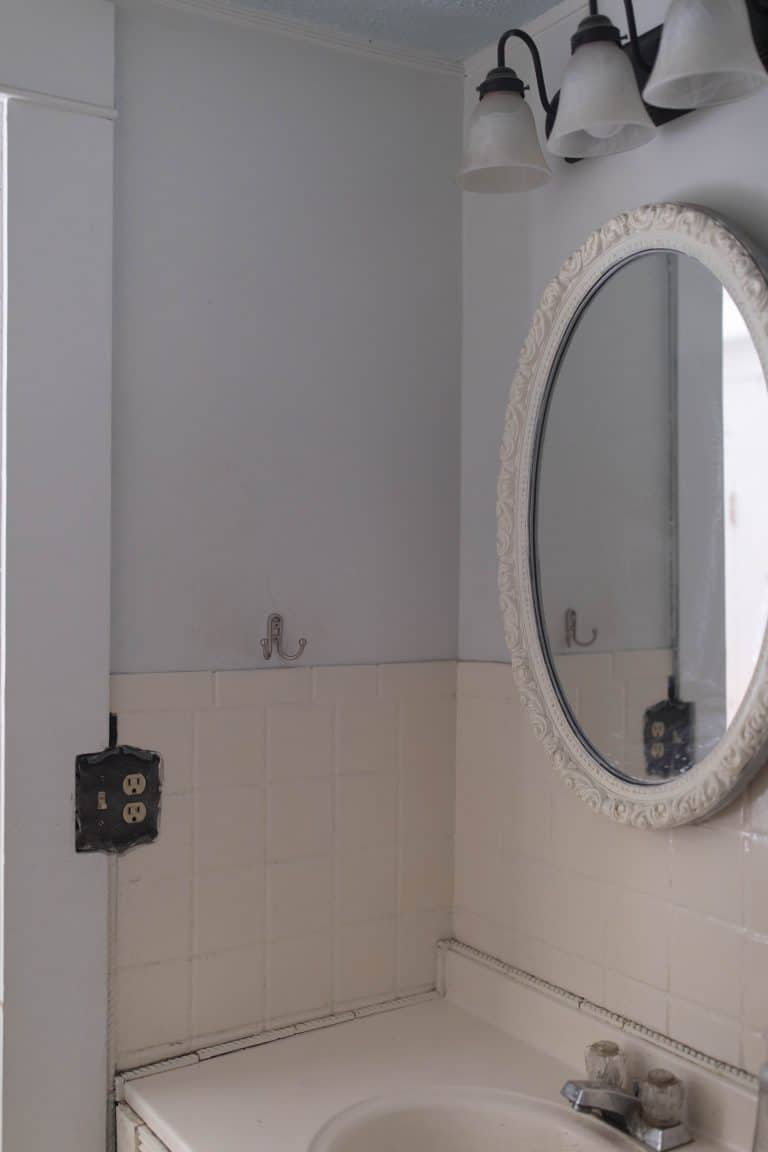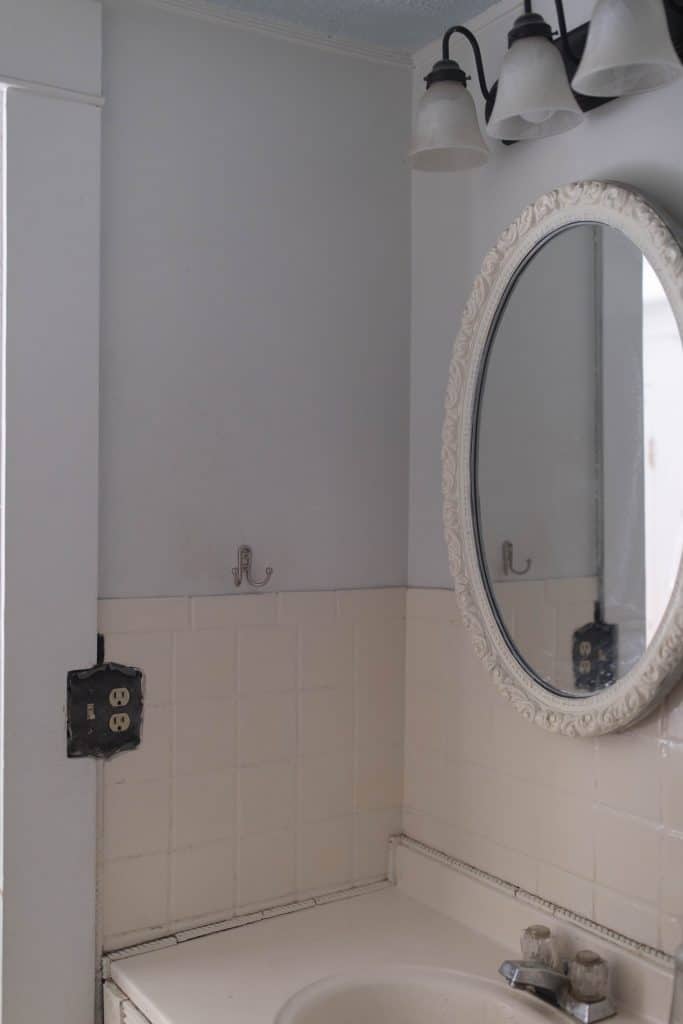 The kids spilled some nail polish on the vanity last week, and I didn't even care. We are finally ripping all this out!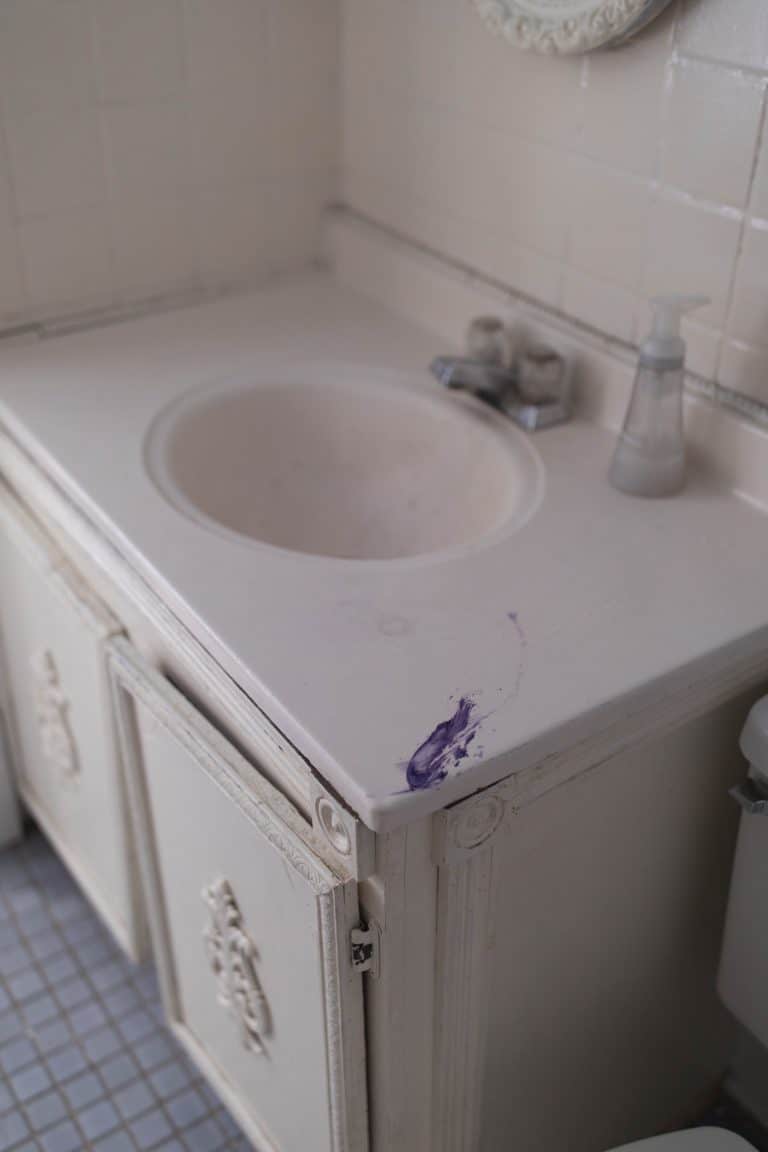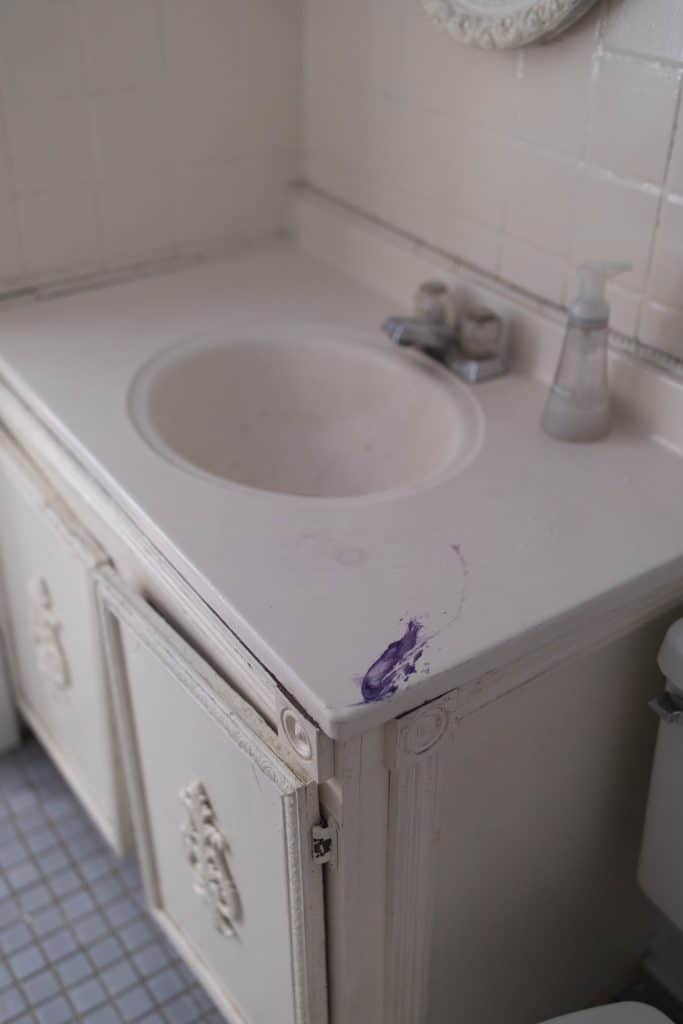 Don't you just love the marble shower?! You were fooled, right? You really thought it was marble.
Also, note the cheap shower head and ugly knobs.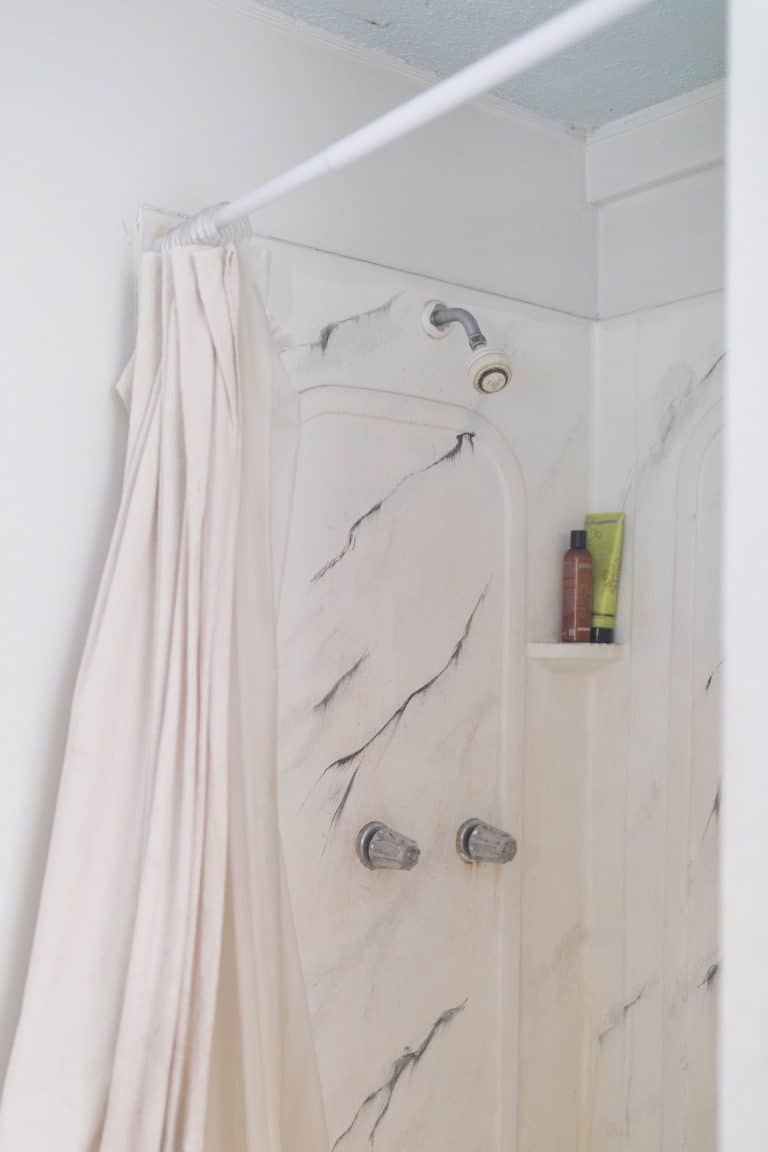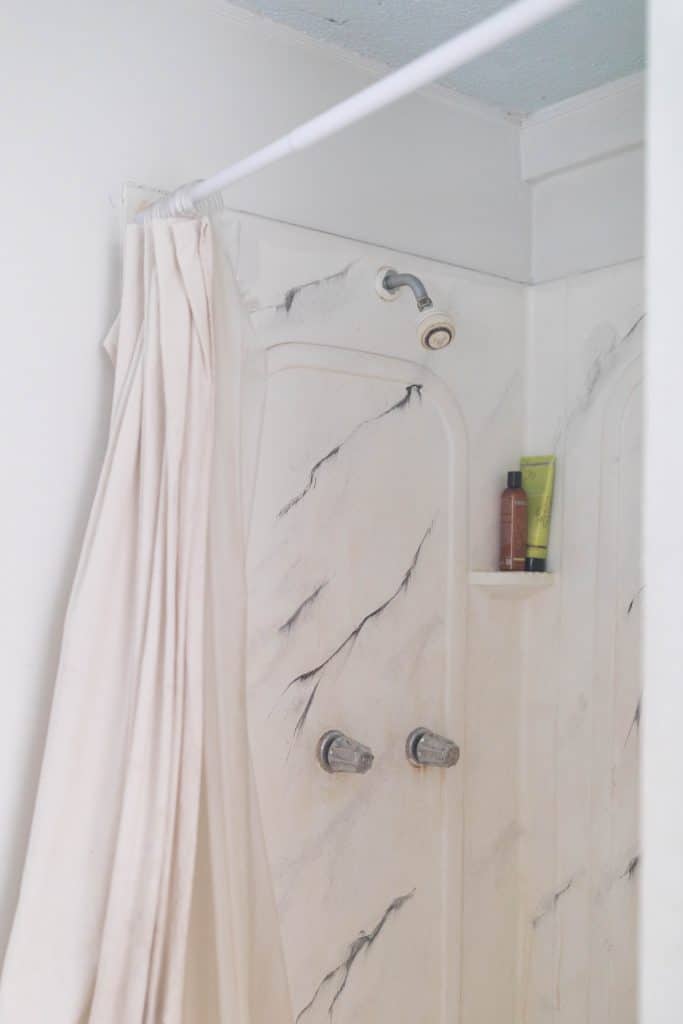 The whole thing is just dingy and tired.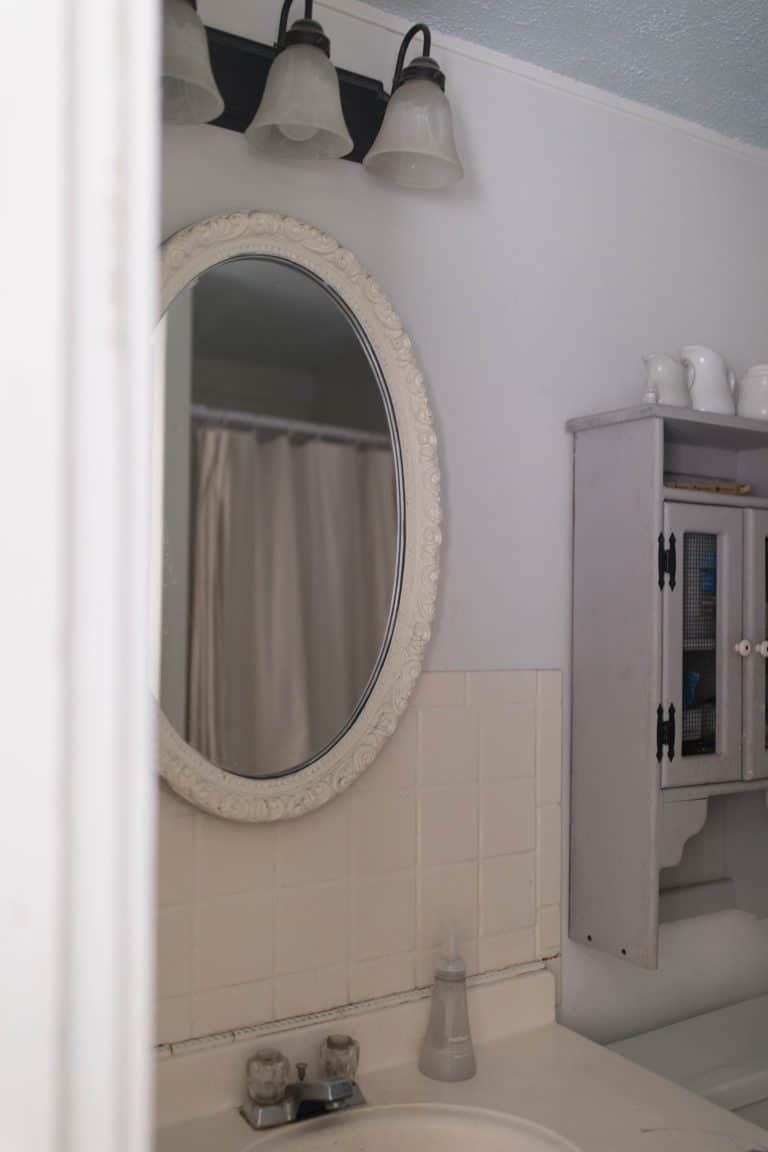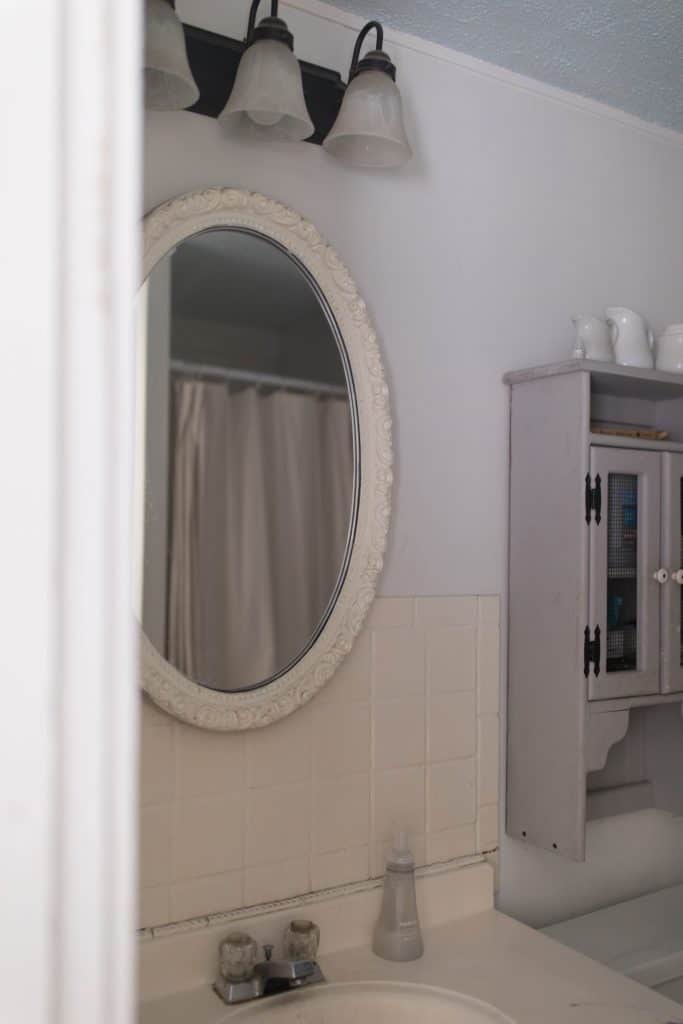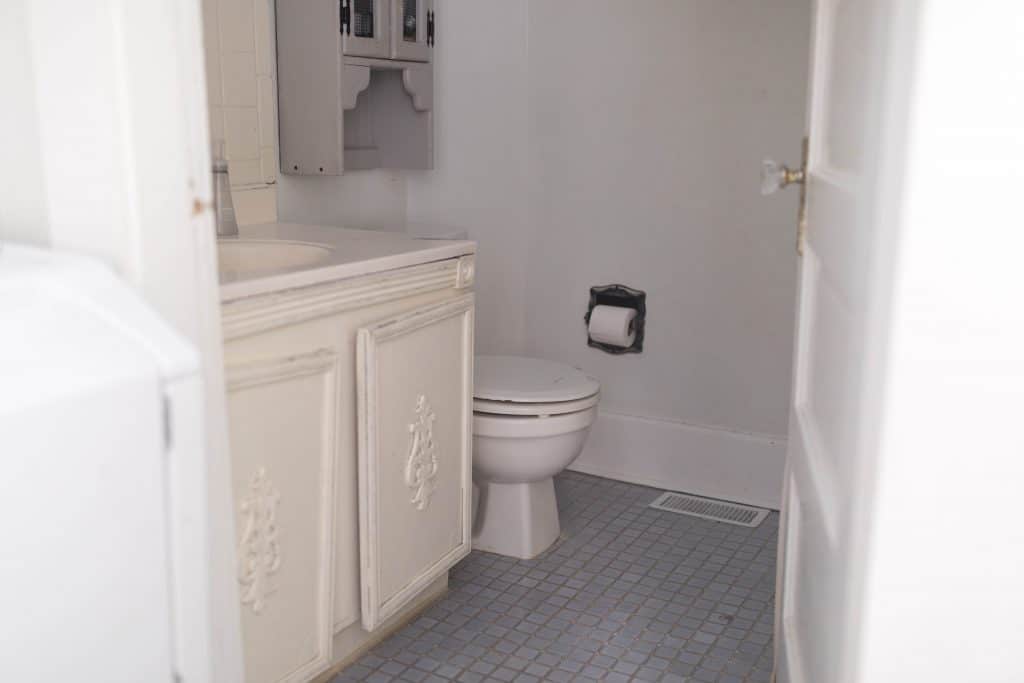 Modern Farmhouse Style Bathroom Makeover Design Plans
Now that we're all super depressed looking at those pictures, let's have some fun, and talk about the design plans!
First, we are going to rip out everything. The flooring, vanity, toilet, shower, sink, faucet, backsplash, light fixture- it's all going!
The faucet
I wanted something less builder grade for the faucet in this room. I chose the Cassidy™ Widespread Faucet by Delta® to give the bathroom a more elevated style.
The high arc design is modern and sleek. I chose the metal cross handles because they have a little added charm for my modern farmhouse style bathroom makeover.
I based the rest of the design around the stylish Chrome faucet. I will bring a little more of the chrome in with the light fixture and shower head.
Everything in the design will have the same elevated feel. Nothing builder grade and cheap looking!
The tile
We chose floor to ceiling subway tile to replace the painted shower insert. There will also be a custom recessed soap dish tiled in. We have the Delta® In2ition Shower Head, with a built-in hand shower, in the chrome finish. This will make cleaning up the kiddos a whole lot easier!
A glass shower door will replace the curtain. We have to show off all that gorgeous tile!
For the floors we are using gray Carrera marble hexagon mosaic tile.
The vanity
I searched high and low for a warm wood vanity that wouldn't break the bank, but would still look gorgeous with my Cassidy™ Widespead Faucet by Delta® I basically gave up and decided we would just build it ourselves.
I even thought about making one from an old dresser, but finding the perfect dimensions proved to be a big problem.
Finally I came across one that is beautiful. It has that warm wood tone I wanted.
The current vanity in our bathroom is right at 36″ wide. There is  no room to spare between it and the toilet. So, my husband and I are trying to decide if we should go with the 31″ vanity and a standard size toilet, OR, the 37″ and skinny toilet.
We are leaning toward the 31″ because the small bathroom already feels a little full as it is.
We should probably get the skinny toilet AND the smaller vanity.
Either way, we will top it with a quartz sink and the Cassidy™  faucet.
The three together will look custom and elevated, just the style we are going for!
I put a wood mirror from Hobby Lobby in the design board, but I'm really hoping to find something vintage.
Vertical Shiplap and wallpaper
I debated on carrying the subway tile from the shower all the way around the room, like we did in our master bathroom makeover. Although that does look pretty, we decided to go with a vertical shiplap in this room.
We are going to carry it about 2/3 the way up the wall and then add wallpaper the rest of the way.
I also chose a wall paper with indigo stenciling. I like the small amount of color it will add, without being overwhelming.
Finishing touches
I love the look of these navy Turkish towels to add in a little more blue.
I also will bring in some wood accents and ironstone.
Stay tuned
I will be updating you every step of the way with this process. I can't wait to get started and see my design plans come to reality!
This is a sponsored conversation written by me on behalf of Delta Faucet. The opinions and text are all mine.
Pin it for later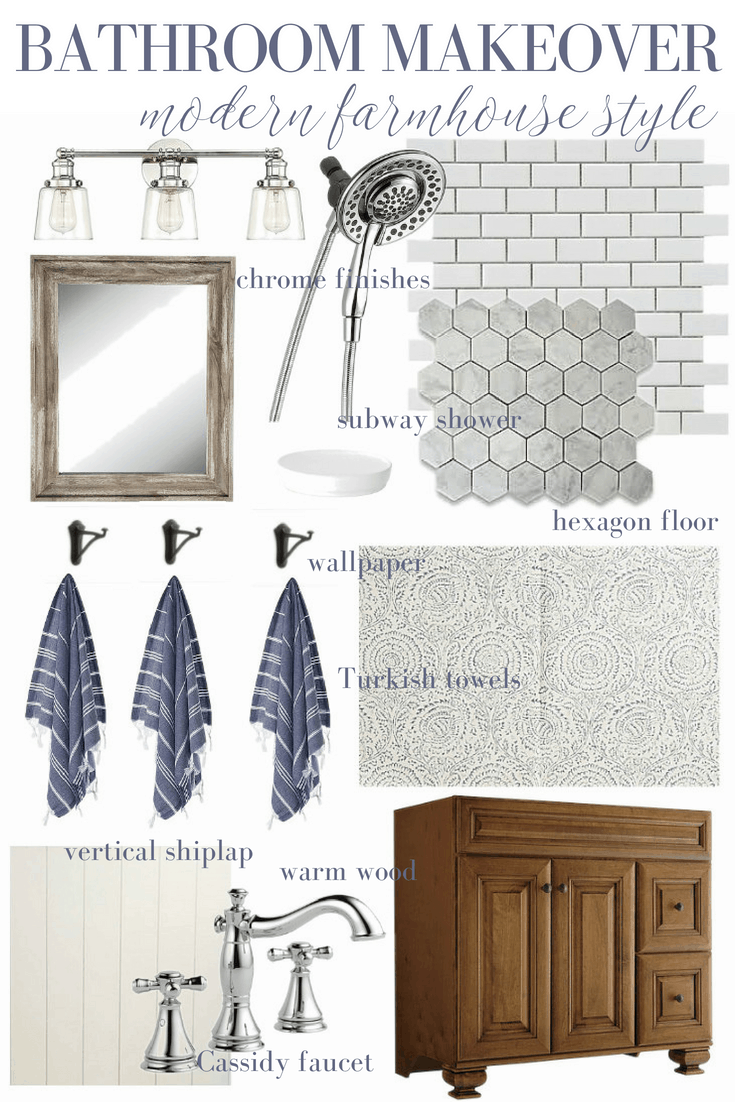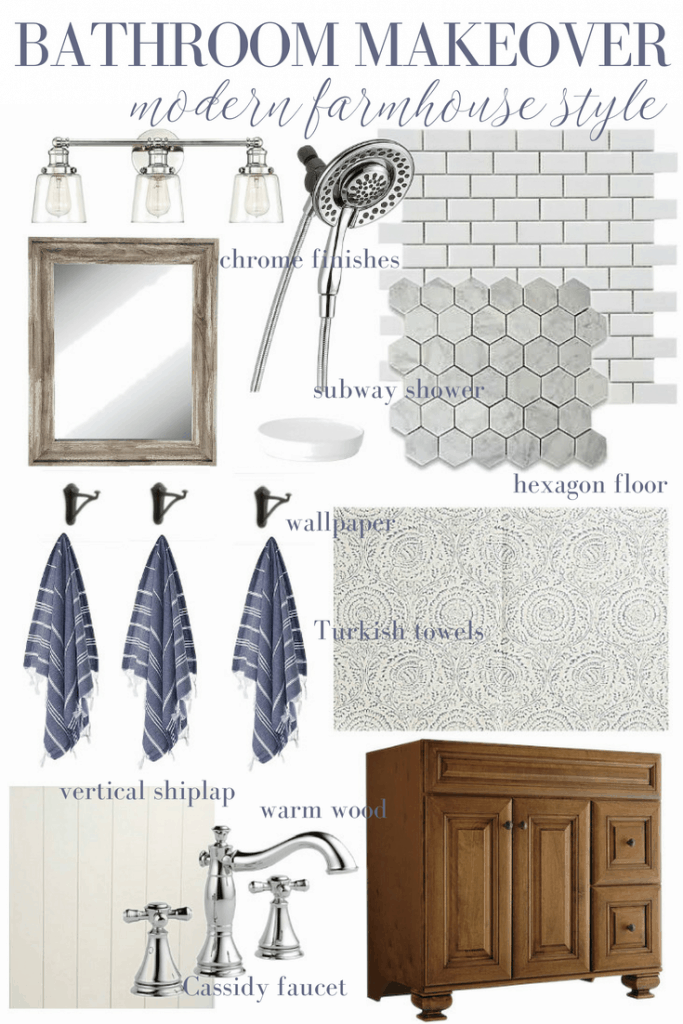 (function () {
var s = document.createElement('script');
s.type = 'text/javascript';
s.async = true;
s.src = ('https:' == document.location.protocol ? 'https://s' : 'http://i')
+ '.po.st/static/v4/post-widget.js#publisherKey=9dgidmihn5jhji85qm4i';
var x = document.getElementsByTagName('script')[0];
x.parentNode.insertBefore(s, x);
})();