Learn how to make a beautiful DIY fall wreath crafted with dried faux greenery, pumpkins, and ribbon to create a welcoming statement at your front door.
This post is sponsored by Walmart Home. All opinions are my own.
Today, I'm spending some time around the farmhouse getting it ready for fall. Last week, I shared over on YouTube, and here on the blog, some natural fall decor ideas. I'm just going to call that part one, and now we are working on part two.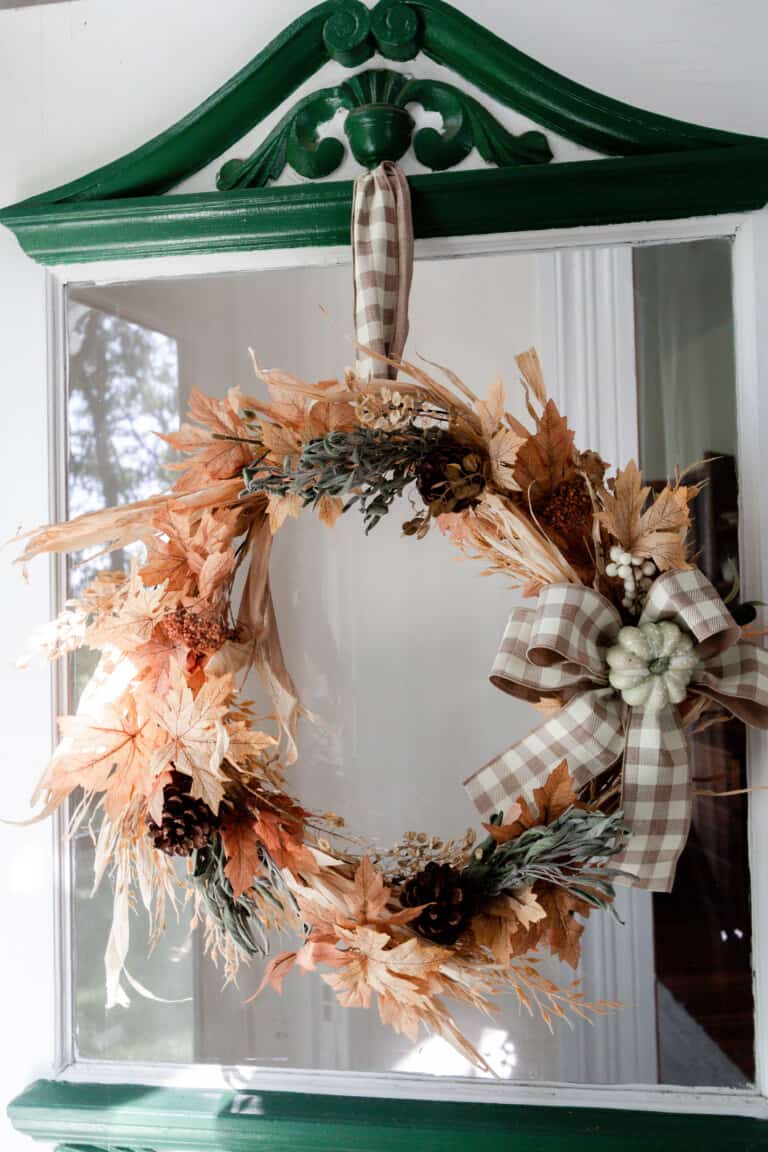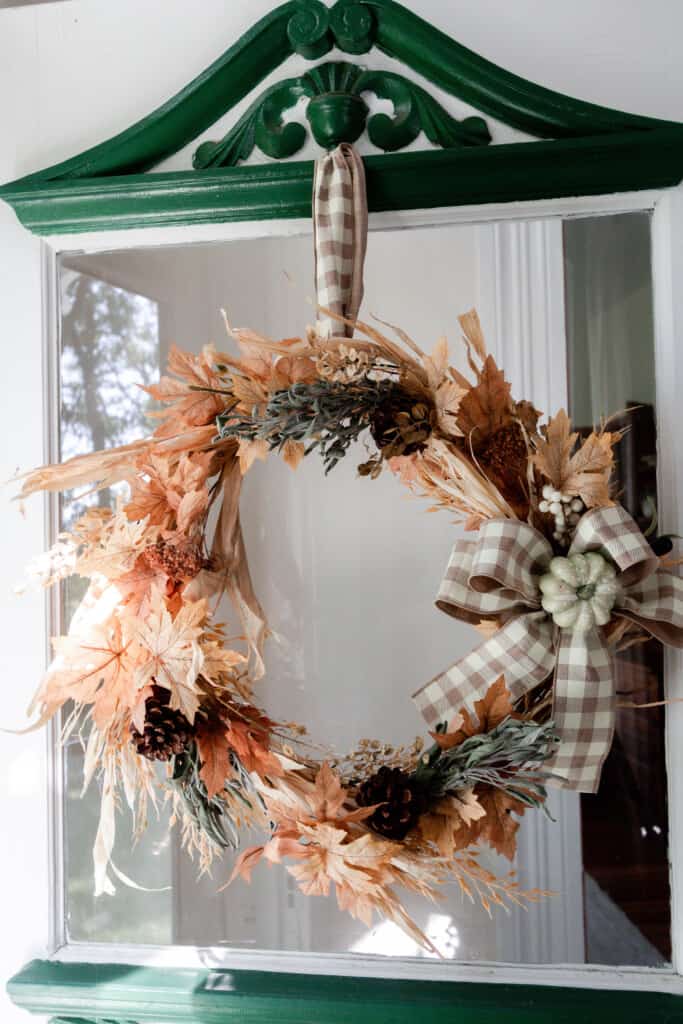 When decorating for fall, I love focusing on things collected around the farm, like dried leaves, flowers, fruits, pumpkins, squashes, etc. But I also love using faux foliage that can be used year after year, an item that is easily stored and one that continues to look amazing.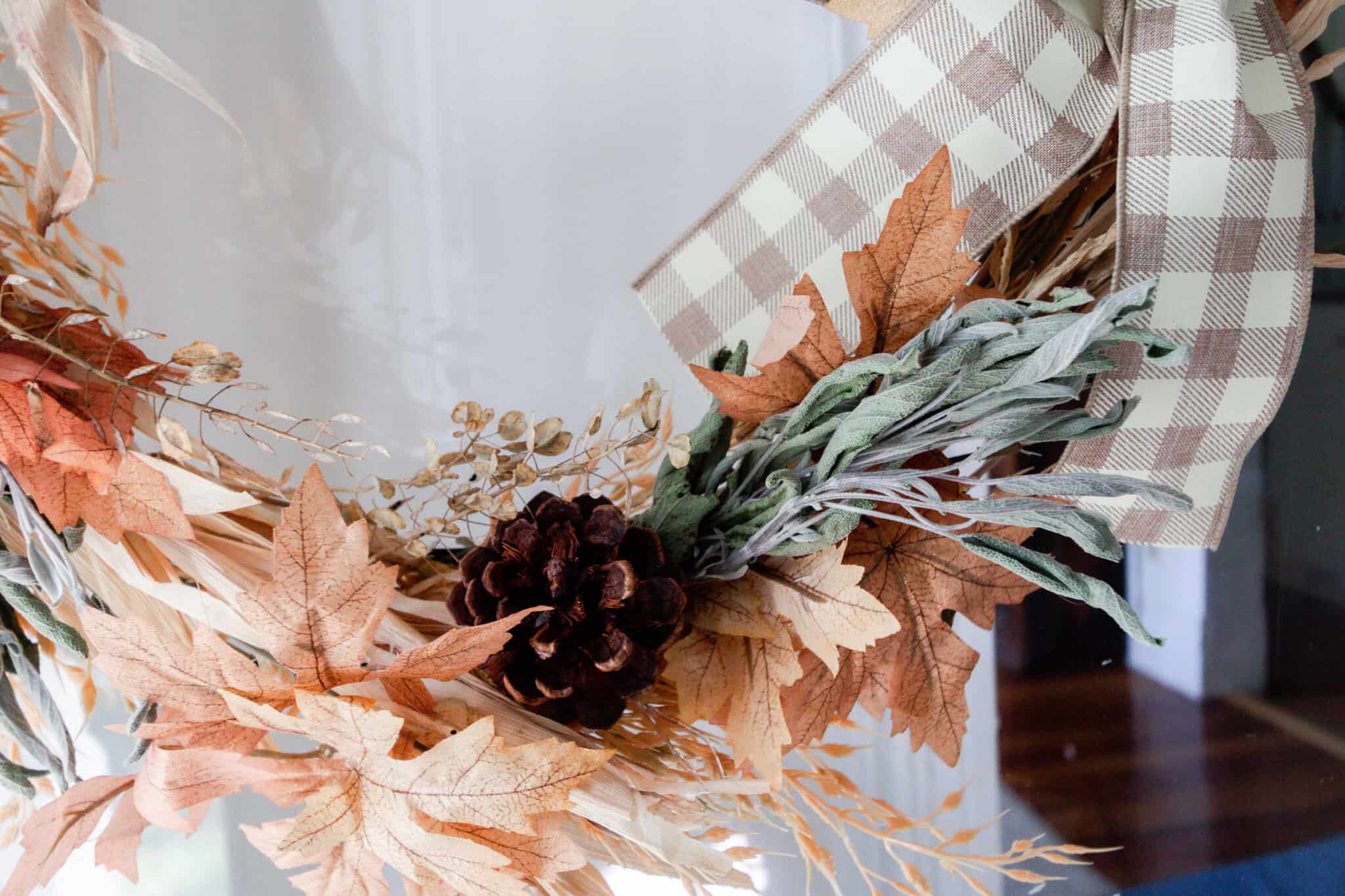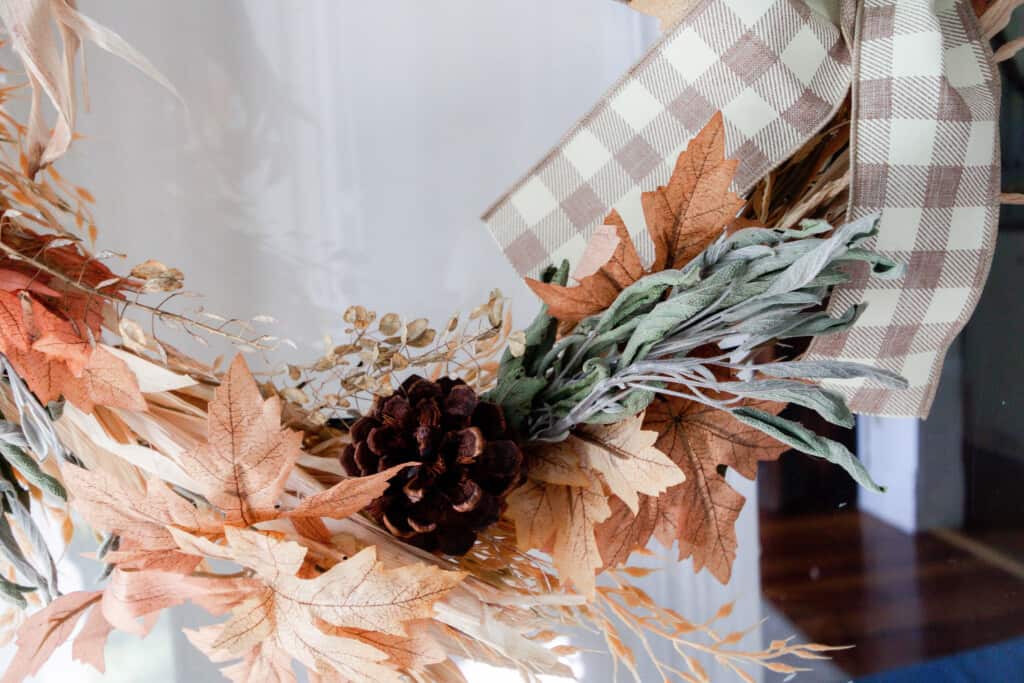 On this particular day, I switched out the wreath on the door to create this beautiful DIY fall wreath made from faux wheat, leaves, pumpkins, and ribbon from Walmart. Dried sage from the garden was added to the mix, because I love the matte color it adds. Mixing faux and real greenery is a great choice. You can change up the dried foliage depending on what is available at the time, and it adds color, texture, and in some cases, a crisp autumn scent.
Walmart has such a great variety of craft supplies for every season. And while most places seem to be swapping out fall stuff for Christmas, I'm just not there yet. We haven't even had our first fall frost yet, so let's just take a step back and enjoy where we find ourselves. Fall decorating is actually an incredibly simple transition to Christmas decorating, with Thanksgiving bridging the gap with its warmth and cheer.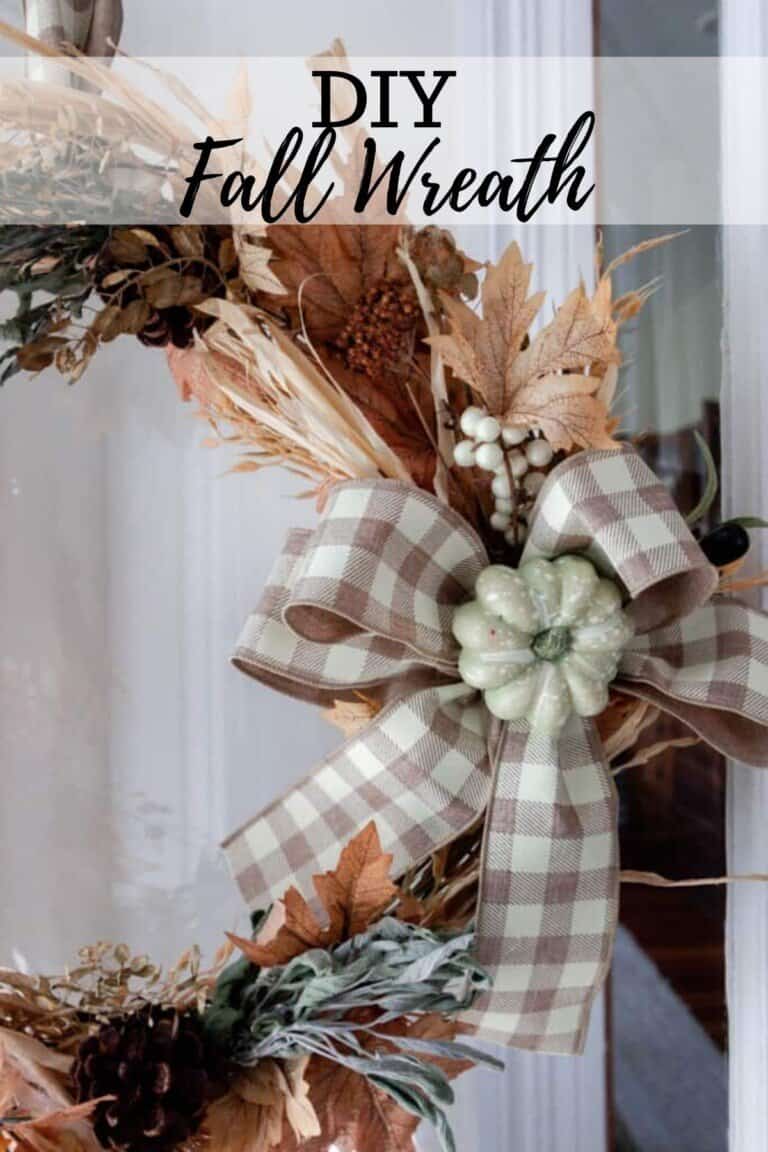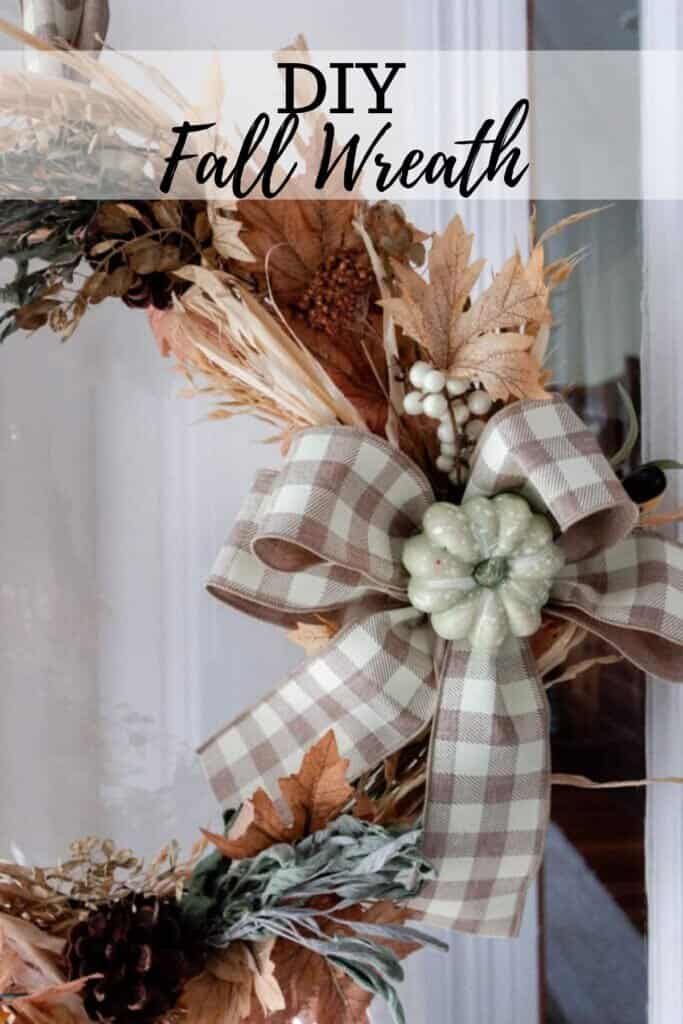 This type of project may just be one of my favorites. Nothing has to be perfect, you just need to play with your materials until they look the way you want. You get to be creative without feeling like you have to follow any rigid parameters.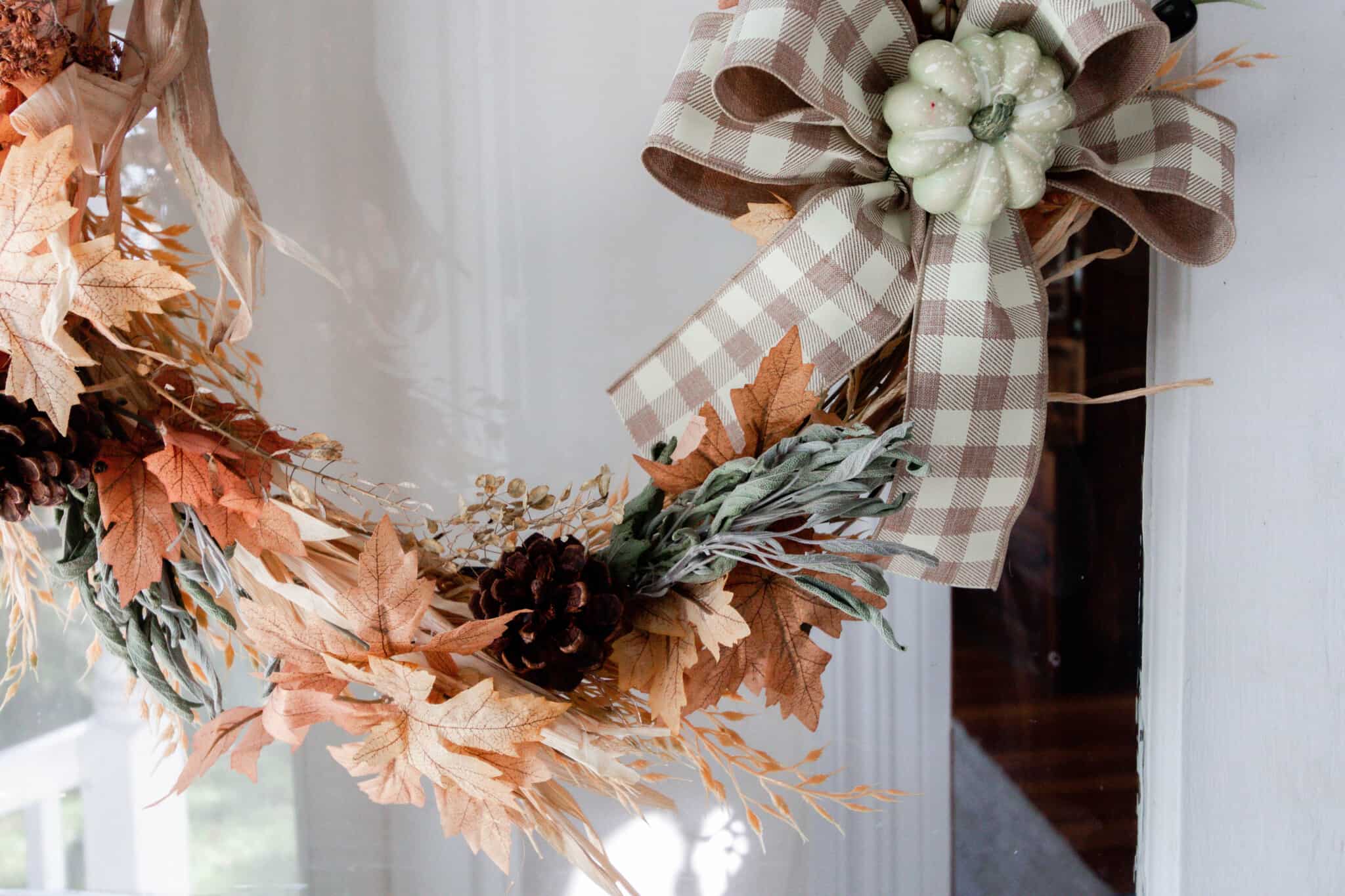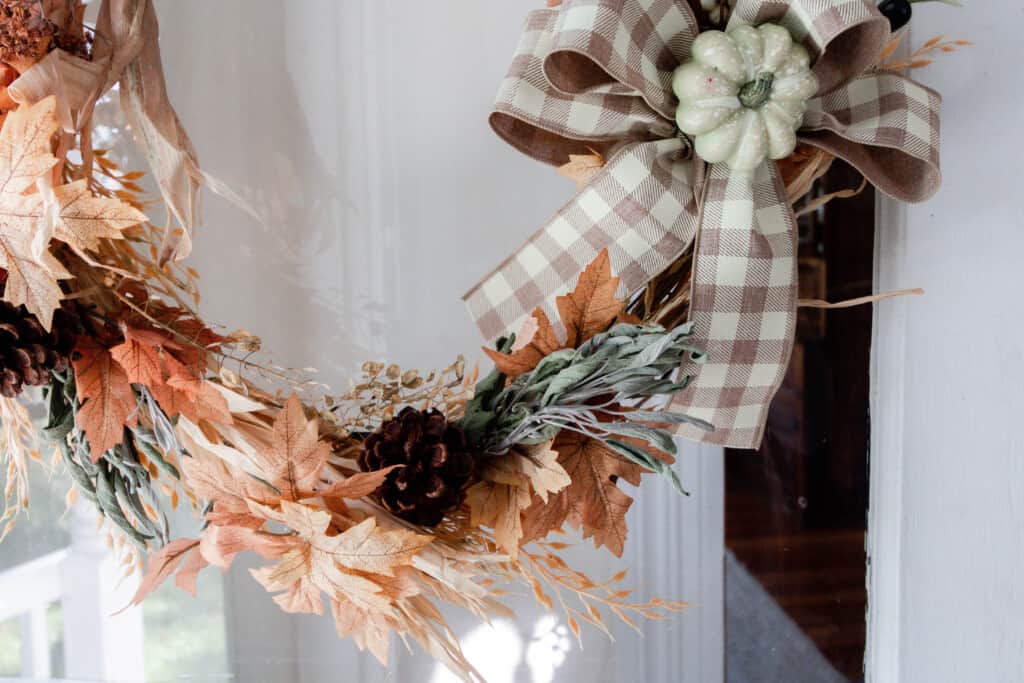 Watch The Tutorial:
DIY Fall Wreath Making Tips:
Nothing has to be perfect to make this wreath. Continue to play with it and secure it with wire as you go. It is very forgiving and you can easily move things and change it up until you come up with something you like.
I used a wire wreath form to create this tutorial, but you could also use a grapevine one.
For this project, I used a variety of faux and dried florals. You could use all dried or all faux. I like incorporating the faux, because it adds longevity to the wreath, where dried won't last quite as many seasons.
Tools and Materials You May Need:
Mainstays Harvest Maple Leaves
Tan and Cream Buffalo Plaid Ribbon
FloraCraft 18″ Wire Wreath Form
Mainstays Artificial Eucalyptus
Artificial Creamy White Pumpkins

How To Make A Fall Wreath
Gather all of your supplies and lay them out.
Place wire wreath form on a table or floor.
Start by placing the wheat bush or other grassy foliage around the wreath form. Tuck the ends into the wire form and secure with wire and a little hot glue.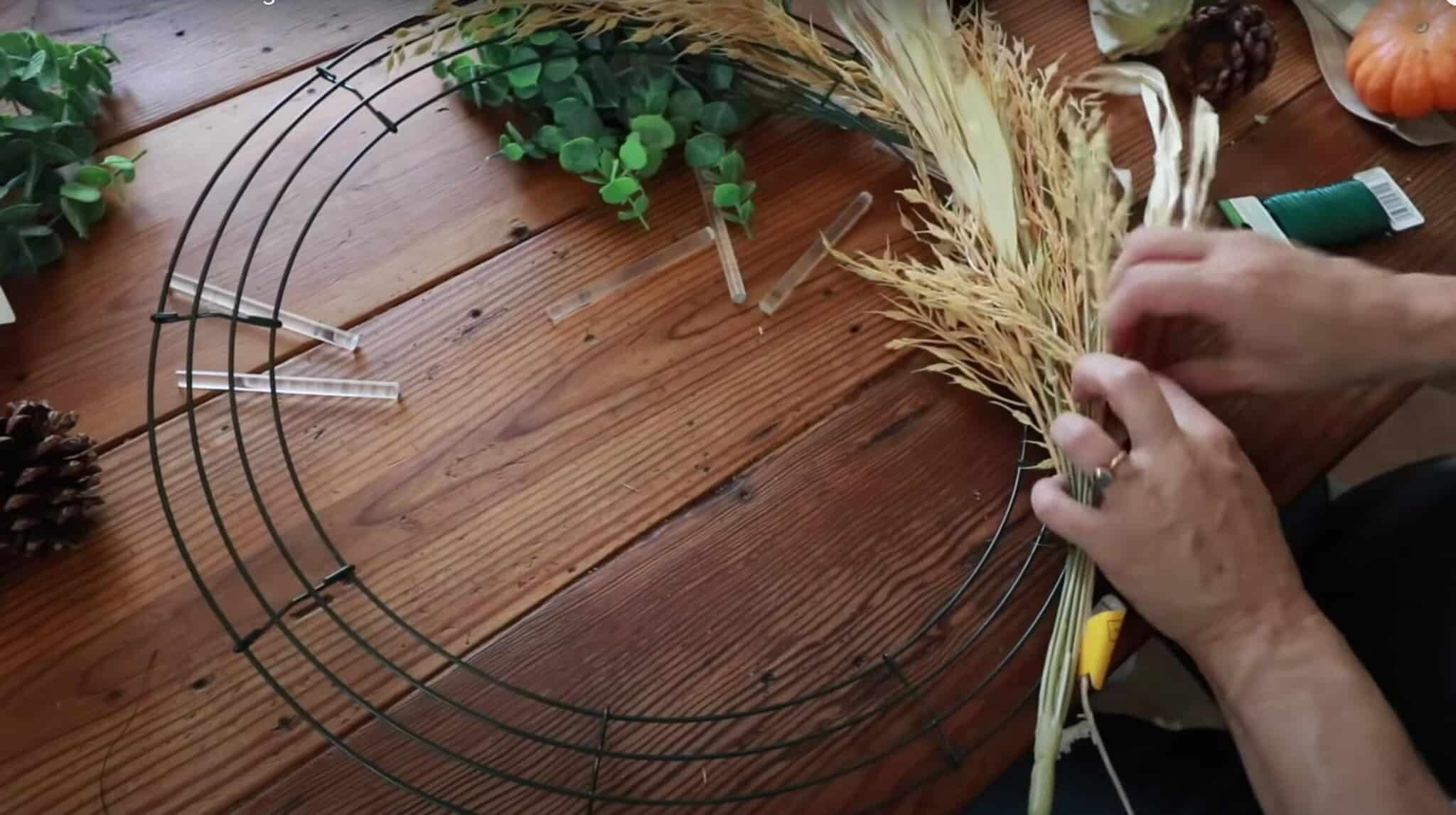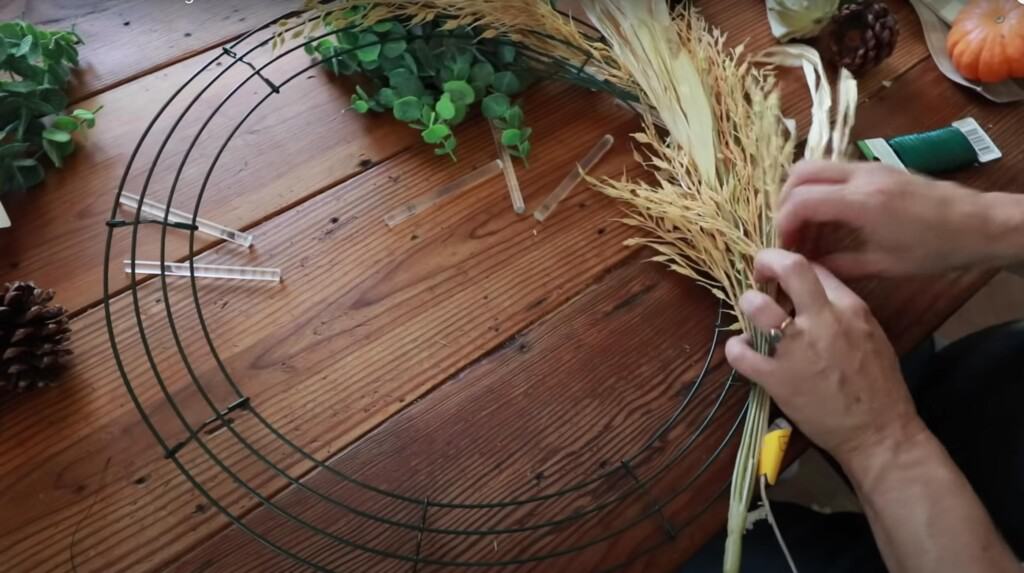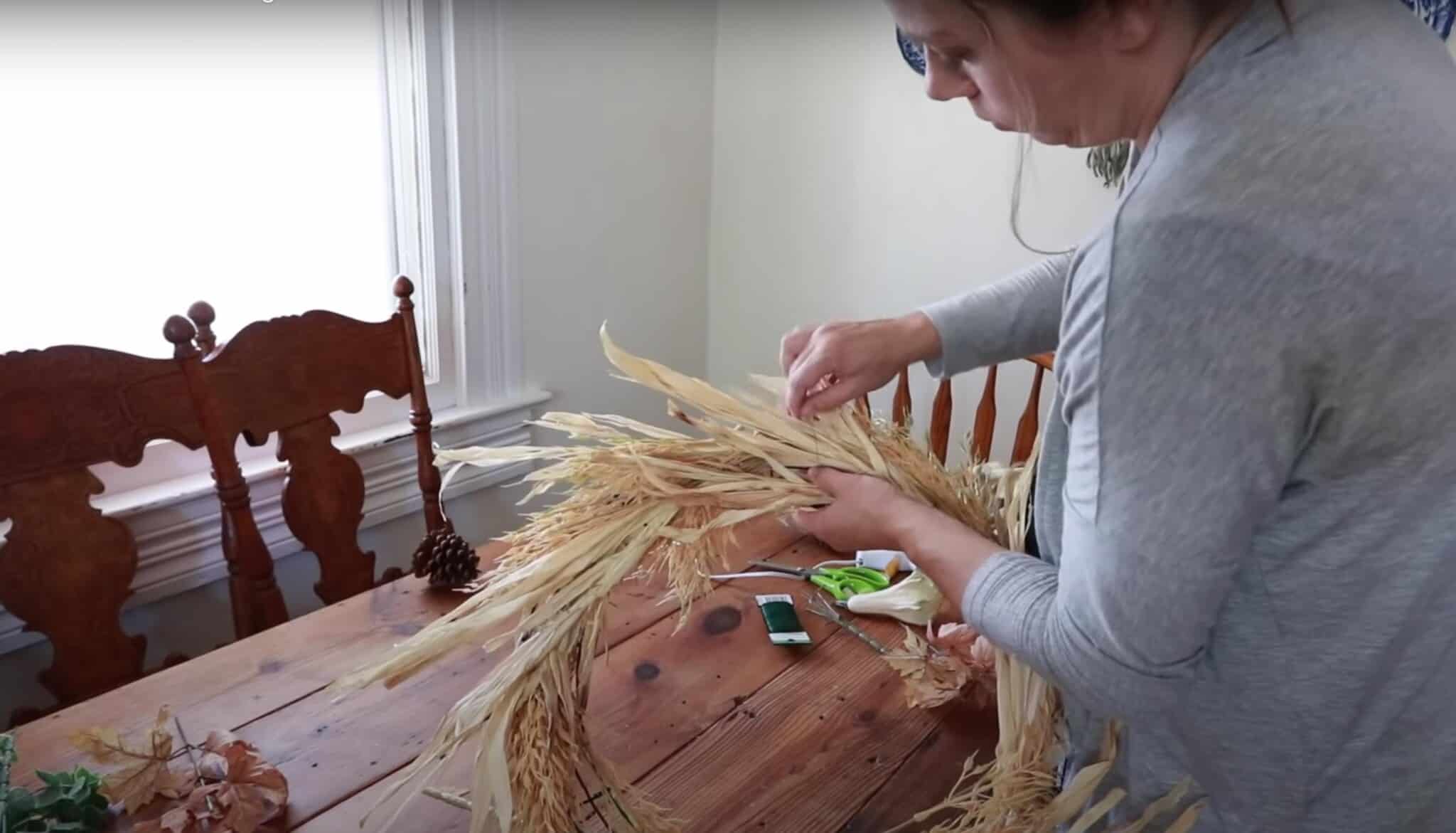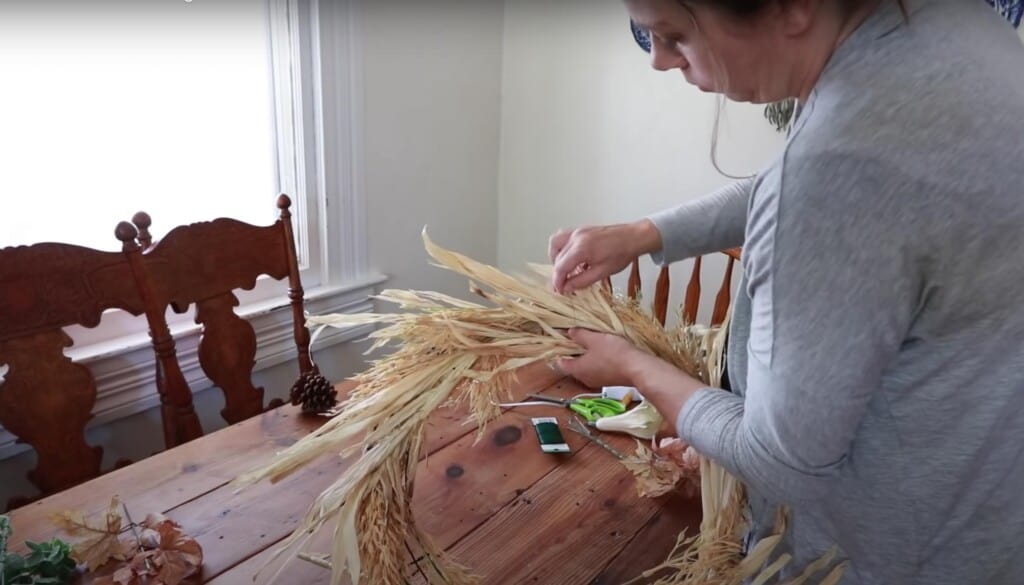 Next, add in the harvest maple leaves. I cut them apart using the floral sheers, then just tucked them in, using floral wire and hot glue.
I was going to add the faux eucalyptus, but after seeing the rich gold colors of the wreath, I decided to use the sage I had been drying. It added a beautiful matte green to the color scheme.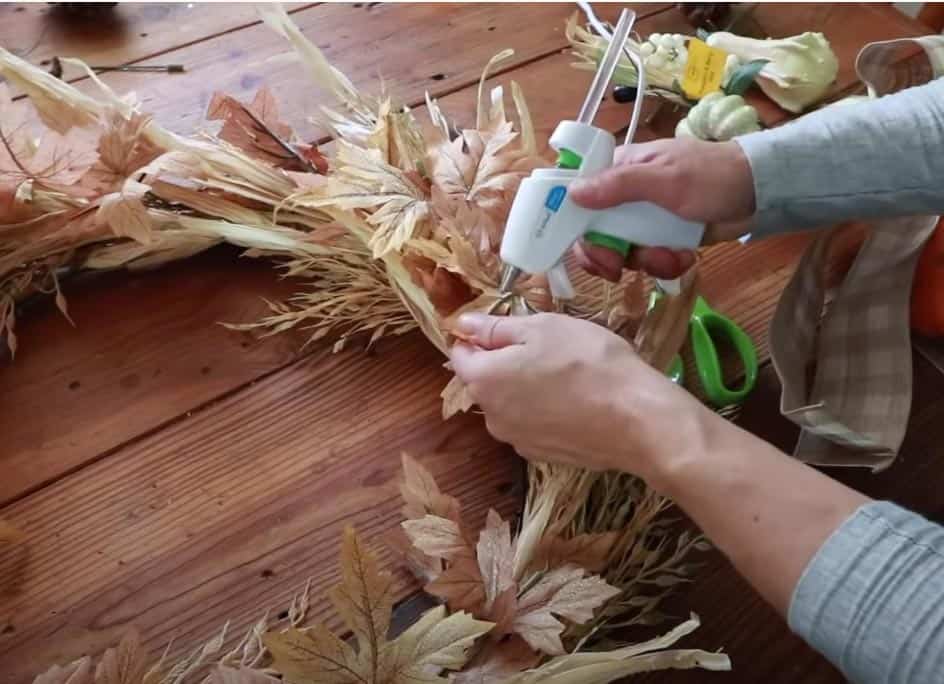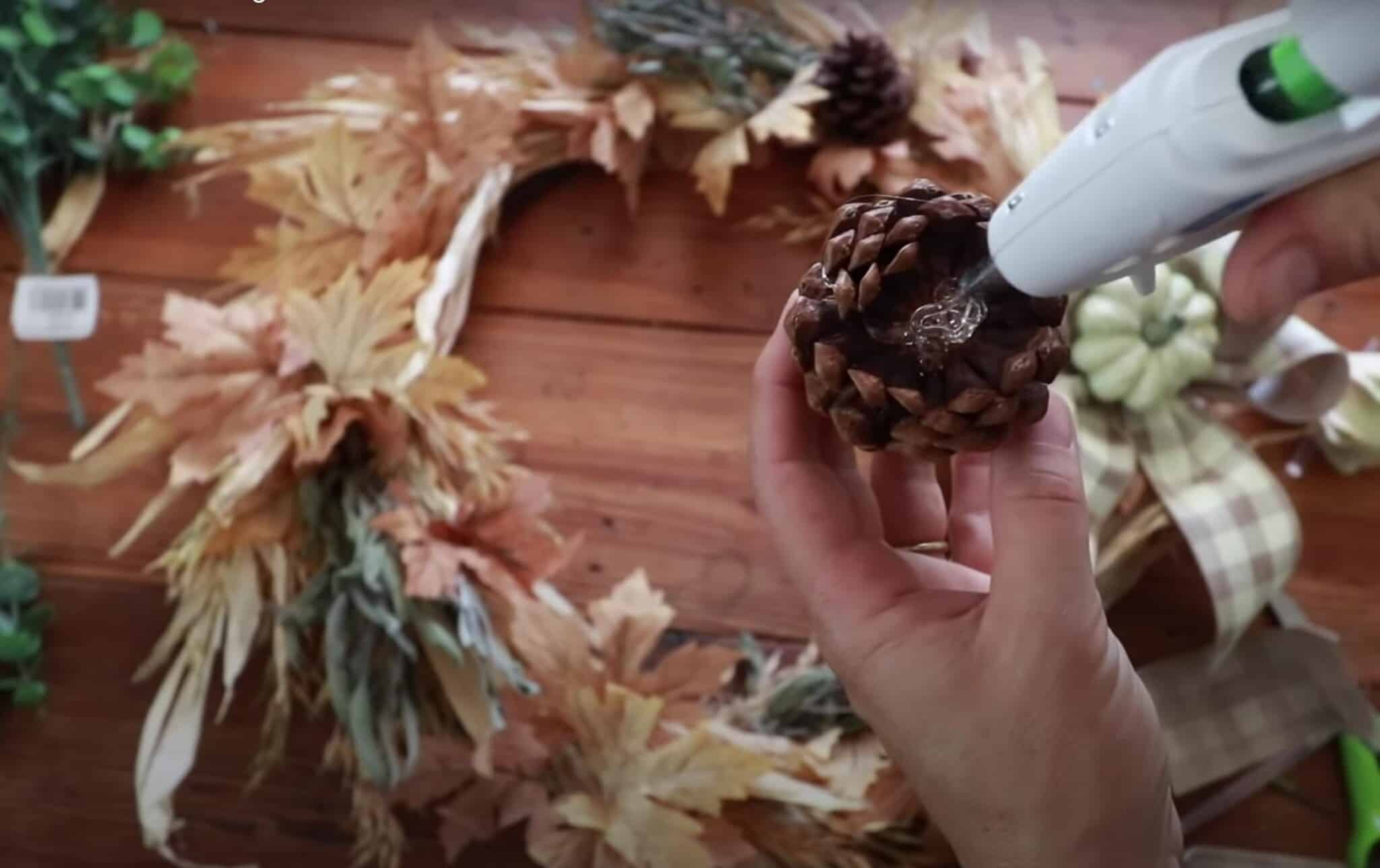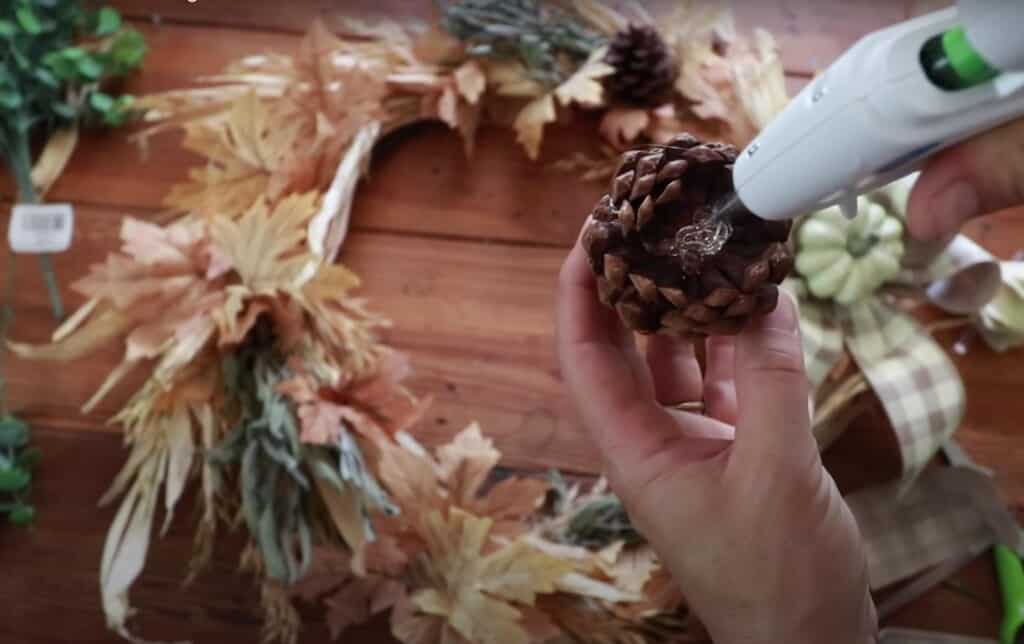 Make a bow using wired ribbon. Create a loop using the ribbon and floral wire, then twist the wire around the base of the loop. Leave a tail of ribbon on the first loop and last loop.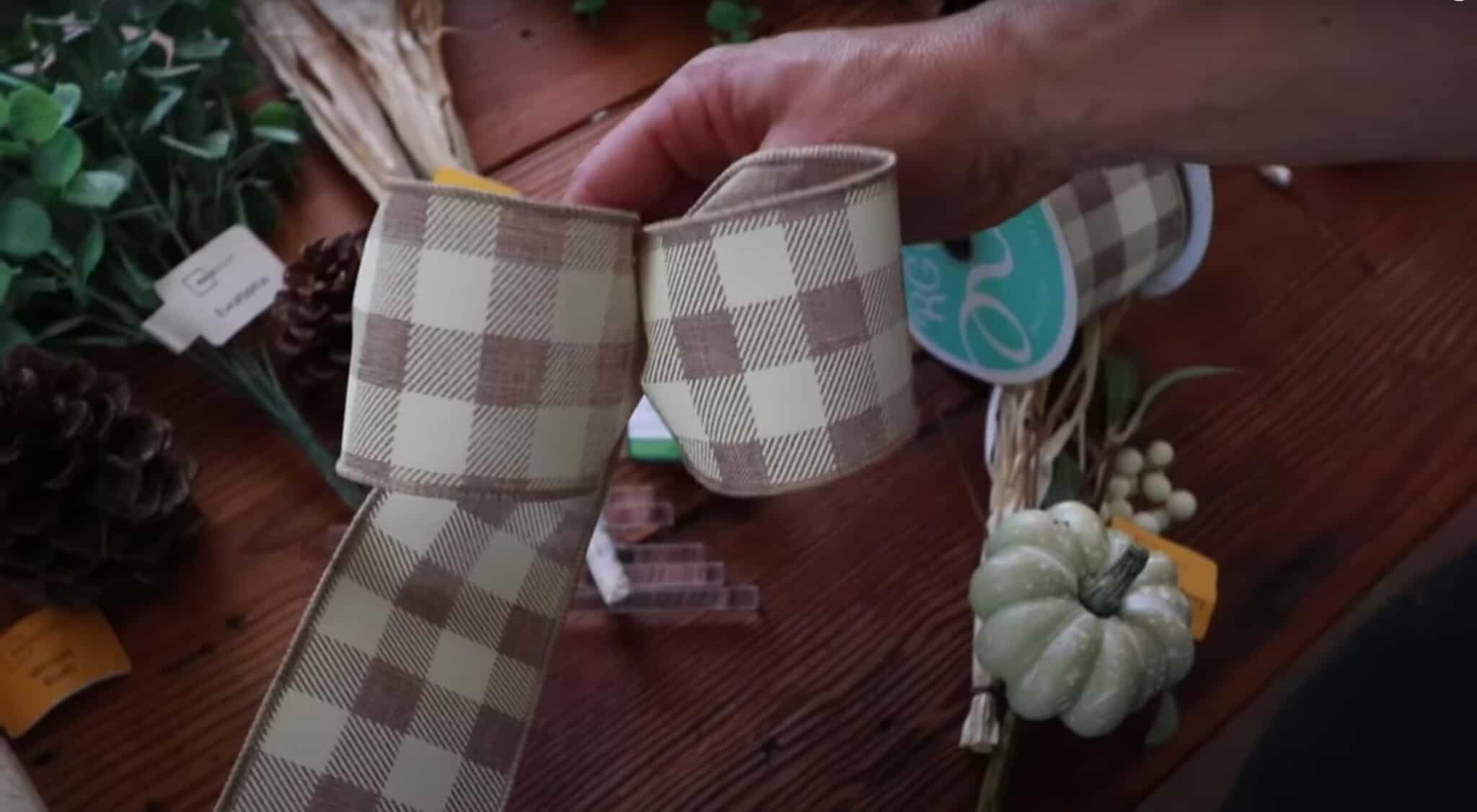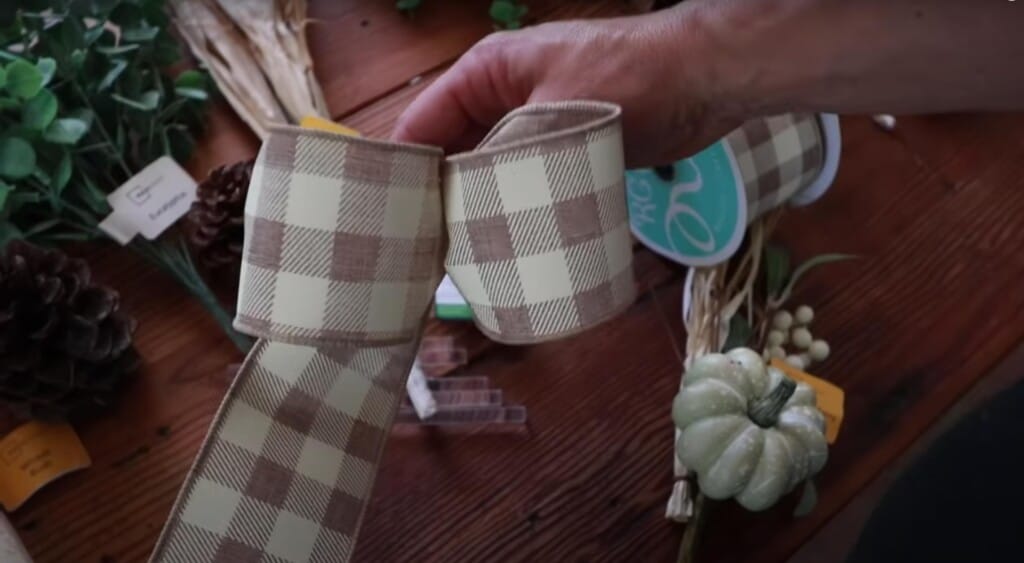 Make three more loops the same size, securing each loop with wire around all the loops each time.
Place on the wreath where desired, using the wire to secure it. Pull and puff the bow to achieve a full, beautiful accent.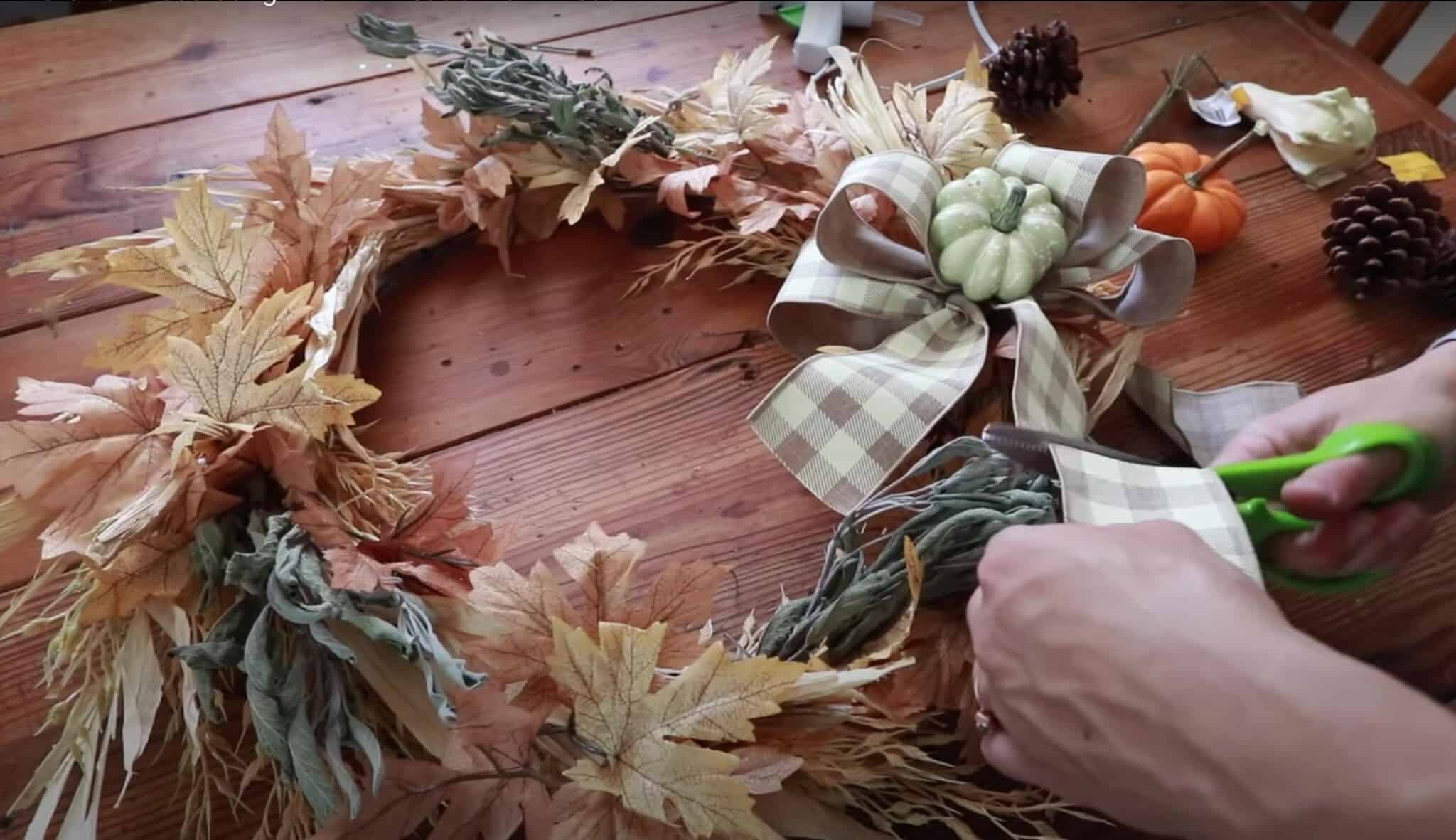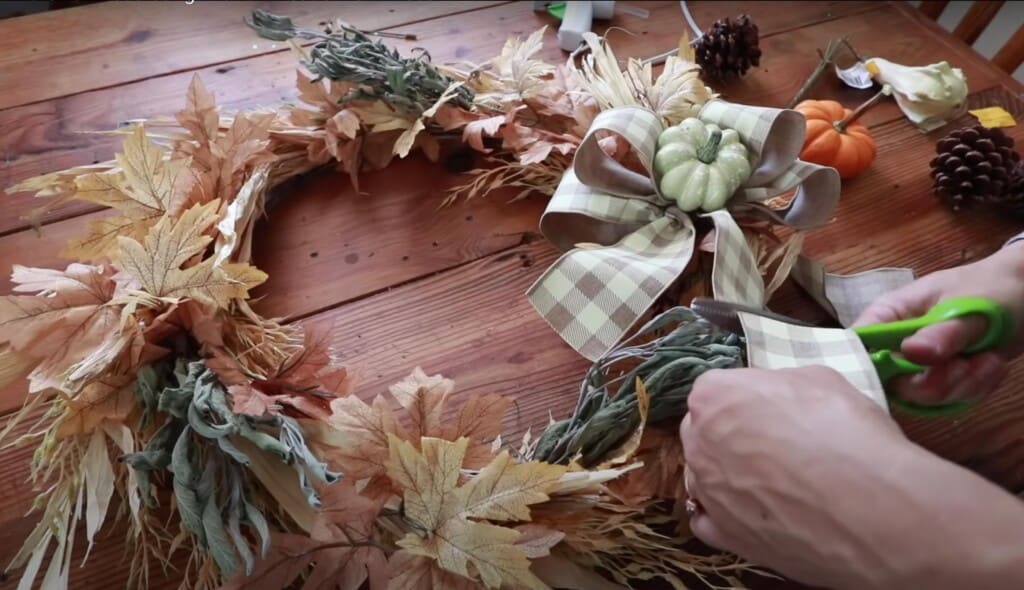 Now, place the artificial pumpkin and hot glue in between the loops, so it is right in the middle.
Hot glue on pine cones.
Using the same ribbon as the bow, cut a long piece and wrap it around the top of the wreath and tie at the ends to hang.
Find More Easy DIY Projects: