Come tour the boys' Victorian farmhouse bathroom reveal. We replaced the floors, added vintage touches, and some of that Victorian farmhouse flare. It turned out beautiful and all for a modest budget.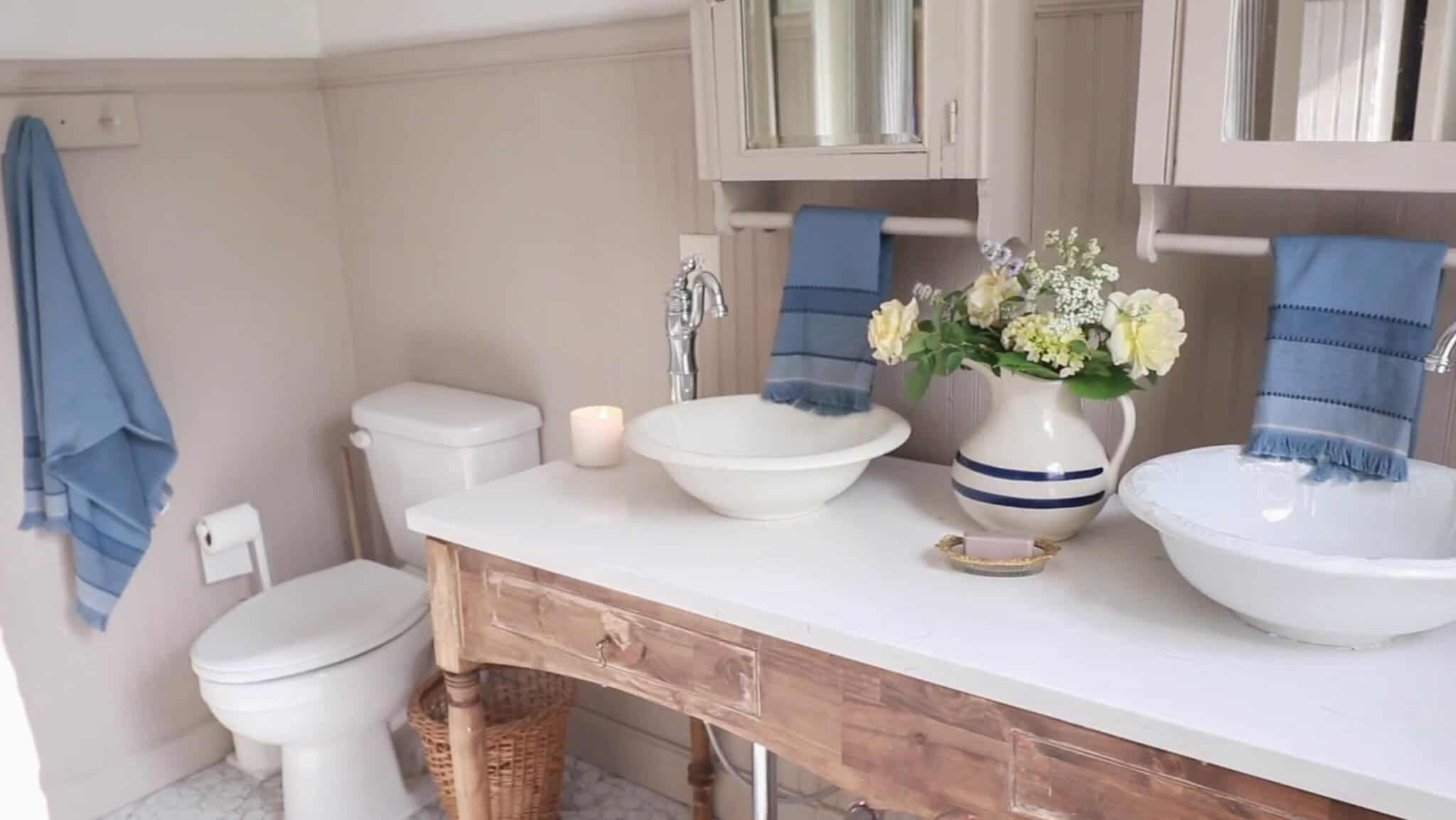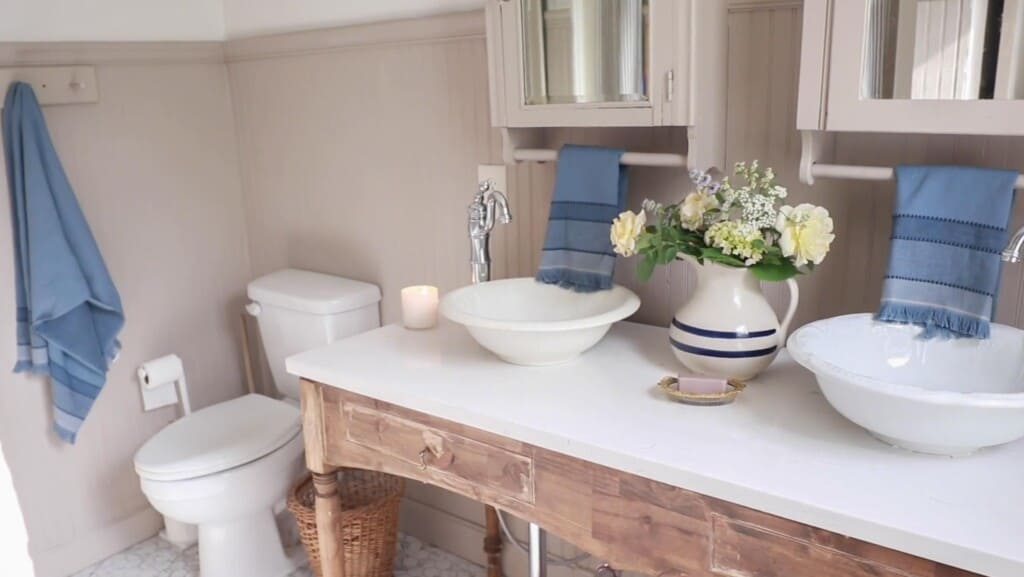 We moved into our 1860's farmhouse a little over three years ago. In that time, we have touched nearly every square inch in our home.
We tackled a complete remodel in our kitchen, the guest bathroom, new floors, a boys' bedroom remodel, a girls' bedroom remodel, our bedroom, home office…the list goes on.
Today, I'm excited to show you a project that we've been planning, yet putting off, for a long time.
The boys' bathroom.
When I was designing this bathroom renovation, I didn't want it to be a complete gut job. We could have taken out the shower and replaced it with a tub, or we could have tiled the shower walls. But we decided to make it a low-key, lower budget project.
It was already getting pretty overwhelming, and we wanted a project that we could actually complete.
The Before: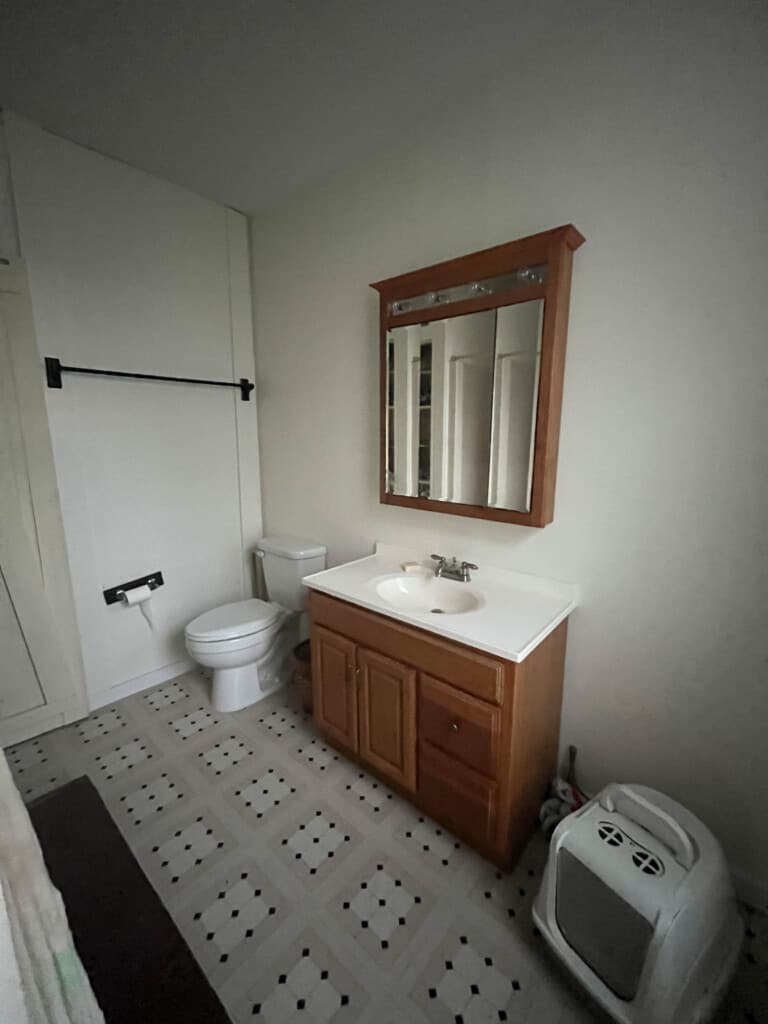 Before, this bathroom wasn't very functional, and it was pretty outdated. There was a single outdated sink, and with five boys who are only getting bigger, I wanted to have at least two sinks.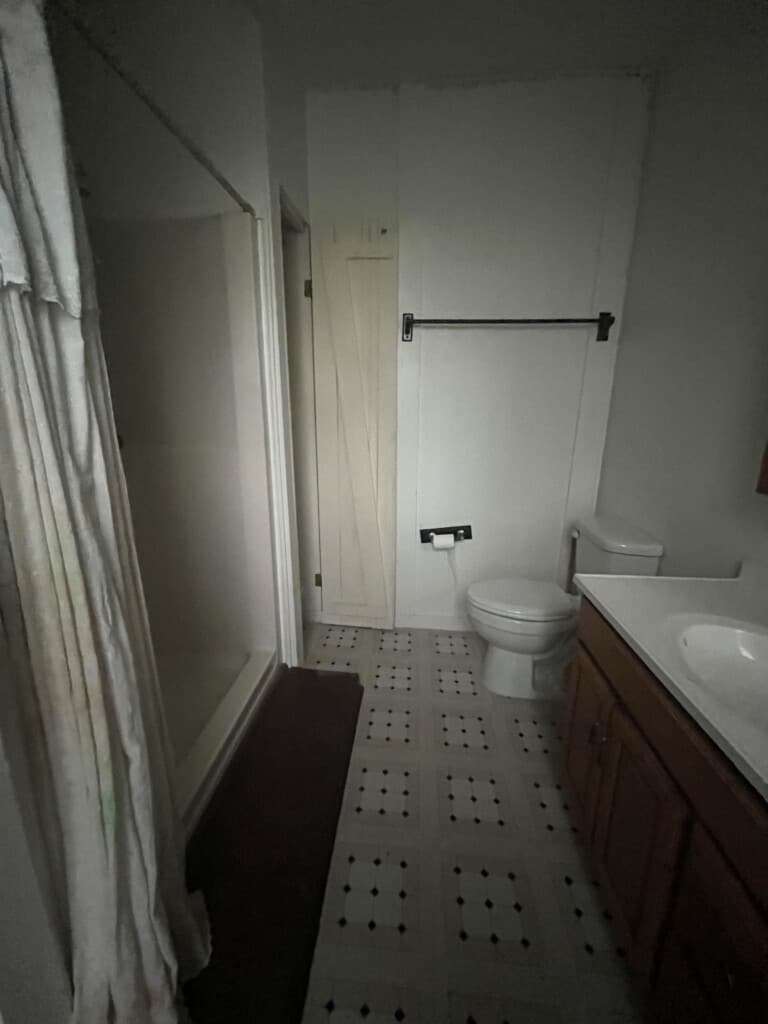 There was old linoleum flooring and not a whole lot of personality.
This post contains affiliate links, which means I make a small commission at no extra cost to you. See my full disclosure here.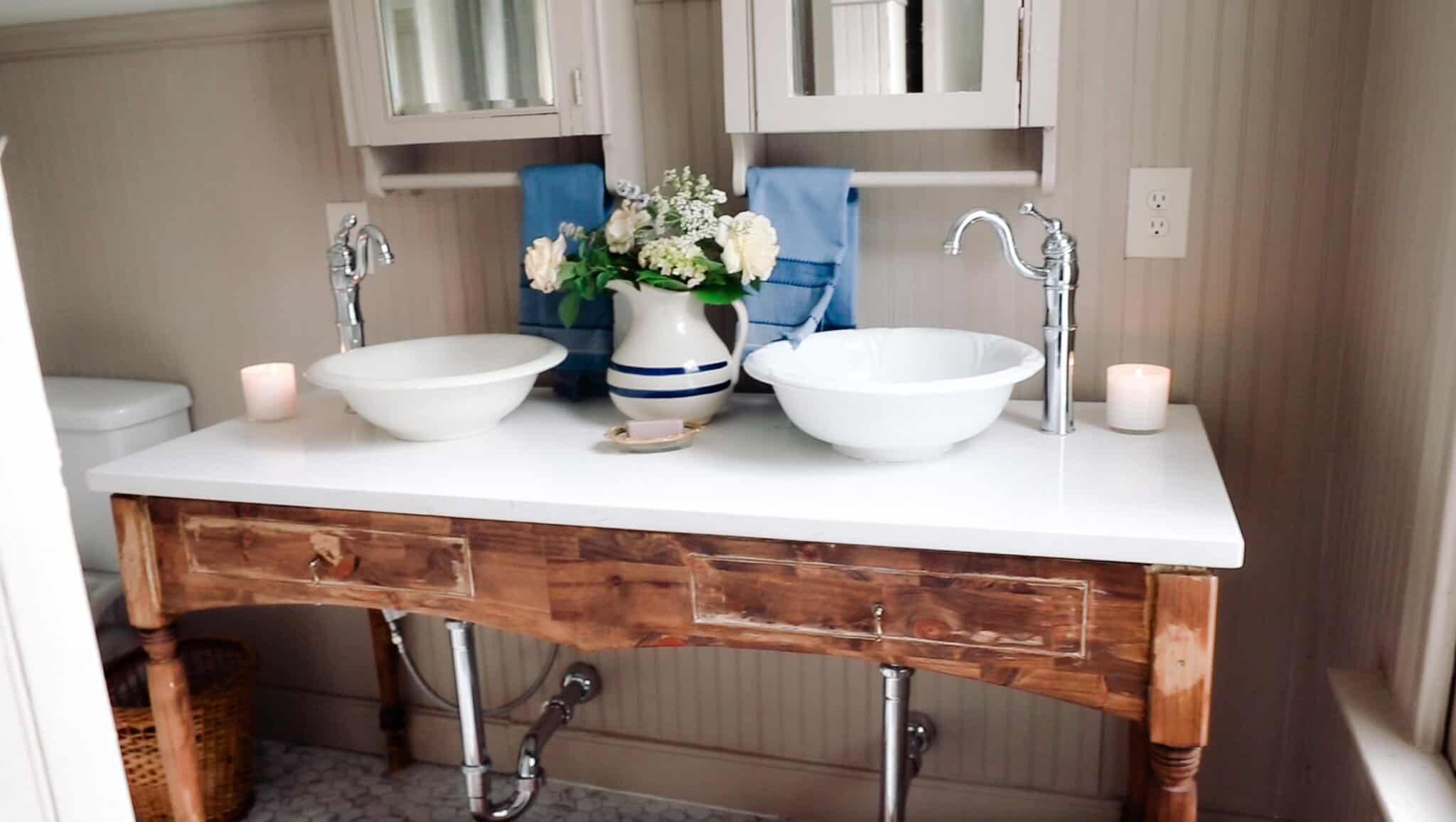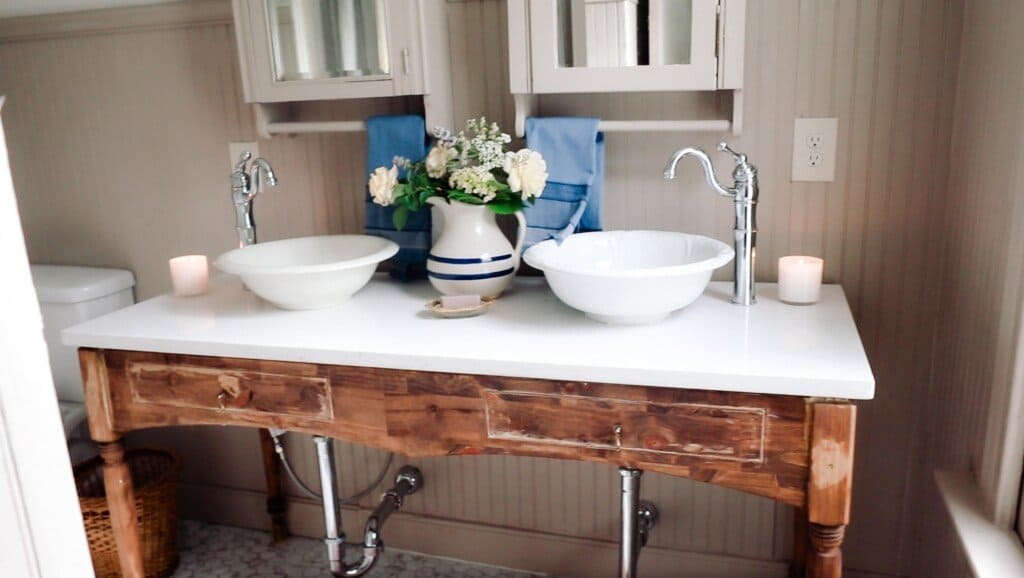 Farmhouse Kid Bathroom After: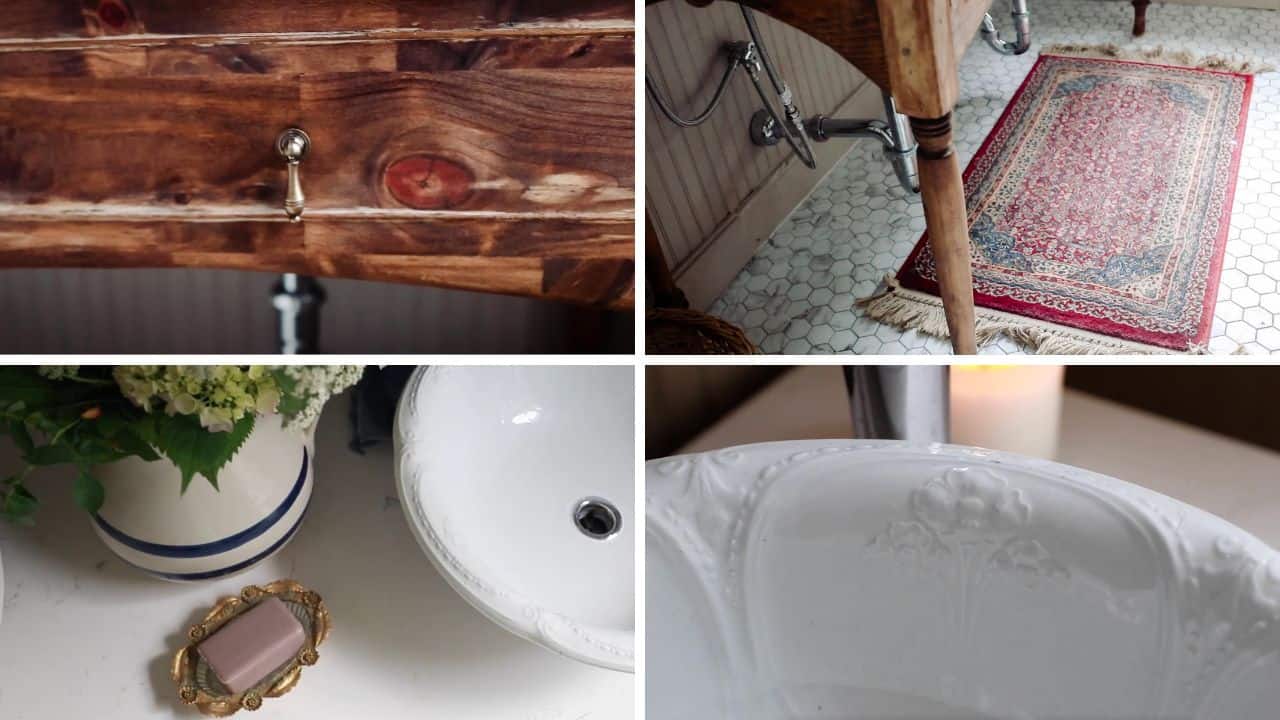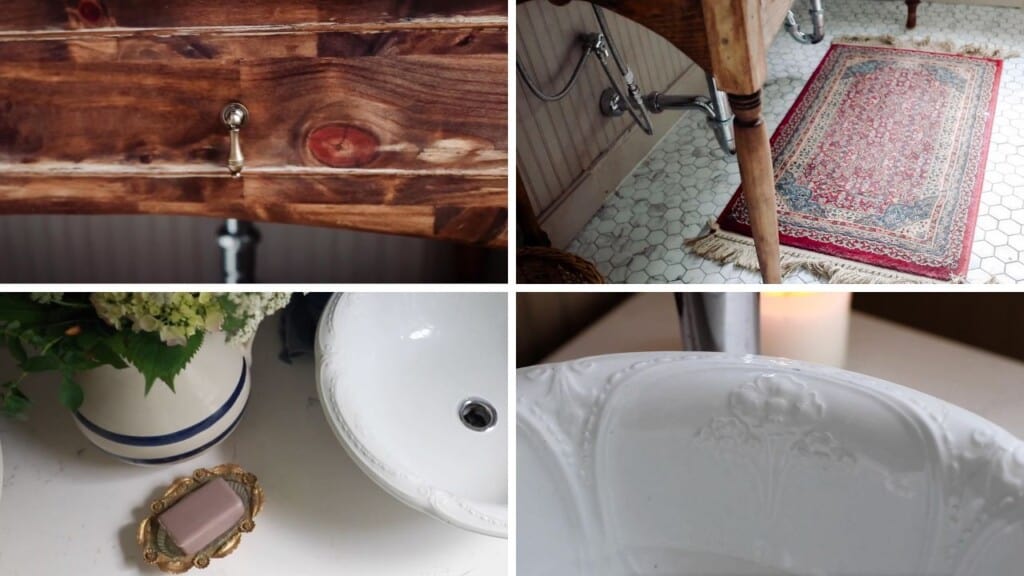 The Vanity:
After a lot of research, I kept being drawn to beautiful, antique pieces that were converted into vanities (like how we turned an antique dresser into a vanity for our downstairs bathroom). I really wanted to accomplish that look, but didn't want to spend months or years looking for the exact measurements we needed.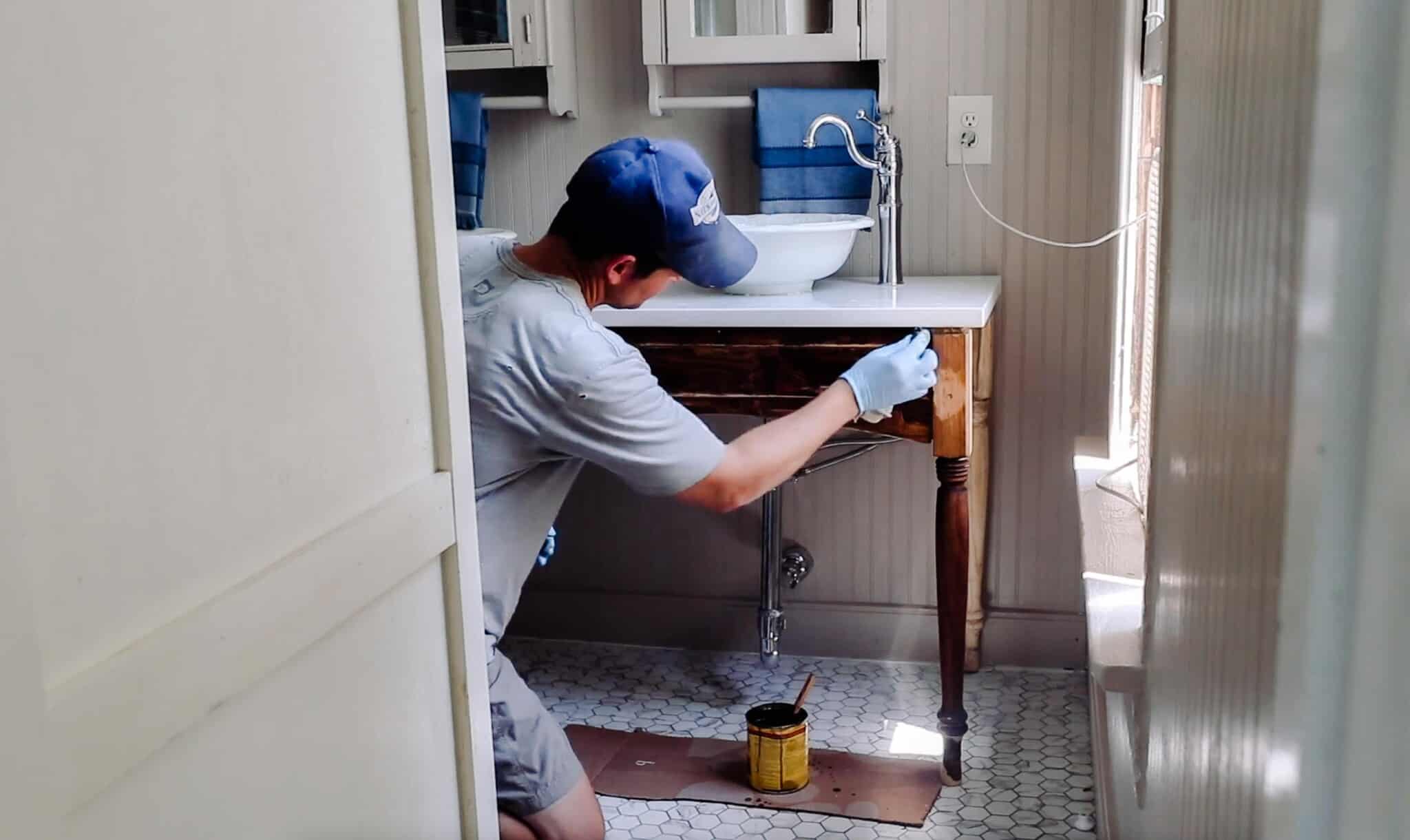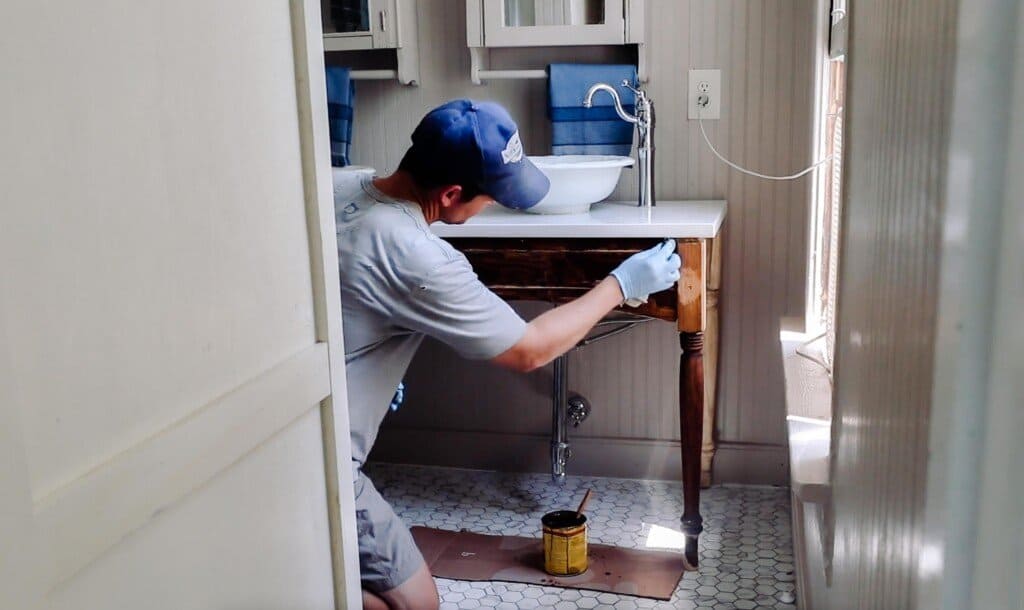 So we had our handyman create a vintage-inspired piece of furniture. He mounted two faux drawer fronts, and Luke stained it all. Originally, I wanted to paint it, but we decided to go ahead and stain it.
I absolutely love the color of the stain, but the wood turned out a little bit inconsistent and splotchy. We will enjoy it this color for now.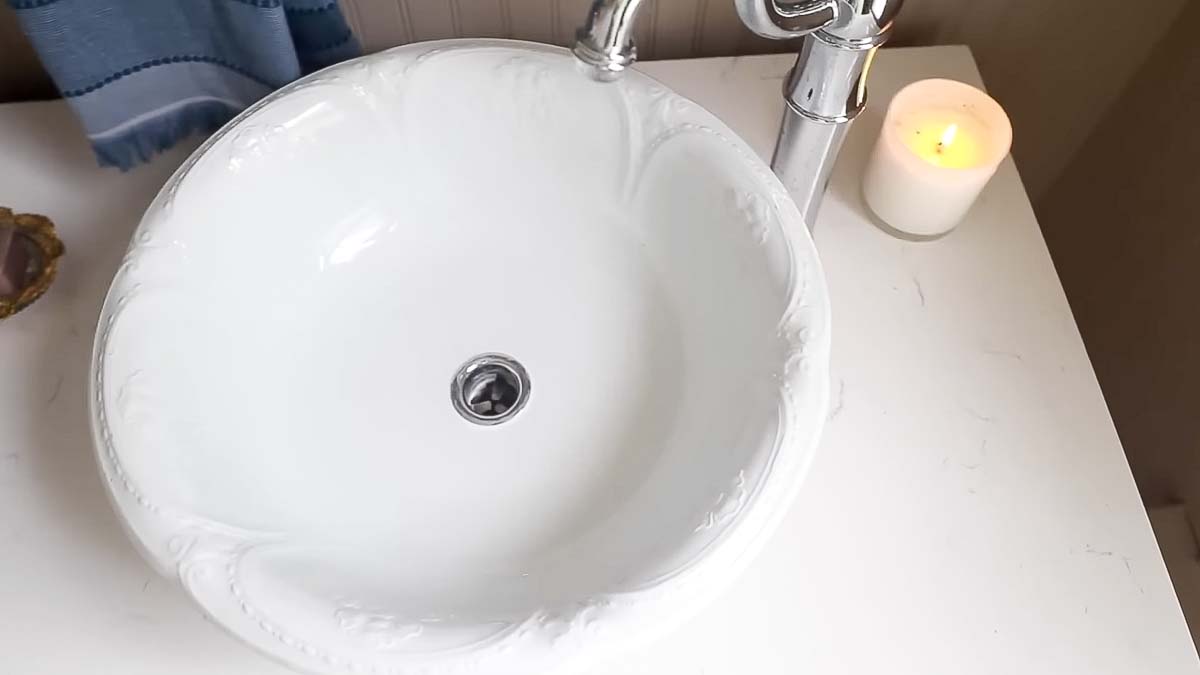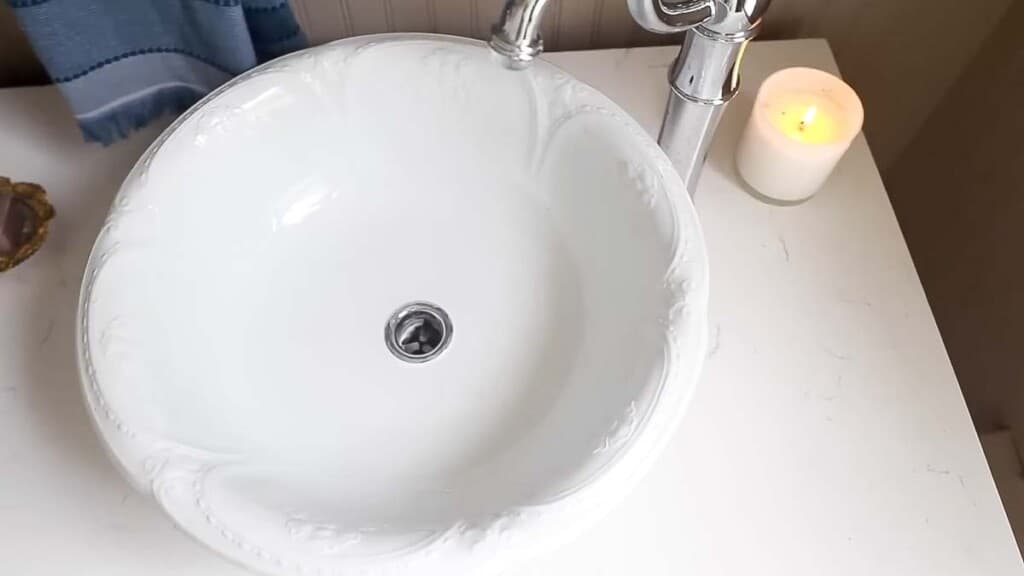 For the top, we ordered a slab of marble, and for the sinks, we took two antique bowls and turned them into vessel sinks.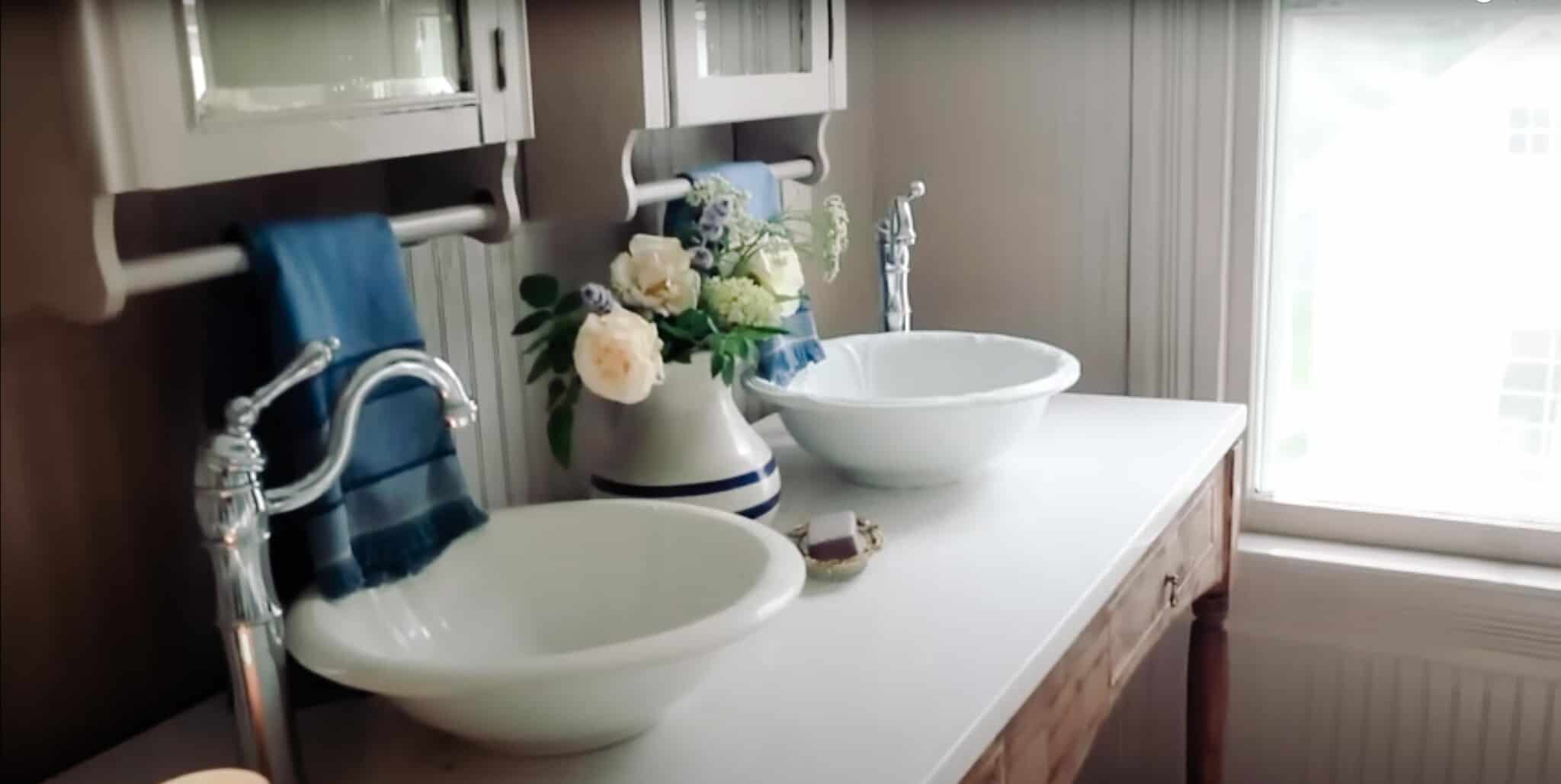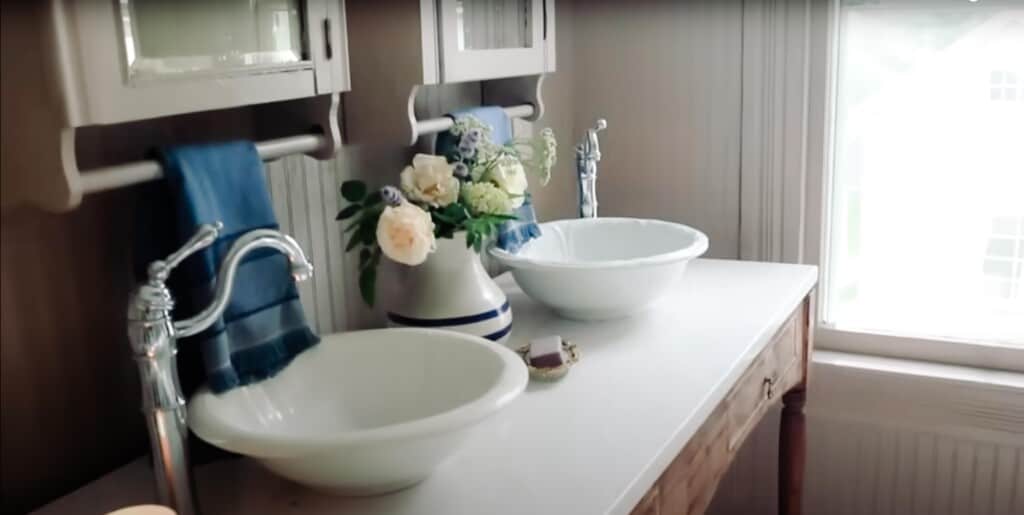 This was actually way easier than I thought it would be, so I'll show you how to do it in next week's post. Thesr 16.5 inch antique bowls can be found pretty much everywhere for pretty inexpensive.
So if one of the mirrors from the medicine cabinets accidentally falls on it and breaks it, you can easily find another bowl. Talking from experience here.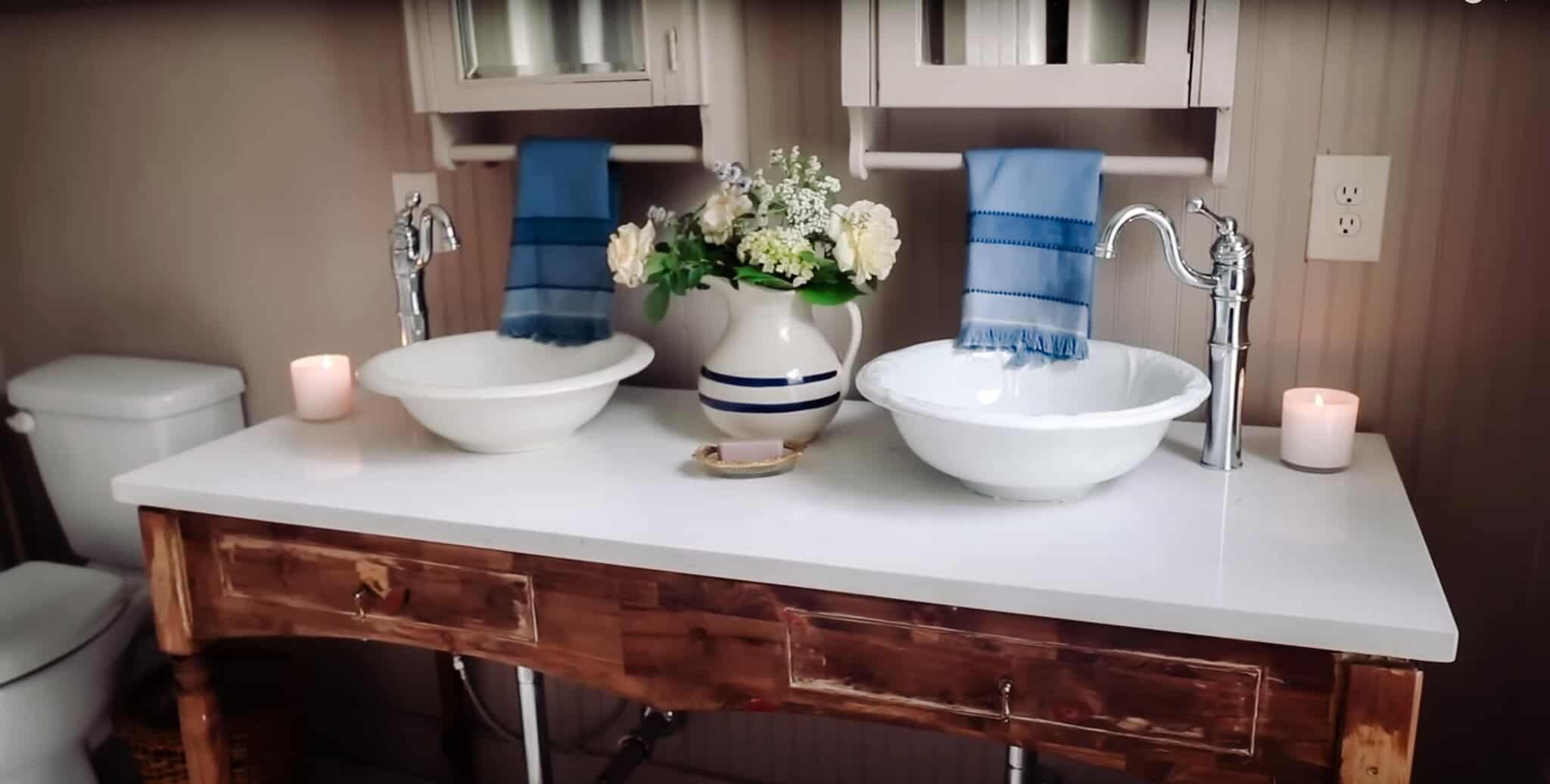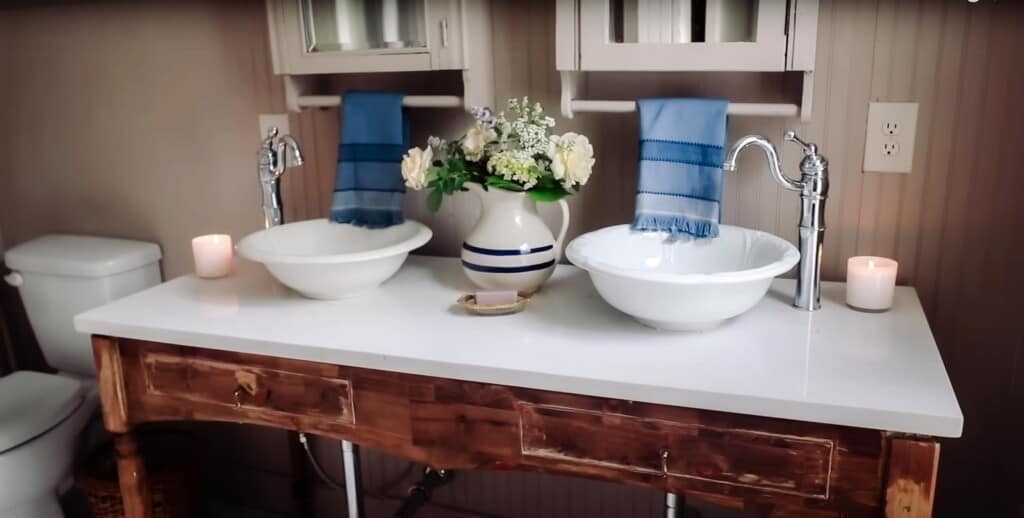 Bead Board
We added bead board halfway up the wall with trim around the top. I wanted this bathroom to stay consistent with the other rooms in our house, so I also used the same color (Balanced Beige) as the other bathroom. I
t's just that stage of life where when you find something that works, you just keep going with it.
Flooring: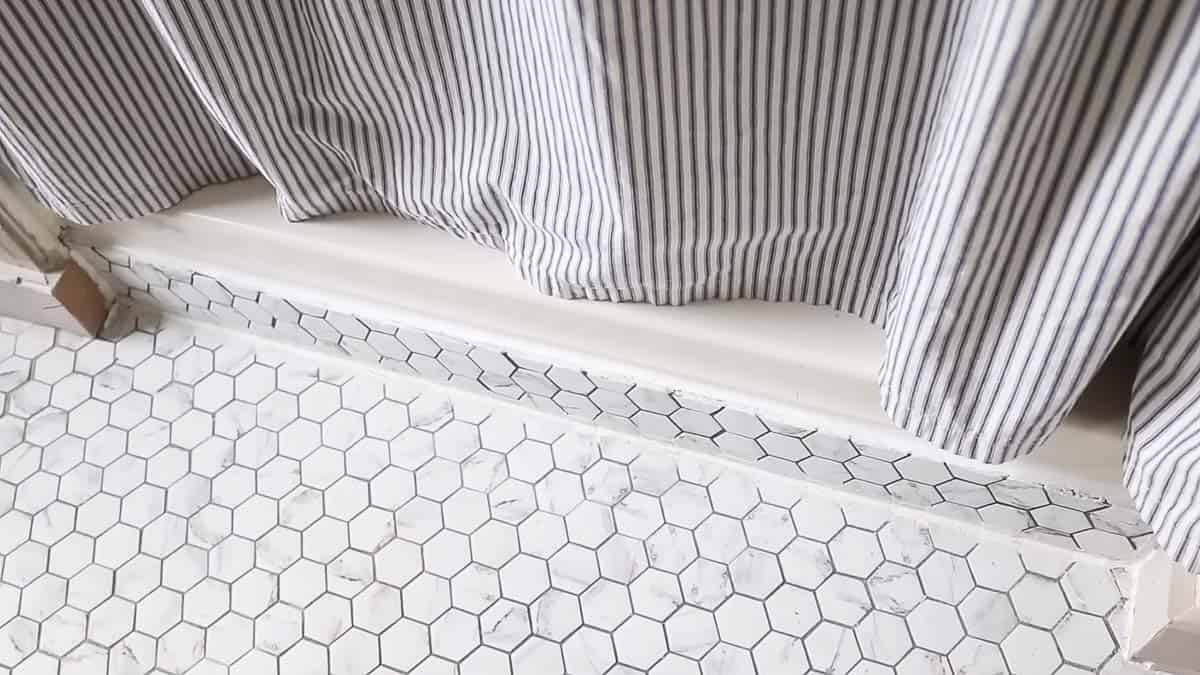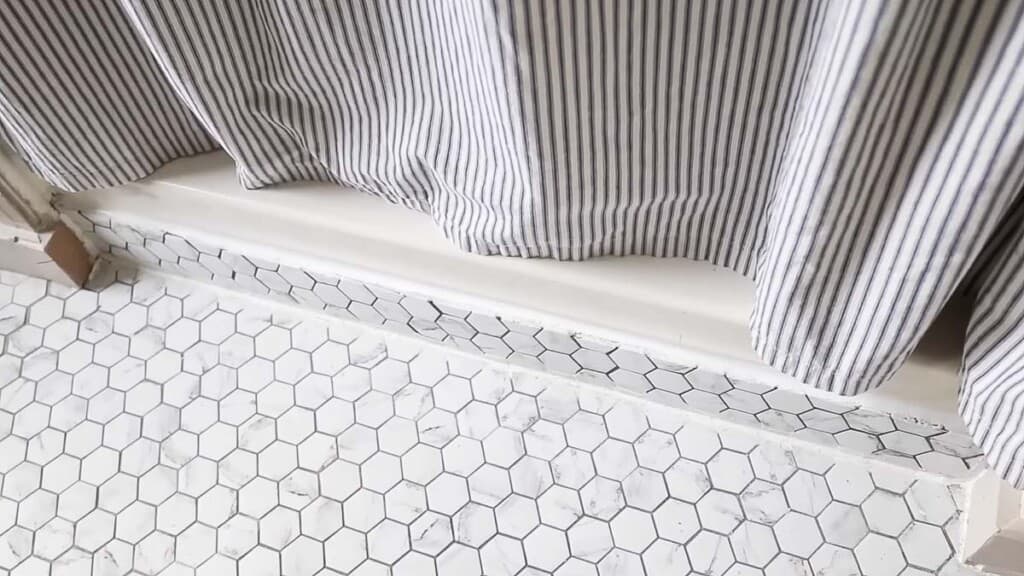 A beautiful hexagon marble tile was installed rather than that dated laminate. Again, it was another choice we used in our downstairs bath that we liked, so we carried it up here.
One thing I did change was the grout color. Downstairs we used a light gray grout color, and while I absolutely loved it, it all turned dark within a few months. This happened due to typical mess and wear, and with me not being a meticulous cleaner.
So we went ahead and just did a darker grout to avoid that problem.
Medicine Cabinets: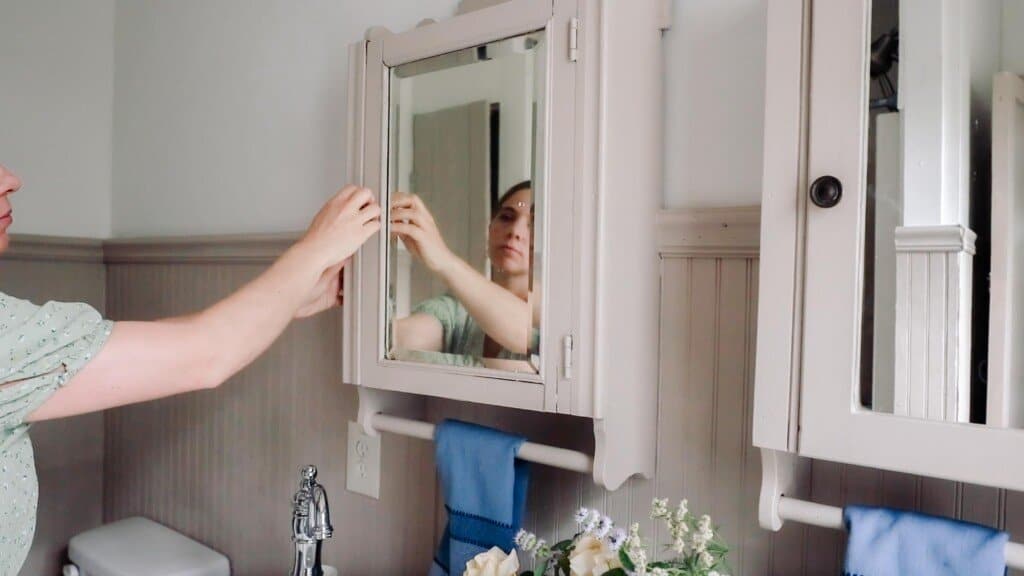 Two antique medicine cabinets painted Balanced Beige were installed. While they don't technically match, they are the same size and the matching colors brought them together.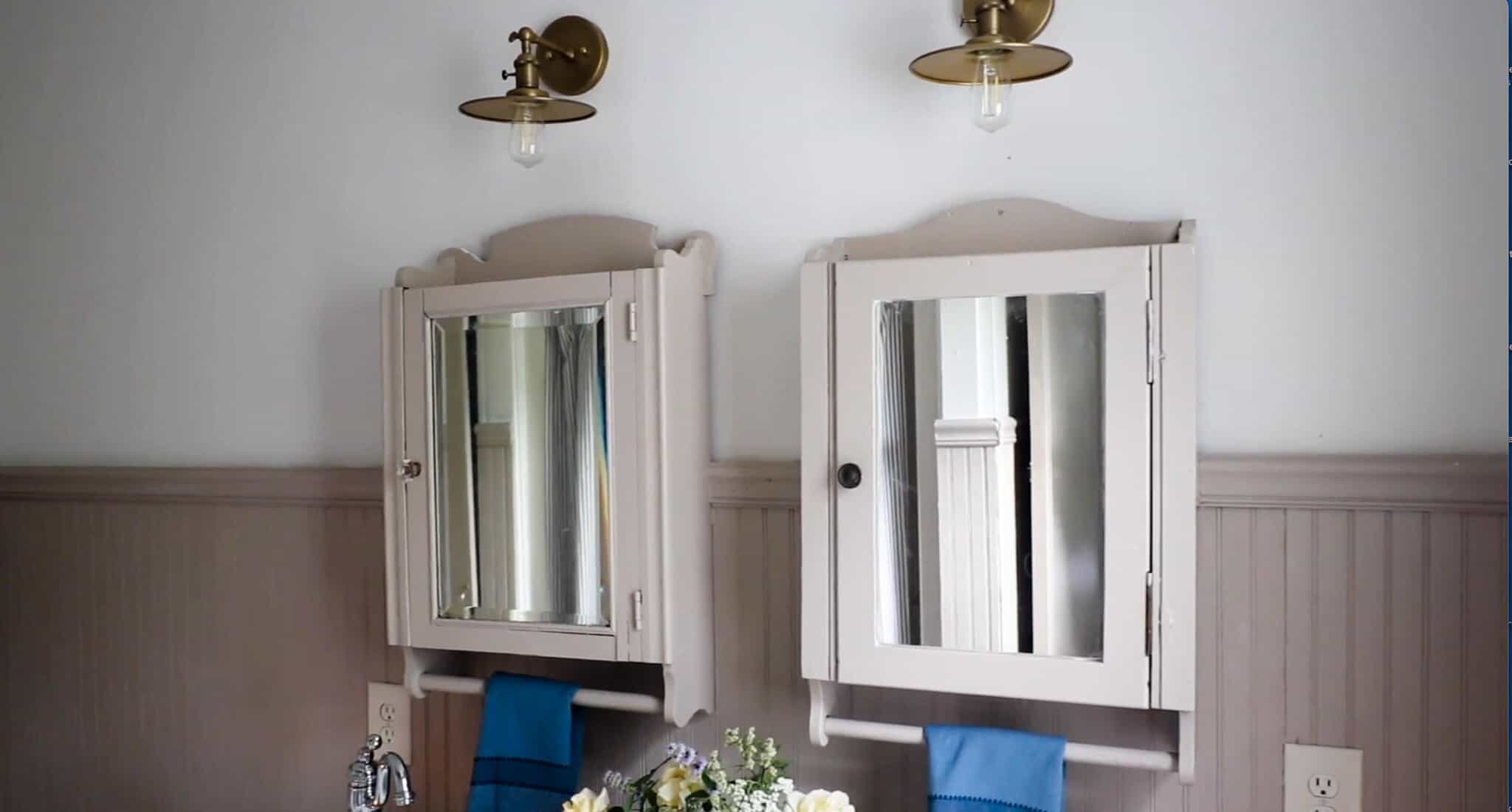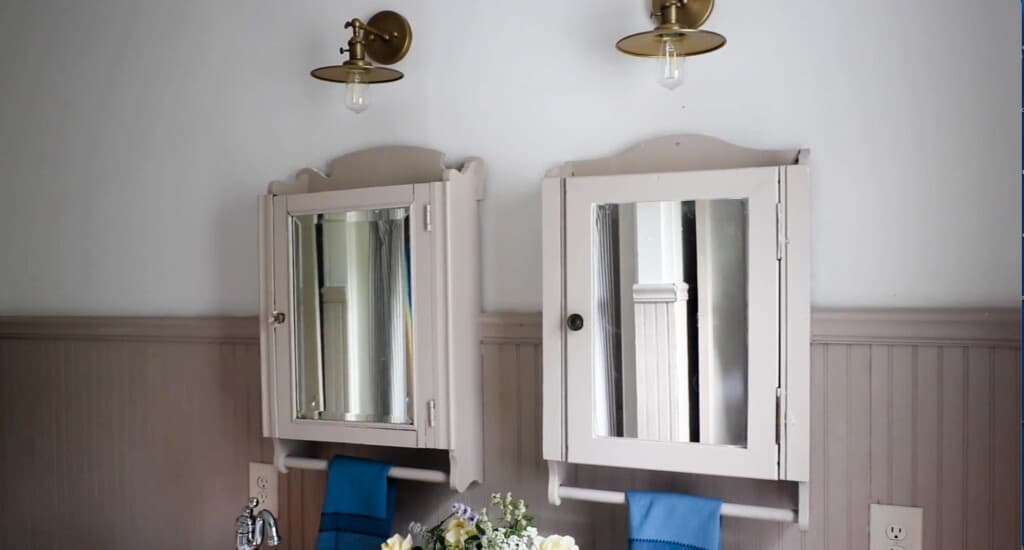 I found the first cabinet over a year ago, and the other one about eight months ago while out antiquing. I've been holding on to them for this very project!
Other Details in the Kids' Farmhouse Bathroom: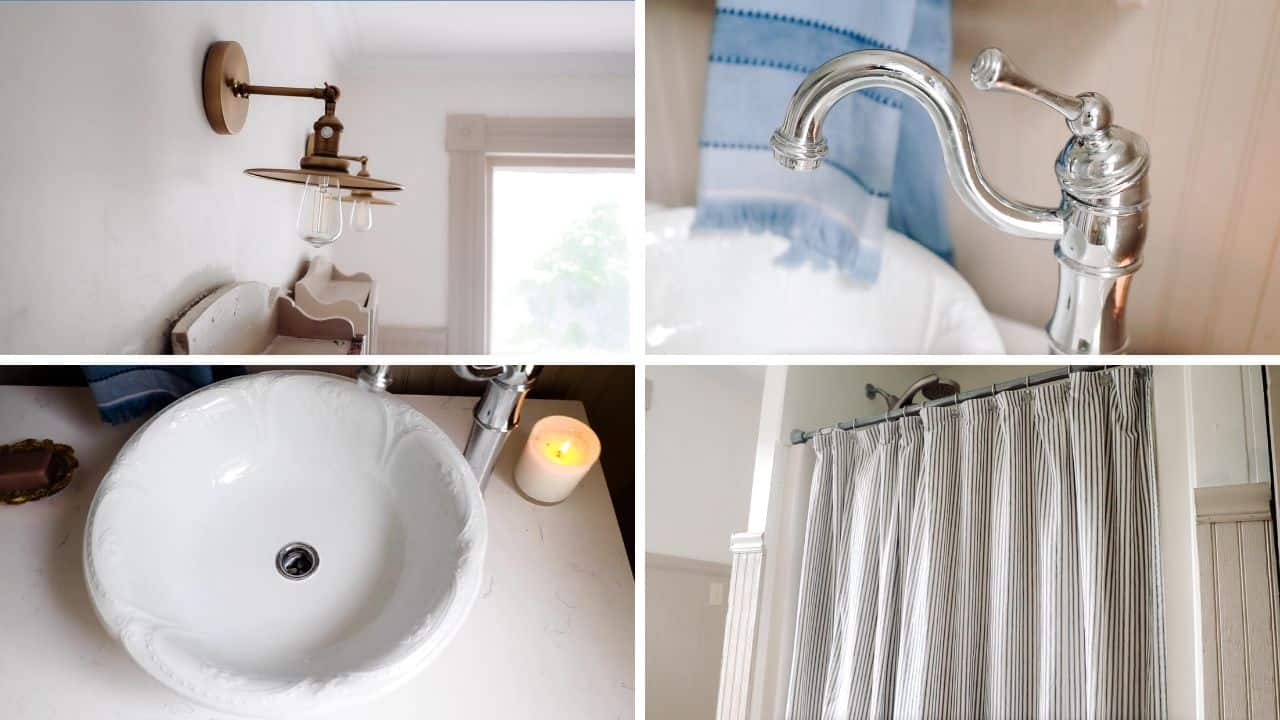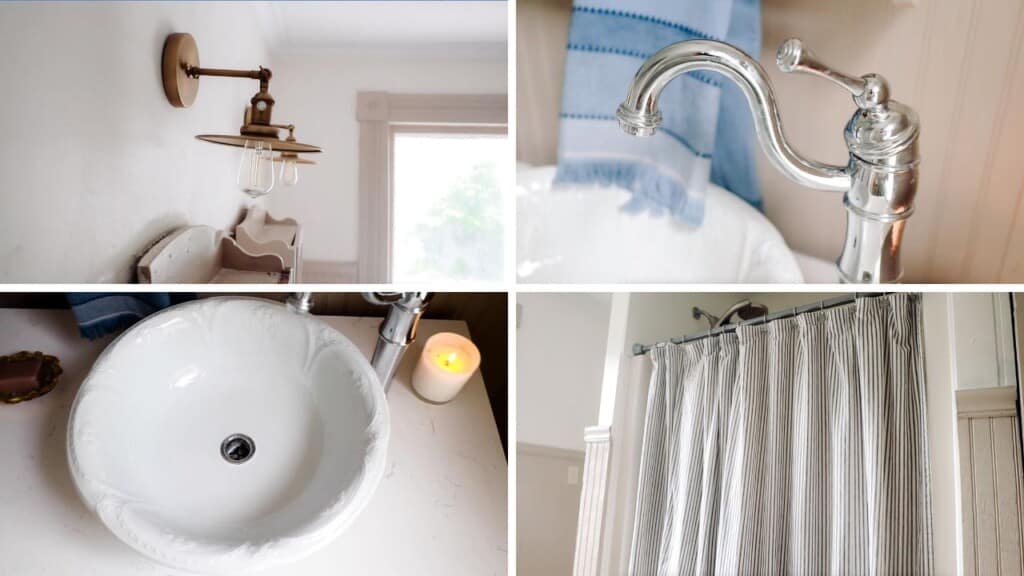 To make this a little more boyish, I added some blue details, like blue hand towels hanging on the antique cabinets and a bath towel on the peg rail.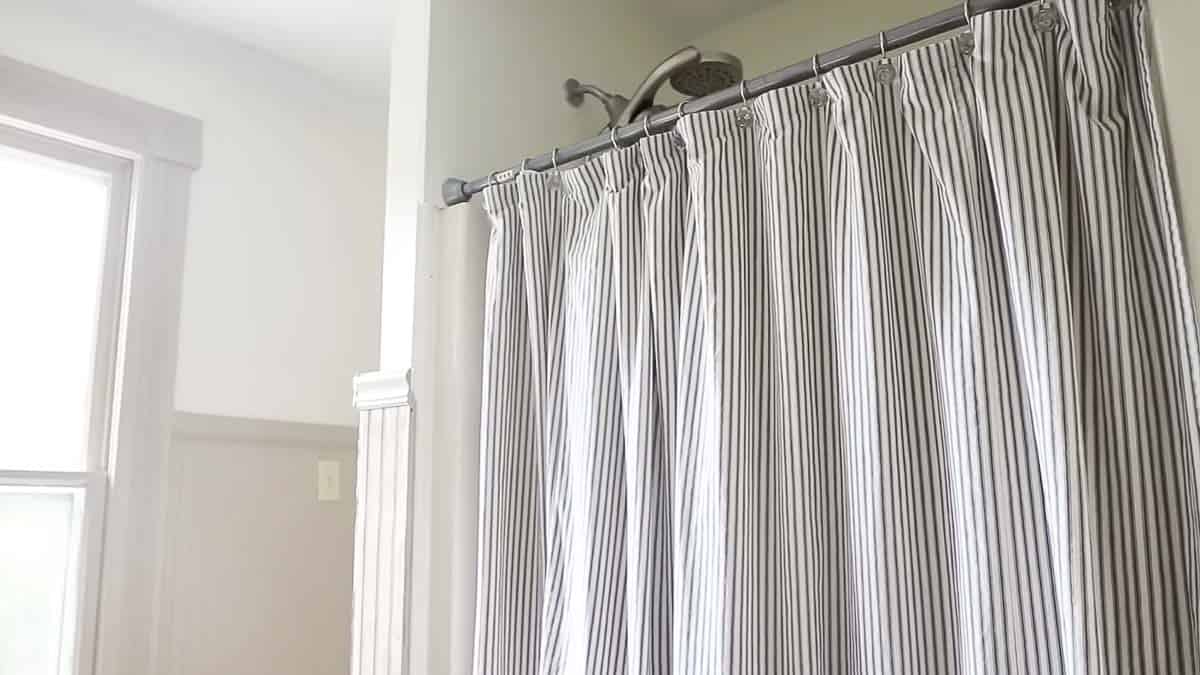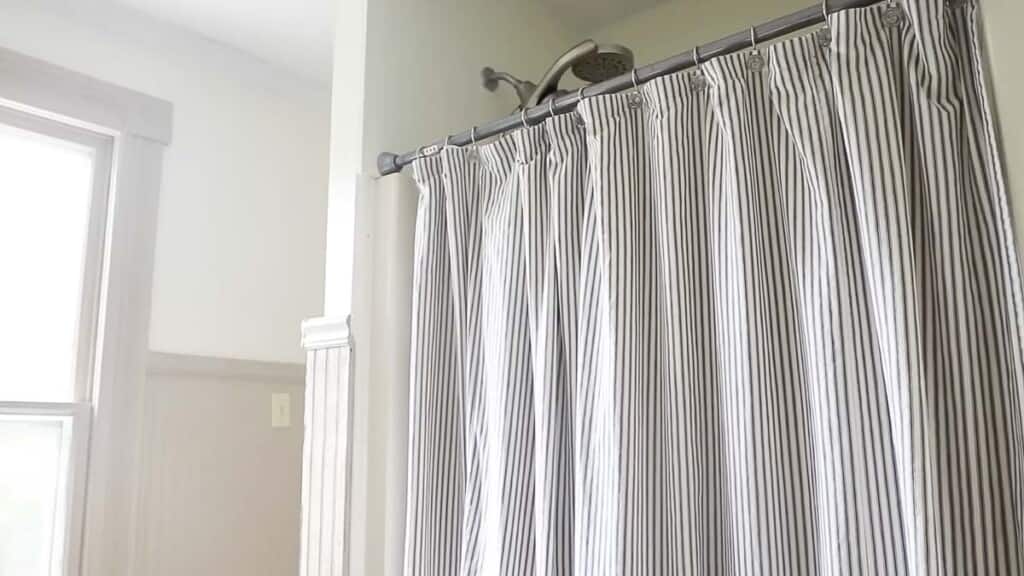 An old ticking stripe shower curtain was brought back to life with a good cleaning and hung in the shower. It is such a classic pattern and adds more of the boyish feel to the bathroom.
Fixtures: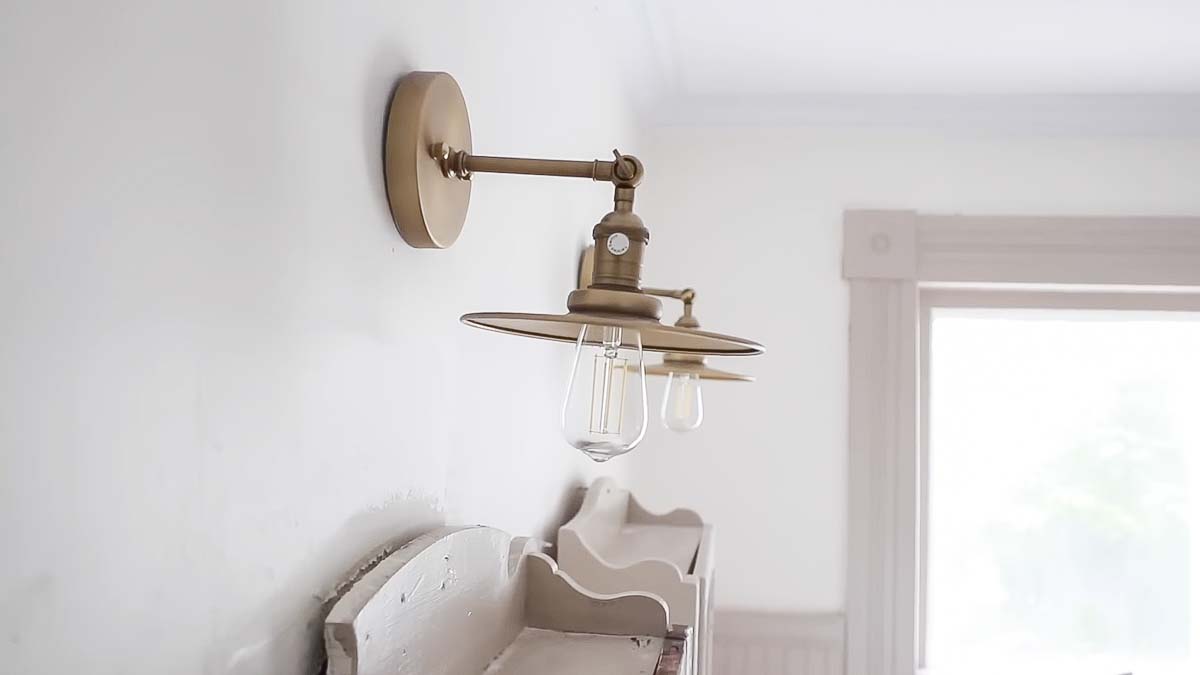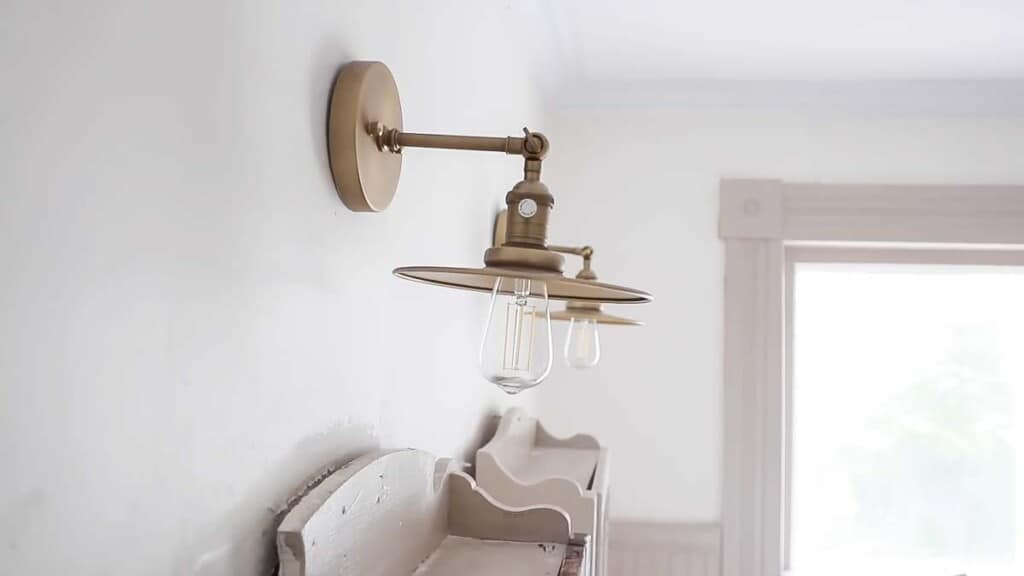 Mixed metals were brought in with chrome antique inspired faucets and brass lighting and knobs. This mixing and matching of metals gives it a warm, cozy, collected feeling
Rug: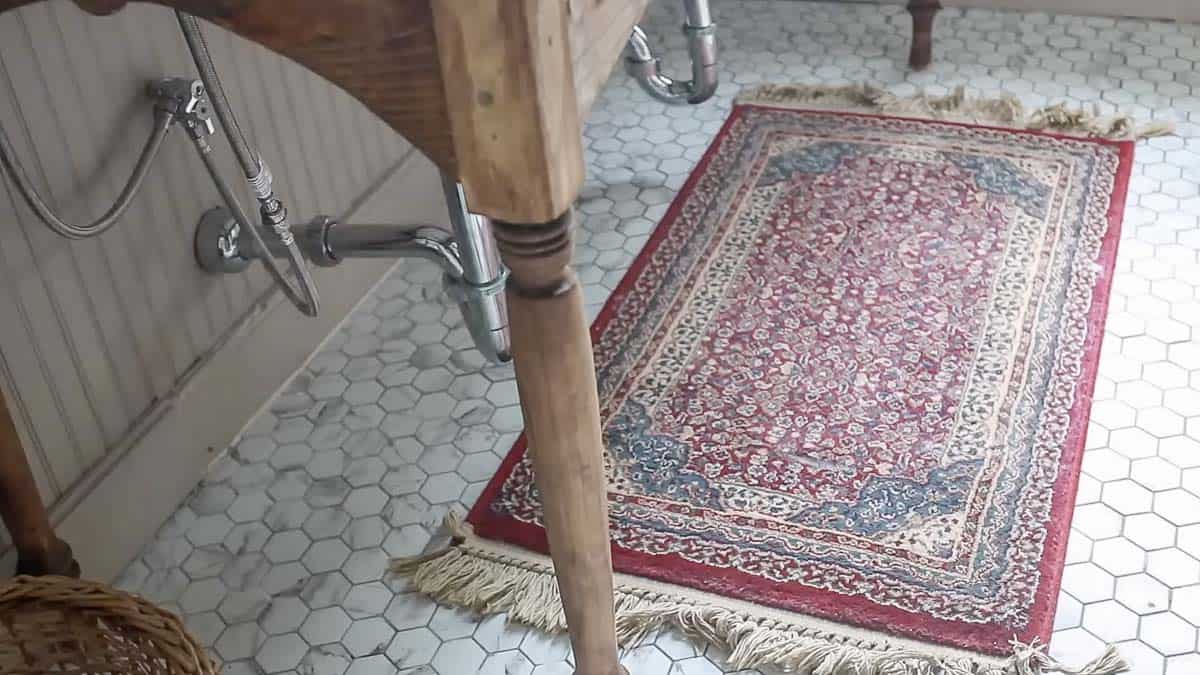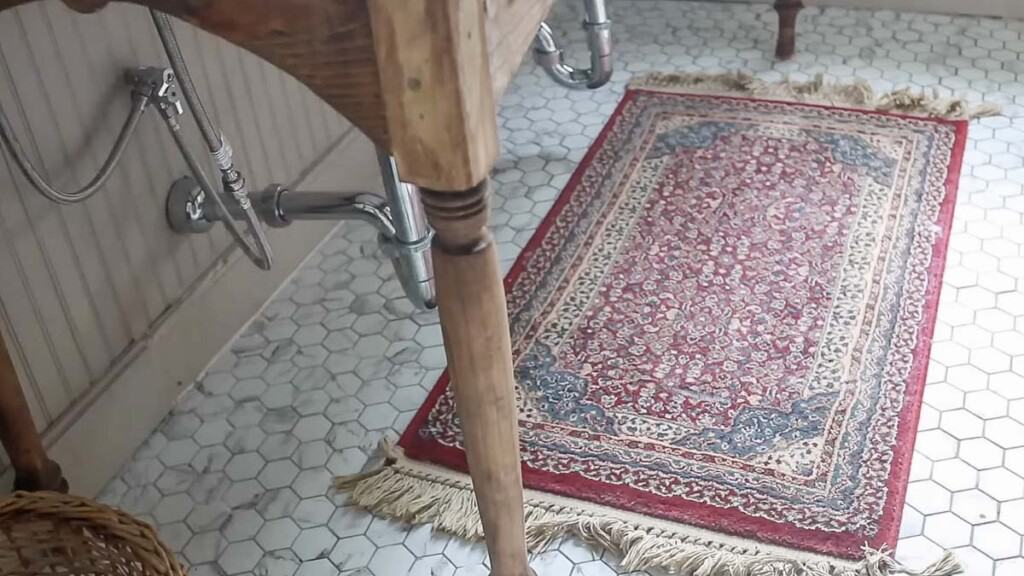 Under the vanity, I placed a vintage rug that I purchased for around $20 several years ago. This rug adds so much color and character for a space that has a lot of white and beige.
I really hope you enjoyed our Victorian farmhouse kid's bathroom remodel. It was such a fun project, and I'm glad to see it completed.