We have had white slipcovers with kids for over five years now. I share my thoughts on how we keep them clean and how difficult they are to maintain.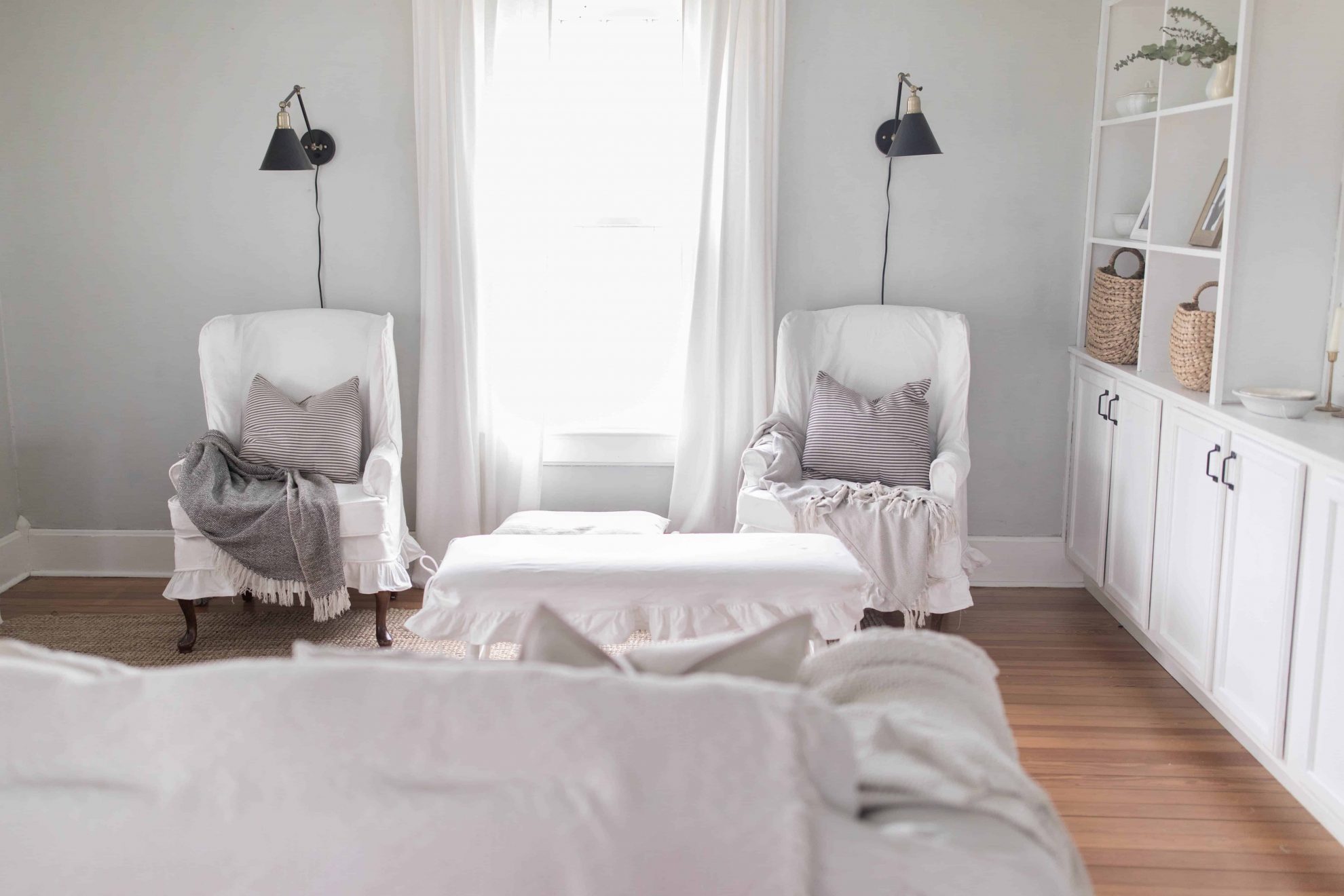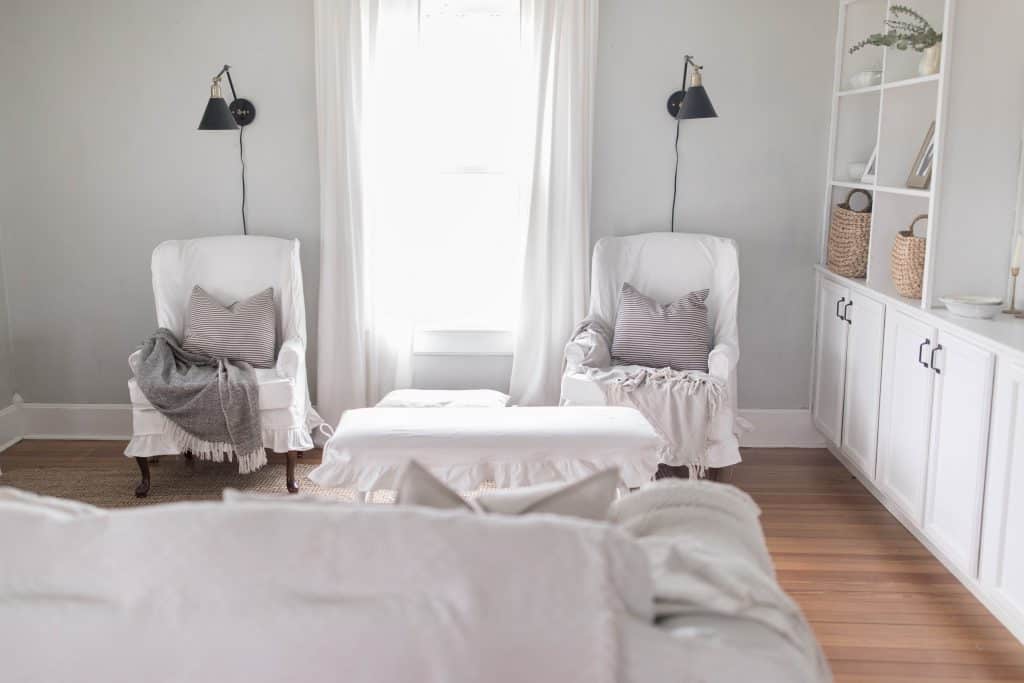 White slipcovers. You love them or you hate them. Chances are if you're hanging around on Pinterest these days you've definitely seen plenty of them.
The sheer sight of them makes moms of little ones wince in distress. Based on the questions I get almost daily on Youtube, Instagram and Facebook most people make the assumption that they are impossible to keep clean. Some have even remarked that keeping up with white slipcovers is probably a full-time job. I'm sure you've heard a horror story or two.
As a proud owner of bleached white slipcovers for going on 6 years now, this November to be precise, I have a thing or two to say about white slipcovers in a home full of children.
White Slipcovers with kids video
Why I love white slipcovers
Price
Have I ever showed you, my dear blog readers, what is underneath my bleached white, hand-sewn slipcovers? Probably not. It feels a little like showing my face without makeup, my kitchen with a sink full of dirty dishes, the pile of laundry on my daughters' floor..you get my drift. It ain't pretty.
In which I bare all: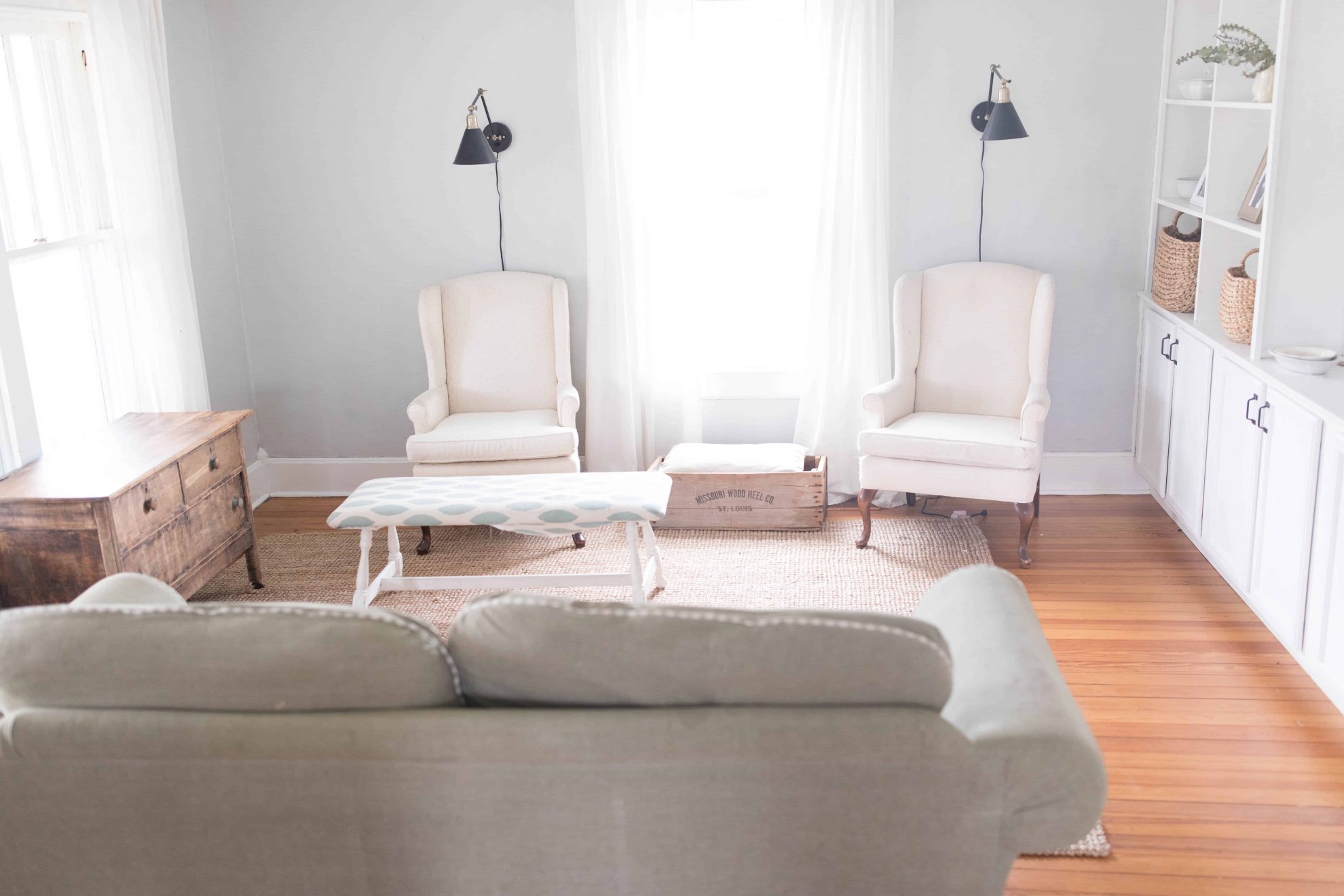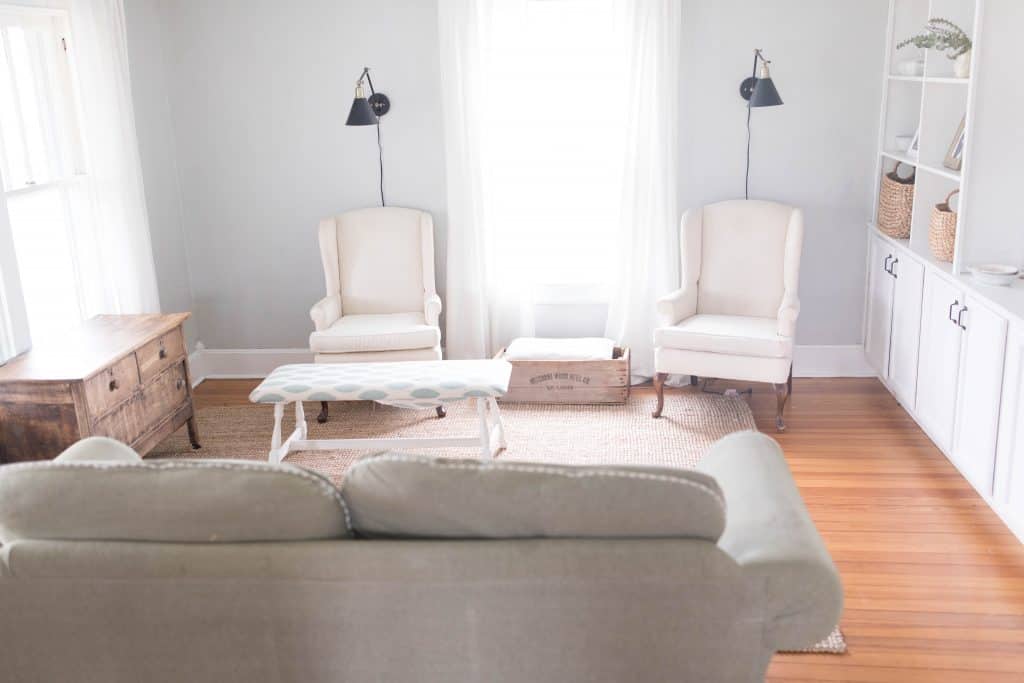 Every piece of furniture in my living room is a second hand find. The couch was, I believe, around $80. It used to have a matching love seat, which I also made a slipcover for. I sold that for 20-ish, so I think my all-in for the couch is in the neighborhood of $60. The bench was a $20 find, and the wingback chairs were each $20. So, $120 for the whole motley crew.
Mismatched furniture + bleached drop cloth= an entire set of matching living room furniture with a price tag under $200.
Can't beat that.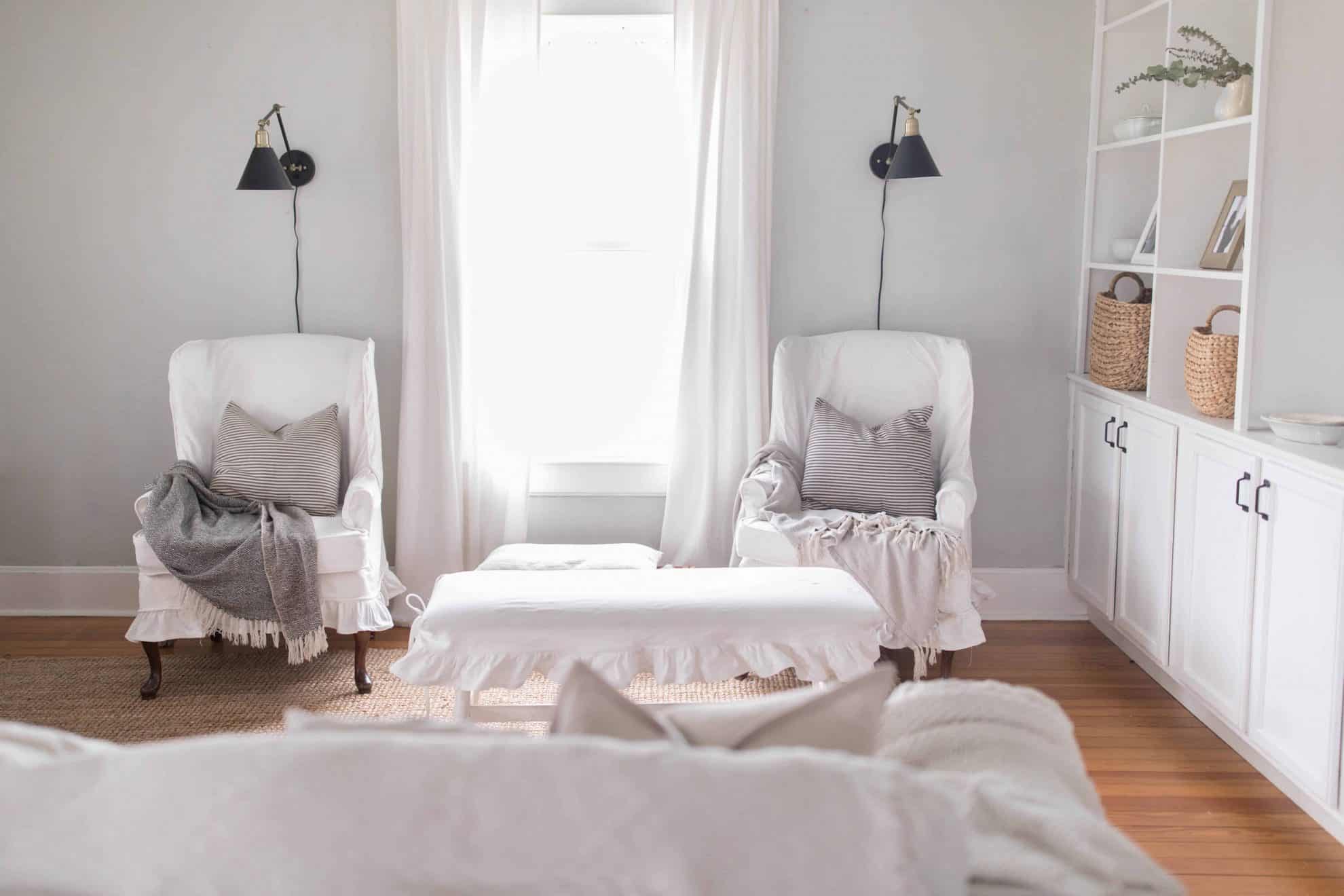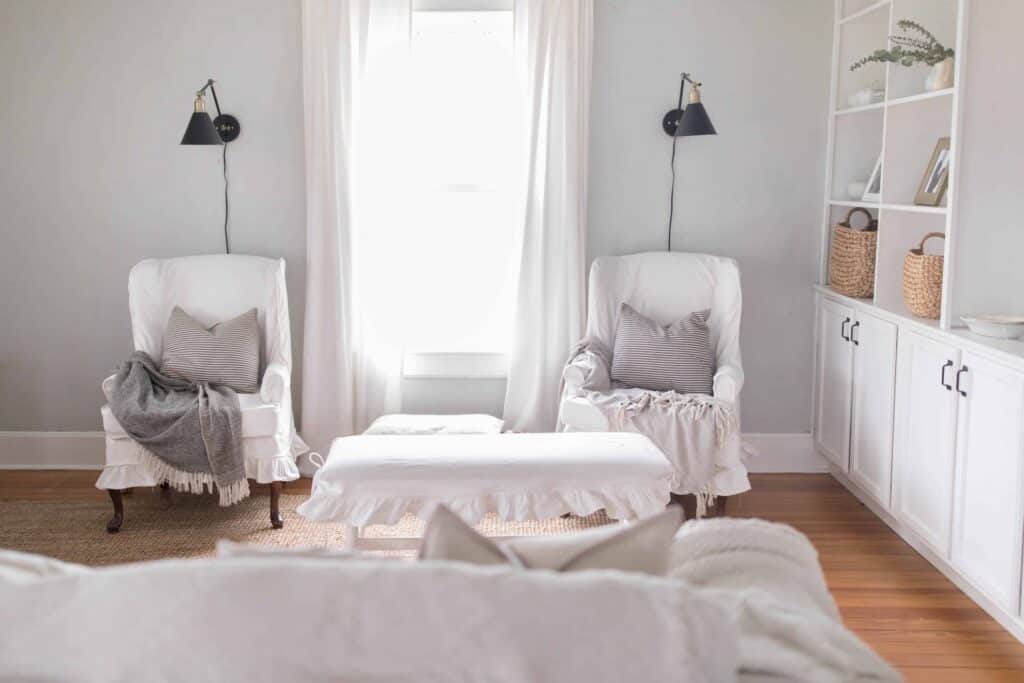 Washable
Let's face it. Every single color gets dirty. Beige, gray, green. Nothing is immune to getting a little dingy every now and then. This is not an exclusively white problem.
The beautiful thing about white slipcovers? They are removable AND bleach-able.
They get dirty, yes, but then I can take them off and get them looking new again.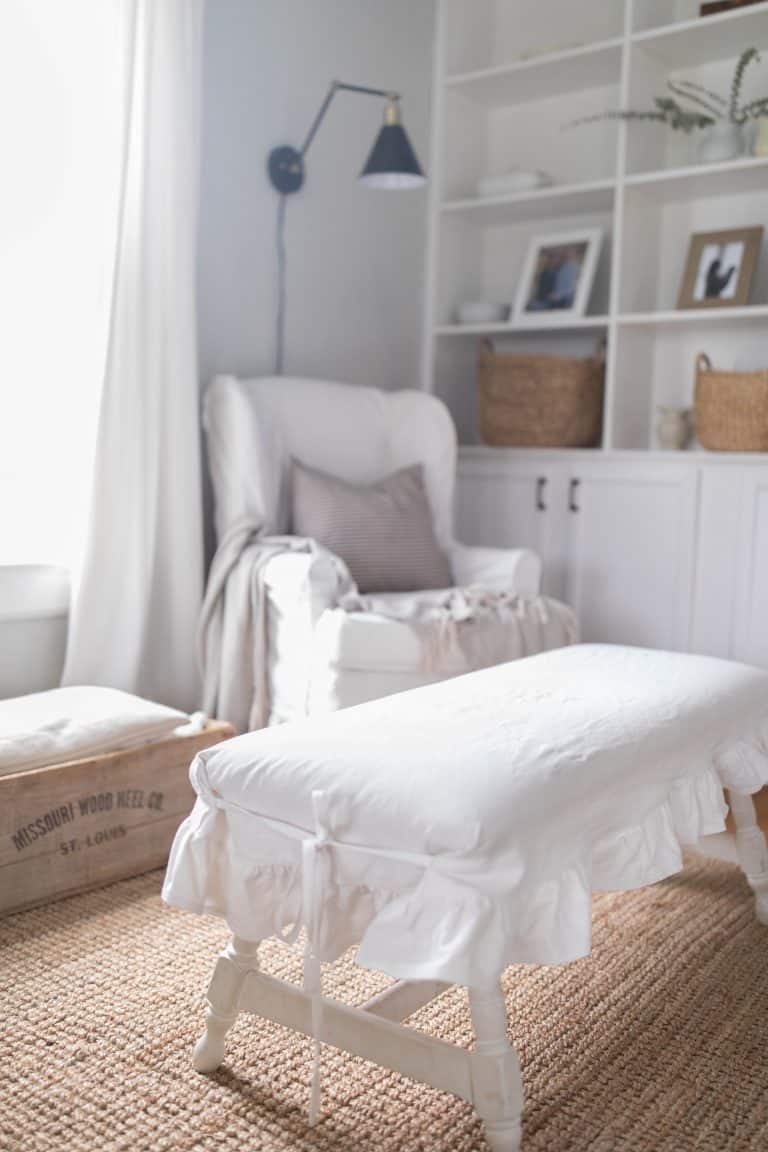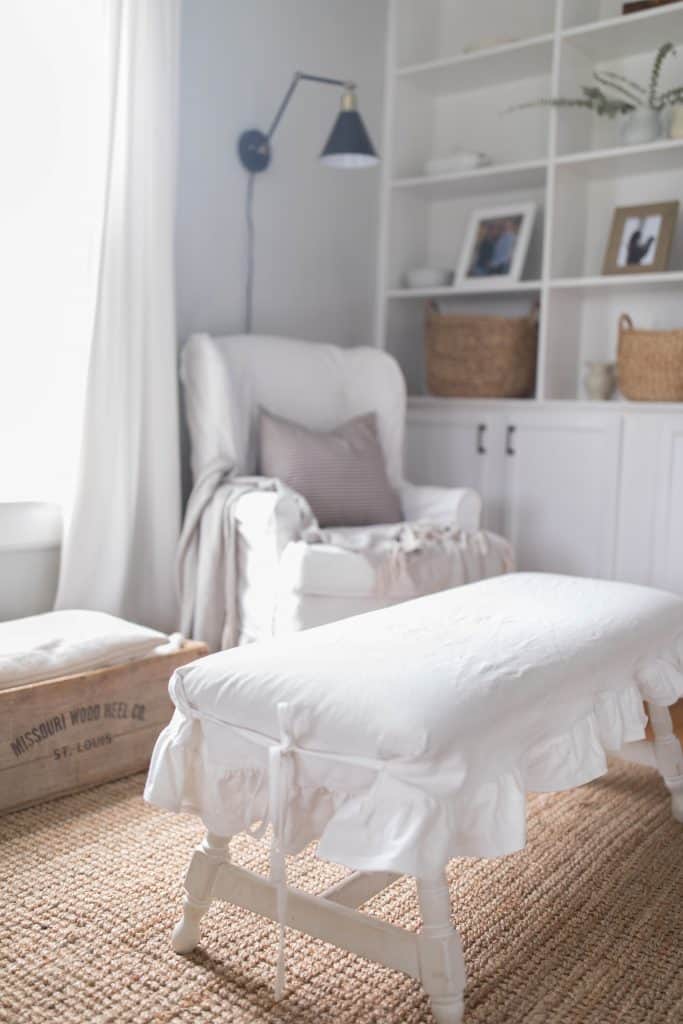 White slipcovers are Pretty
You know that's why you're reading this article in the first place. You want white slipcovers, because they're so dang pretty. They have that farmhouse and cottagey vibe that Joanna Gaines made so popular in the last couple years. They look relaxed and lived in, not too stuffy or formal. Add a little tie, some piping, or maybe a ruffle or two, and you have a real homespun look on your hands.
How to clean white slipcovers
Spray spots with liquid oxygen cleaner.
Wash on hot, with only one rinse cycle.
Hang in the hot sun to harness its bleaching power.
If the slipcover is extra dirty, add two cups of bleach during the washing process.
I like to avoid the extra rinse cycle because slipcovers do accrue some wear and tear with each additional wash/rinse/spin cycle. The bleached fabric does lose stability over time. That being said, my couch slipcover is going on six years old and its still going strong.
Every single time I put my stained up slipcovers in the wash (It takes a pretty dirty slipcover to spring me into action) I think this is going to be the time they don't come clean. Surely, one too many blueberry stained hand has made its mark. I  repeatedly stand amazed.
How often do you wash white slipcovers
I wash my white slipcovers approximately twice a year. I get through the in between times with throw blankets and pillows to cover up the inevitable spots.
Now, before anyone casts any stones and say I'm disgusting, please tell me the last time you threw your couch in the wash.
Who shouldn't own white slipcovers
If you are a very particular person who would feel the need to wash a slipcover every time it had a small spot, don't get one. I'm not saying this sarcastically, or meaning it as a bad thing, but if that kind of thing would stress you out, spring for a leather couch.
White slipcovers do get spots. Probably the second you pull it out of the wash, your kid will find the dark chocolate bars you've been hiding and decide to watch a show on Netflix. Ahem.
My conclusion on white slipcovers with kids
They look pretty, they fit my budget and they're still clean after all these years. Win Win. Win. I sewed me some white slipcovers and I'd do it again.
Check out all my slipcover tutorials
How to Slipcover a Wingback Chair
Ruffle Bench Slipcover Tutorial 
Drop cloth
How to Bleach Drop Cloth to Make it Perfectly Soft and White
The Drop Cloth I Use for Slipcovers can be found HERE.
You can find the black wall lamps, behind the wingback chairs, HERE.
Some links are affiliates, which means I make a small commission at no extra cost to you. 🙂
Thank you so much for stopping by the farmhouse!
Pin it for later