This Mexican Hash Brown recipe is perfect for breakfast, lunch, or dinner. Crispy hash browns are topped with slow cooked tender beef with sautéed peppers and onions and topped with a creamy avocado sauce.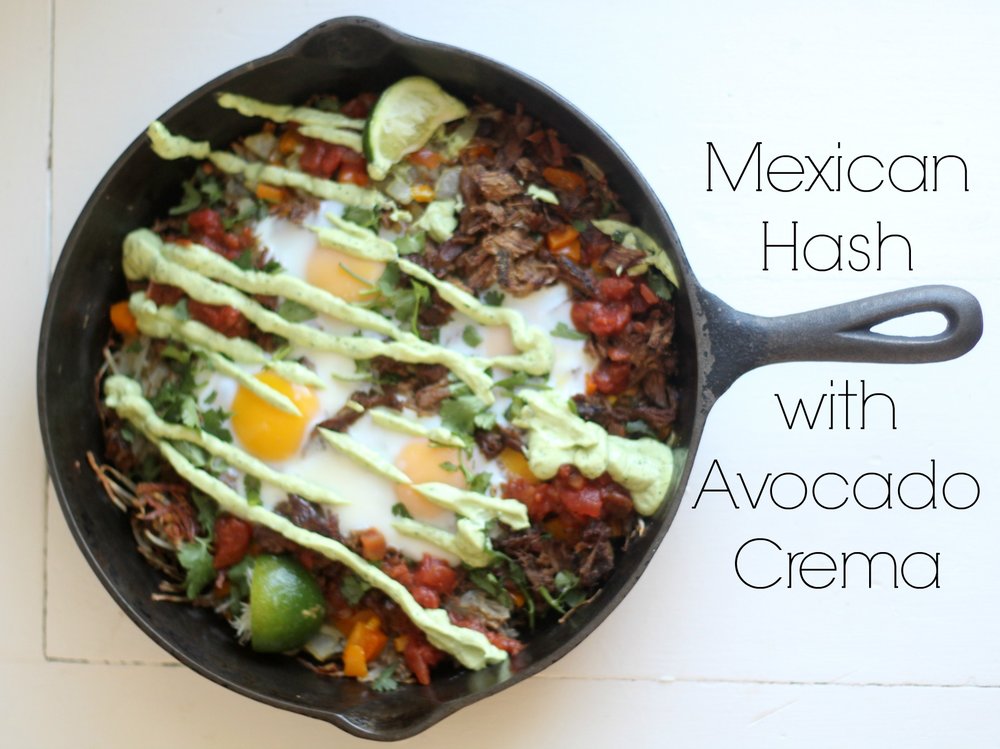 Tomorrow is Cinco De Mayo.
Like most Americans, I have no idea what that really means, but it is a great excuse to make something Mexican.
Anytime there is a combination of avocados, salsa, sour cream and meat, I'm there!
With this recipe I'm bringing in a few ingredients that aren't typically associated with Mexican food.
It is healthy, hearty and super delicious. Everyone in our family loves it.
Tips For Making Mexican Hash Browns:
Cook potatoes separately from the other vegetables, so they crisp up better. Onions and peppers release too much liquid and cause the potatoes to get soggy.

Squeeze out any extra water from the potatoes with a clean kitchen towel if they are especially wet.
If you, your kids, or someone you cook for isn't a huge fan of onions… try dicing them really small.
When you are baking the Mexican hash browns with the eggs on top, the eggs will look uncooked even though they are fully cook so make sure not to over-bake them.
This post contains affiliate links, which means I make a small commission at no extra cost to you. See my full disclosure here.
Tools you may need:
Crock pot or Instant Pot (using the slow cook setting)
Knife
Cutting Board
Ingredients:
2-3 pound Beef Roast
1 cup water
1 tsp Salt
3-4 Tbs coconut oil
2 medium sized potatoes
1/2 onion
1 bell pepper
Handful of fresh cilantro – if you are a cilantro hater, feel free to leave this out.
2 limes
Salt and pepper to taste
1 tsp garlic powder
1 tsp onion powder
2 tsp cumin
4 eggs
Avocado Creama Ingredients
2 avocados
1/4 cup cilantro
Juice of one lime
3/4 cup full fat Greek yogurt
1/2 teaspoon salt
How To Make Mexican Hash Browns
Slow Cook The Beef Roast
Six to eight hours before you want to have Mexican hash, put a two or three pound beef roast into your crock pot.
Add a cup of water, a teaspoon of salt and put it on low.
Start The Mexican Hash Browns
When you are 30 minutes out from dinner, preheat your skillet and two tablespoons of coconut oil over medium heat.
Preheat your oven to 350.
Shred two medium size potatoes. (I use a food processor, but a cheese grater will work also.)
Chop half an onion, one bell pepper and a handful of fresh cilantro.
Preheat the oil until it is hot enough for the potatoes to sizzle when they are put in the pan.
Cook The Potatoes
Cook the potatoes until they are crispy, flipping only once or twice. If they start to stick to the pan, add a little more coconut oil. Salt them liberally. I like to add about a half teaspoon per potato.
Sauté the peppers and onions in a tablespoon of coconut oil, in another pan, until they are soft.
I cook potatoes separately from the other vegetables, so they crisp up better. Onions and peppers release too much liquid and cause the potatoes to get soggy.
Shred The Beef
Take your beef out of the crock pot and shred. Sprinkle salt, pepper, garlic powder, onion powder, cumin and the juice of half a lime over the cooked beef and toss to make sure all the beef is properly seasoned. It should be very tender.
Putting It All Together
Add the peppers, onions and seasoned beef to the crispy potatoes.
Crack four eggs on top.
Bake in a preheated oven for about 15 minutes, or until the eggs are set.
Avocado Creama
Put two avocados, 1/4 cup cilantro, the juice of one lime, 3/4 cup full fat Greek yogurt and 1/2 teaspoon salt into a food processor or blender.
Blend until combined.
Top your hash with salsa, cilantro, lime juice and avocado crema.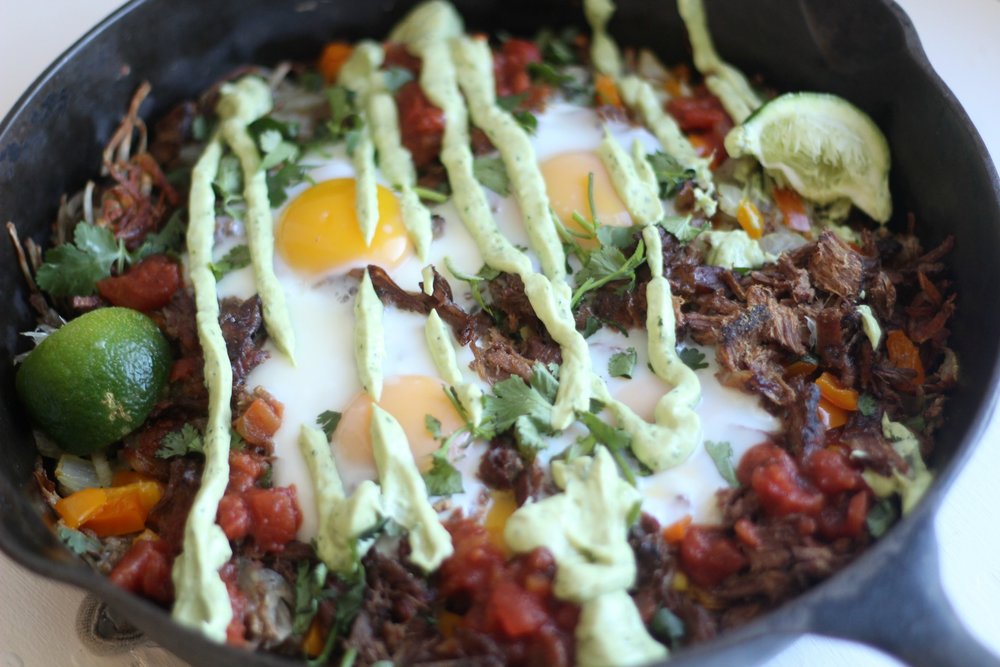 So simple and delicious. Enjoy!
Pin It For Later
This post was updated January 2020.