How we paid off our house in less than 5 years, our debt free story.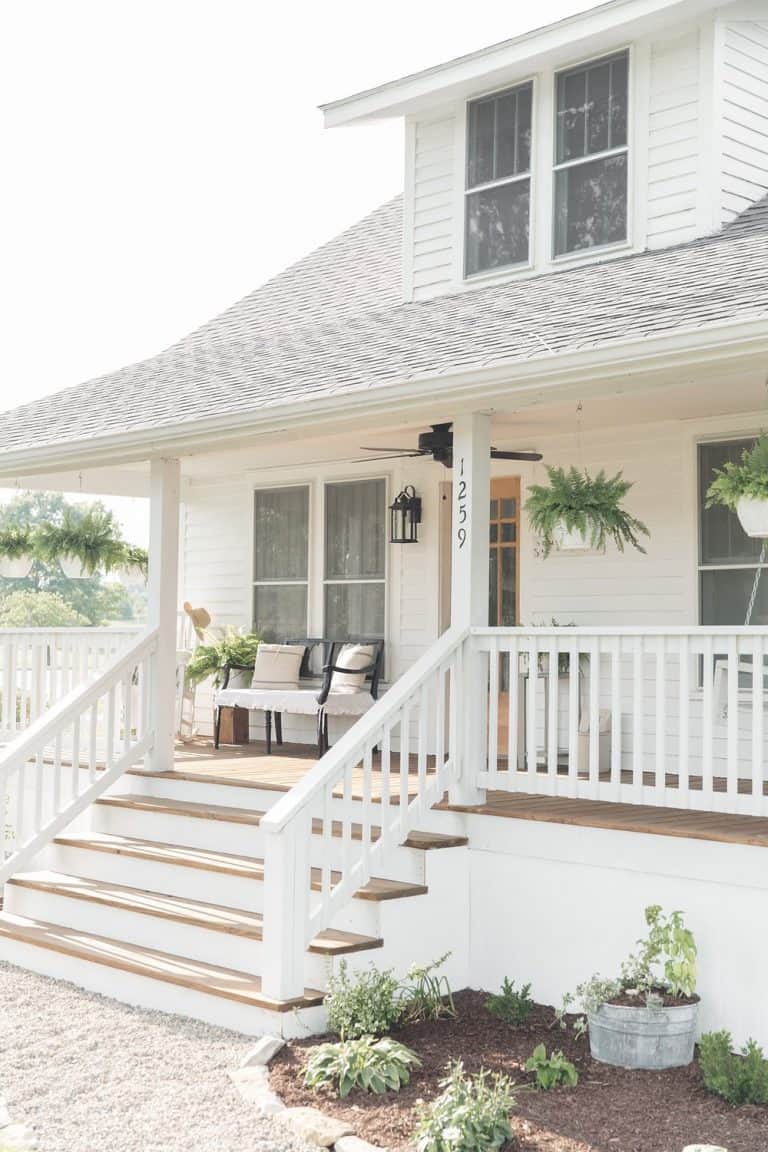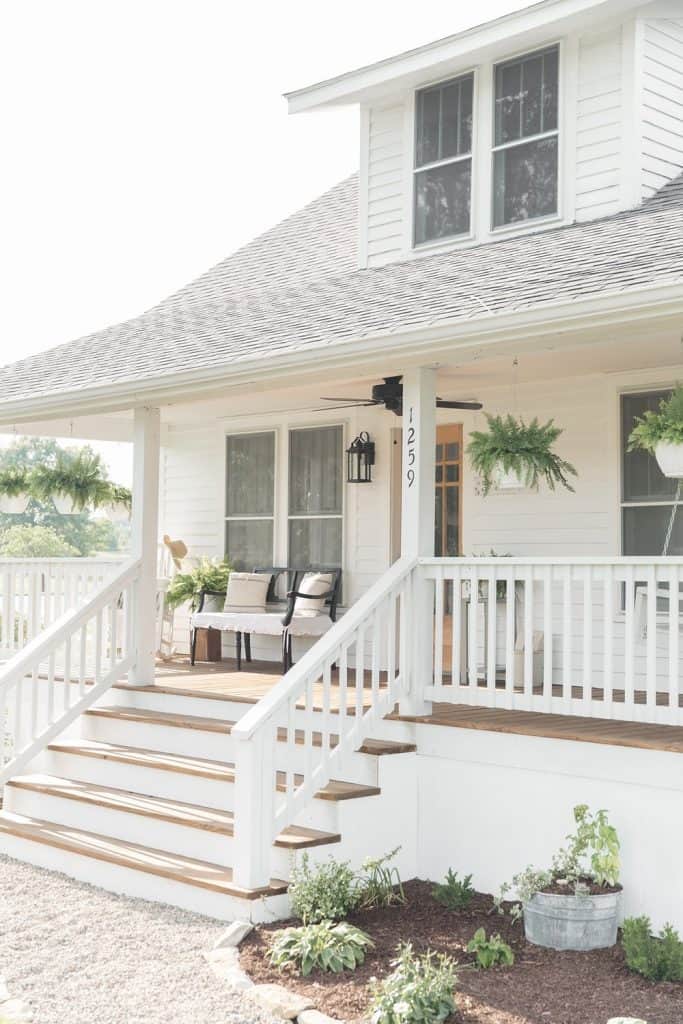 This is not something I ever talk about because this isn't a debt free living or financial blog. But, it has been an important step for our family and I think its worth talking about.
We have been 100% debt free for almost four years now.
We don't have a huge income. I am a stay at home mom and my husband works for the water department in the city we live in. We are just average Joes, but we live totally debt free and here is how we did it.
Picture of our house before we renovated it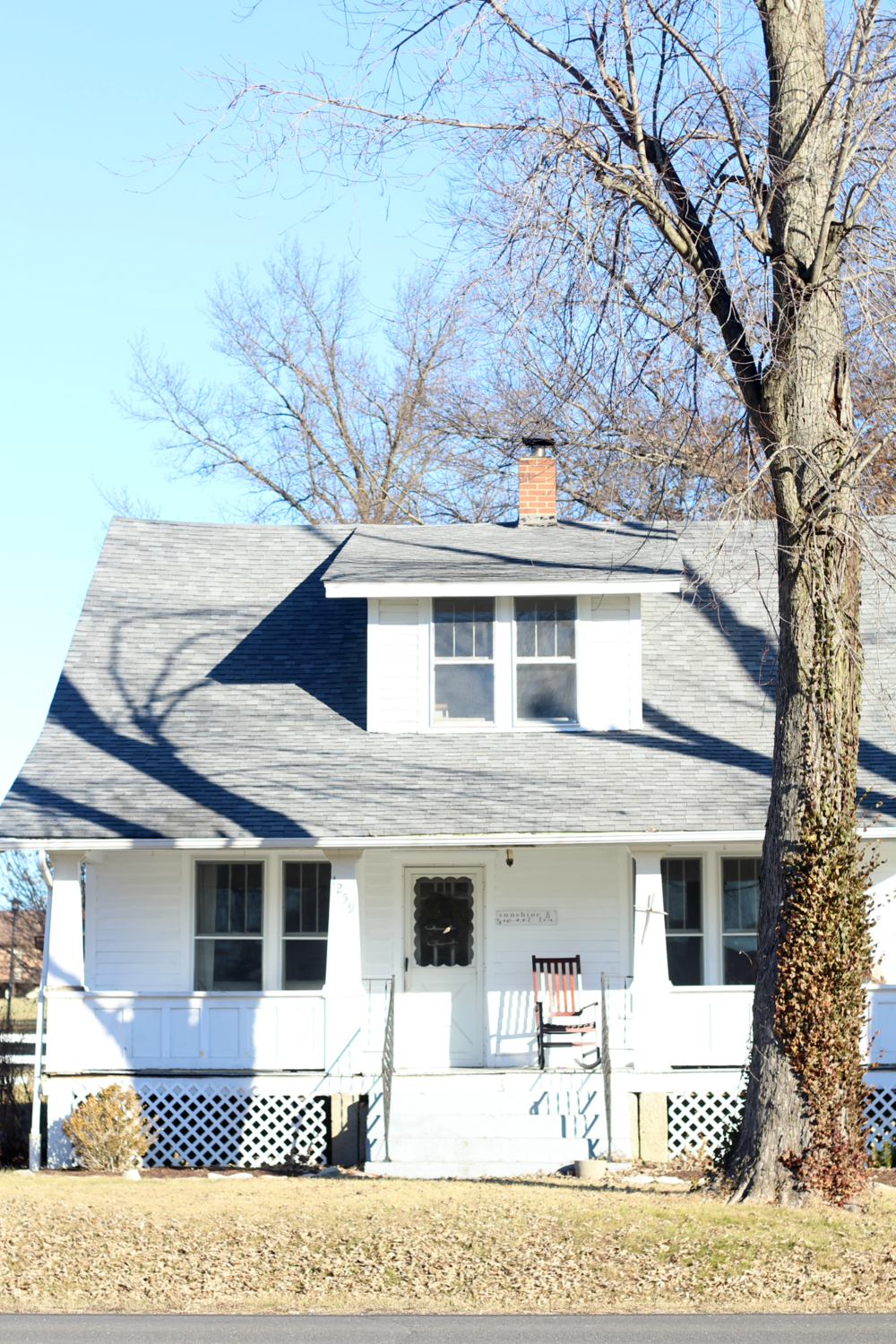 Our debt free story video
1. We bought an inexpensive house
Ok, this has to be first. The main reason we paid off our house so quickly is we bought it right in the first place. We stayed within our means and bought what we could afford.
That means we have some pretty crazy before pictures!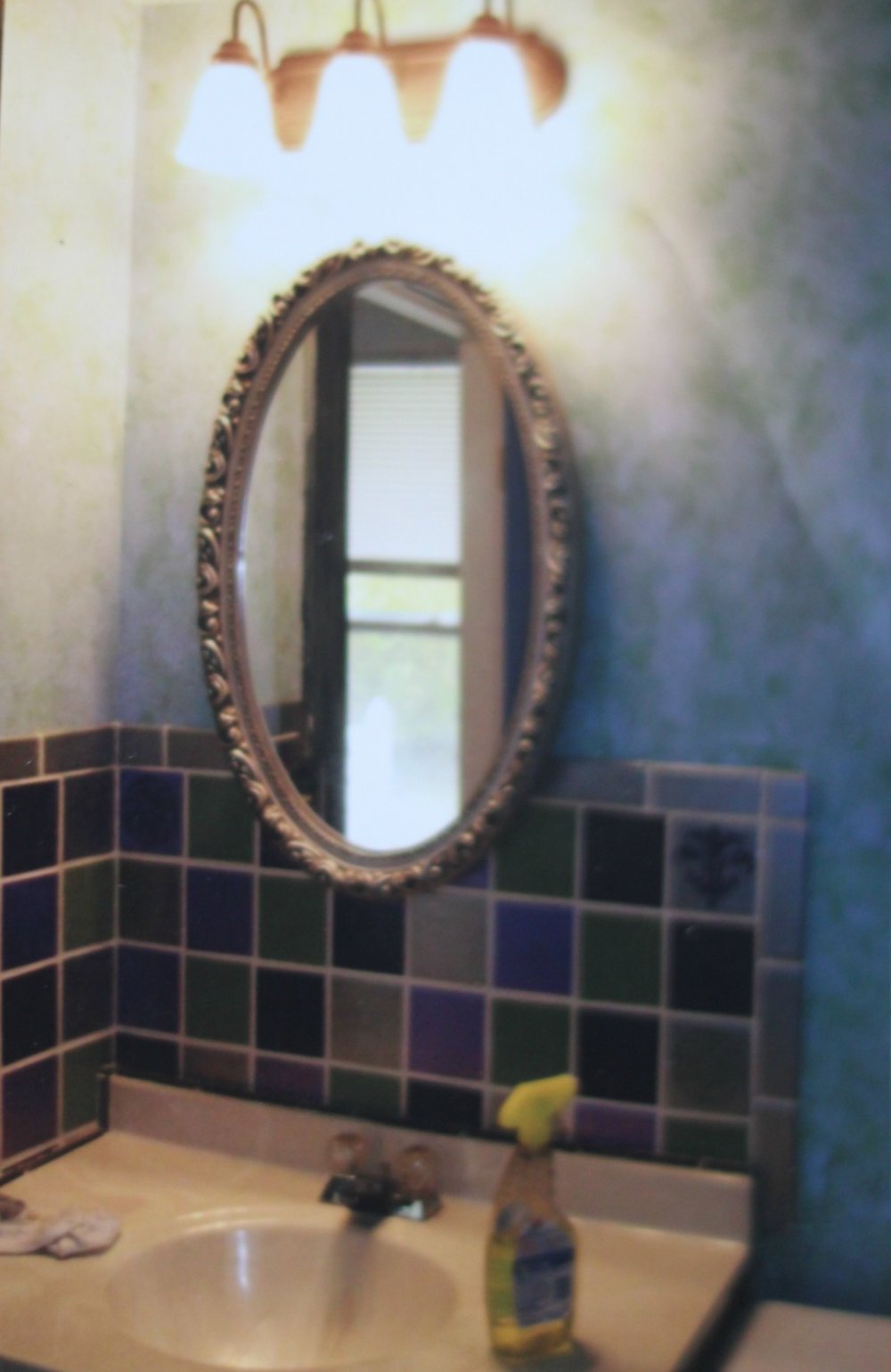 Although it looked like it was in pretty rough shape, several gallons of fresh paint at least made it livable.
2. We set a goal
When my husband and I first got married we were almost slightly fanatical about debt free living, so much so that we were hesitant to even buy a house at all. Even though it wasn't super pricey, we still couldn't imagine paying close to $100,000 for anything. We had quite a bit of money saved up for a down payment and we knew we would have to pay rent if we didn't buy a house. So, we decided we would purchase the house and make it a priority to have it paid off before we were in our 30's. We knew the debt was a temporary thing that we hoped to get out from under as soon as possible. We were slightly obsessed with saving money so we could pay down our debt.
2. We made no renovations until it was paid off
Except for new paint, we did absolutely nothing to the house. We really are just now starting to renovate it, with the kitchen renovation we did earlier this year and the new built ins in our living room. In a few months we plan to completely redo the master bathroom. Hopefully soon after that we will get to the guest bathroom.
I am so glad we waited so long because it has given me a chance to pin a lot of inspiration and really think through the design. I'm sure if I would have rushed into it eight years ago I would have made choices that I would now regret.
Plus, we couldn't have afforded it back then when we had a mortgage. Yes, we could have made the monthly payments, but you can only really afford something if you actually have the money.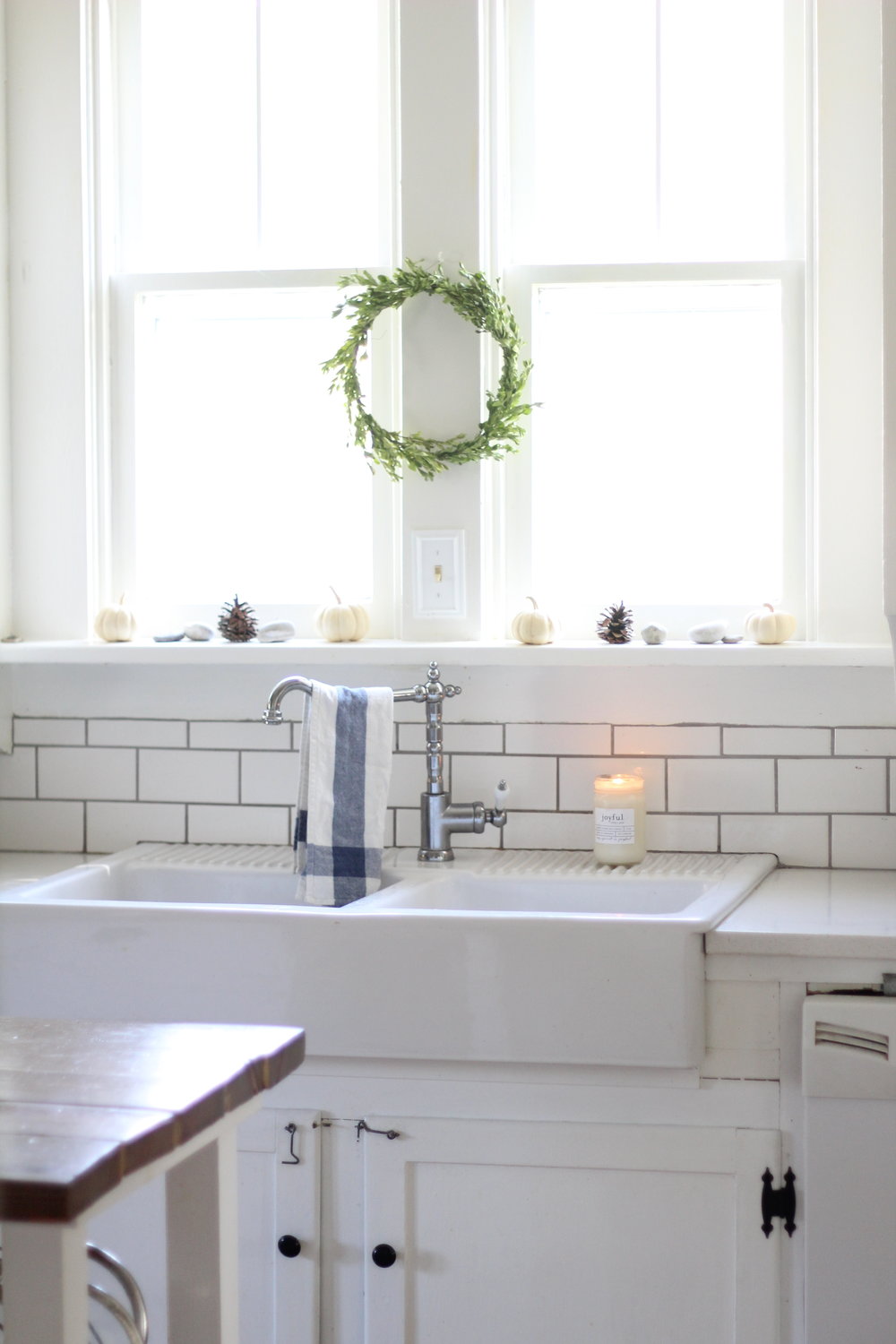 3. We only use cash
If we can't afford something we're not buying it. That's why you will always see me in a car that is at least five years old. I don't look cool in it, but I'm also not stressed wondering how we will pay the next bill. I have done this since I was 16 years old. It is what my parents did and they taught me to do the same. And, let me tell you, we drove some serious clunkers when I was a kid. A vehicle is an expense and nothing more, so it makes sense to get by as cheap as possible, unless you have the cash to buy something better. In which case, go for it! We, on the other hand, drive an eight year old minivan.
4. Every time we had extra money we put it towards the house
If we had a couple hundred extra bucks we put it on the house. At tax return time we would take the entire lump sum and pay down our mortgage. We didn't consider new furniture or appliances because we knew we couldn't afford them. We still have the same $80 second hand couch set in our living room. I did make new white slipcovers for them three years ago to cover the ugly ripped green fabric. We just recently (finally!) bought a brand new stainless steel refrigerator to replace the 20 (plus) year old one that came with the house.
You can see the ugly countertops, refrigerator and sink we had for the first seven years we lived in our house.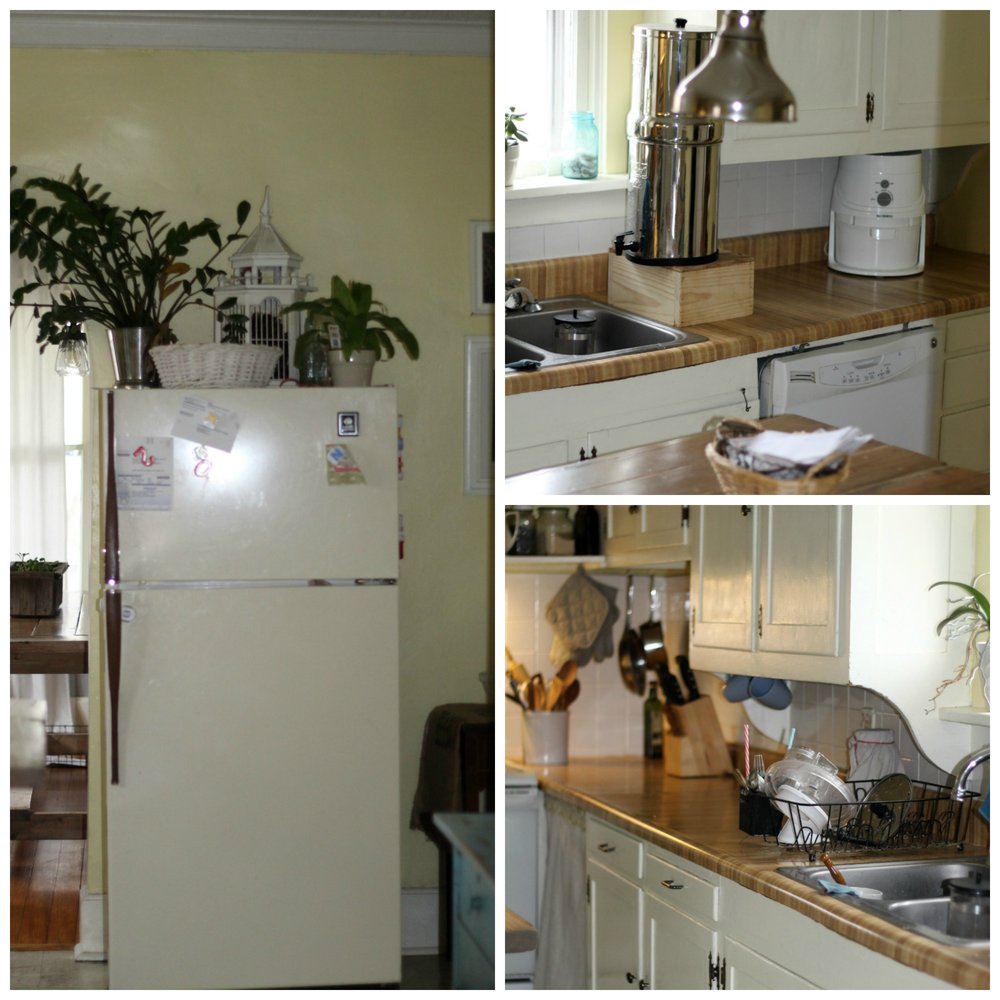 5. Cheap vacations
We never sacrificed on vacation. We have taken at least one every year since we have been married. When our oldest daughter was 18 months we went to Niagra Falls, Boston, Plymouth Rock, Rhode Island, Long Island Sound and Pennsylvania. We drove the whole way and tent camped while we there. I wouldn't want to vacation like that now with four kids, but it worked at the time.
A few years ago we drove north about six hours and enjoyed beach time on Lake Michigan. We stayed in a couple of Airbnb places while we were there. It was so simple but one of my most favorite vacations ever.
Last year was our first vacation as a family of six. We drove the 12 hours down to Gulf Shores, Alabama. We stayed in a big Airbnb house near the beach. My sister and her family of five came with us and split the cost of the house. We bought all of our food at the local grocery store and cooked our meals at the beach house. It was a simple laid back vacation, but it was perfect for making memories as a family, which is all I really want out of a vacation.
So what has debt free living the past three and half years allowed us to do?
Well, since we became debt free, we also had two more kids and our older kids grew A TON. So, now we spend our money on FOOD. And lots of it! I see these blog posts where women say they feed their whole huge family for like $100 per month. Let me tell you, that's not happening over here! I like to buy organic meat, vegetables and fruits. Those things are pricey and our grocery budget is outrageous, but we can afford to feed our growing children healthy food, because we are debt free.
It has also allowed me to make a few investments I may not have otherwise made, and given me the freedom to pursue my dreams. I was able to purchase some expensive sewing and embroidery machines for my online sewing business that I started earlier this year. Also, since it isn't necessary for me to bring in a second income, I am able to stay home with my kids and pursue my blog with any extra time I have.
Honestly, if we weren't debt free I don't see how we could afford four growing kids. I'm so glad we got that out of the way while we were so young and our family was small. Now we are able to enjoy our growing family without the stress of financial strain.
I really feel like debt freedom is a worthwhile pursuit and if you have the opportunity to achieve it, I would encourage you to go for it.
Thank you so much for stopping by and reading along
Pin it for later